BJP attacks Congress over Jammu & Kashmir tie-up
The party wants to push the Gandhi family to clarify its position over the demand for the restoration of Article 370 in a bid to derive political mileage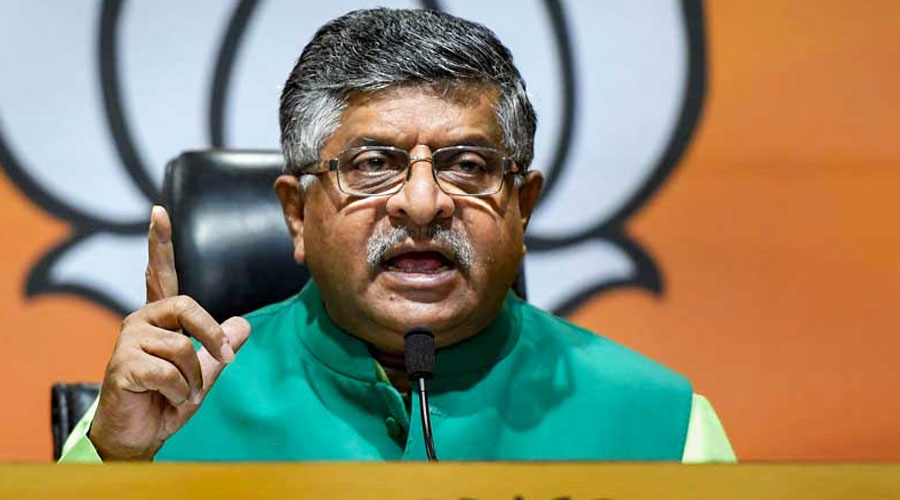 ---
---
Law minister Ravi Shankar Prasad on Monday said the Congress was joining the People's Alliance for Gupkar Declaration and asked the party's top leadership to clarify if they supported the restoration of Article 370 in Jammu and Kashmir.
"Madam Sonia ji and Shri Rahul Gandhi ji, please tell the nation clearly and categorically, does the Congress party want the restoration of Article 370 in the original form?" Prasad, who was fielded by the BJP, asked.
Though senior Congress leader and former finance minister P. Chidambaram has already said the party supports the demand for the restoration of the special status that Jammu and Kashmir enjoyed before August 5, 2019, Sonia and Rahul have not spoken on the issue.
The BJP wants to push the Gandhi family to clarify its position over the demand for the restoration of Article 370 in a bid to derive political mileage.
The BJP has been doggedly trying to paint the Congress "anti-national" and the saffron party feels Article 370 can be effectively used to corner their political and ideological opponent.
"We will not leave the issue. We will raise it across the country," Prasad said.
Prasad said People's Alliance for Gupkar Declaration, with the National Conference and the PDP as main players, was contesting the local body polls and now the Congress is joining it. He said the main agenda of the alliance is the restoration of Article 370.
"Does it mean, the Congress party is going to support the annulment of all the pro-people and pro-poor laws being made applicable to J&K by Parliament?" Prasad asked, underlining that the annulment of Article 370 was in the interest of the people of Jammu and Kashmir.
The law minister also picked statements by National Conference leader Farooq Abdullah saying he had no compunction about seeking even China's help for the restoration of Article 370 and PDP chief Mehbooba Mufti's remark that she won't hoist the Tricolour unless the Jammu and Kashmir flag is restored to target the Congress.
"Does the Congress support the statements of Farooq Abdullah and Mehbooba Mufti?" he asked while terming them "zabardast desh virodhi baatein (strongly anti-national statements)".
Along with the Congress, the BJP leader also slammed Abdullah and Mufti for "disrespecting the constitutional parliamentary process". Prasad accused the Gupkar alliance of trying to push Jammu and Kashmir back and deprive the people of the benefits of the central laws.
The BJP's Jammu and Kashmir unit chief Ravinder Raina on Monday said the decision of the Congress to join hands with the "Gupkar gang" is akin to joining hands with China and Pakistan". "They are the people who speak the language of Imran Khan, Xi Jinping…."