Bihar job threat to curb protests
Opposition slams CM Nitish Kumar for trying to strip people, especially youths, of their right to protest in a democracy by threatening to harm their career options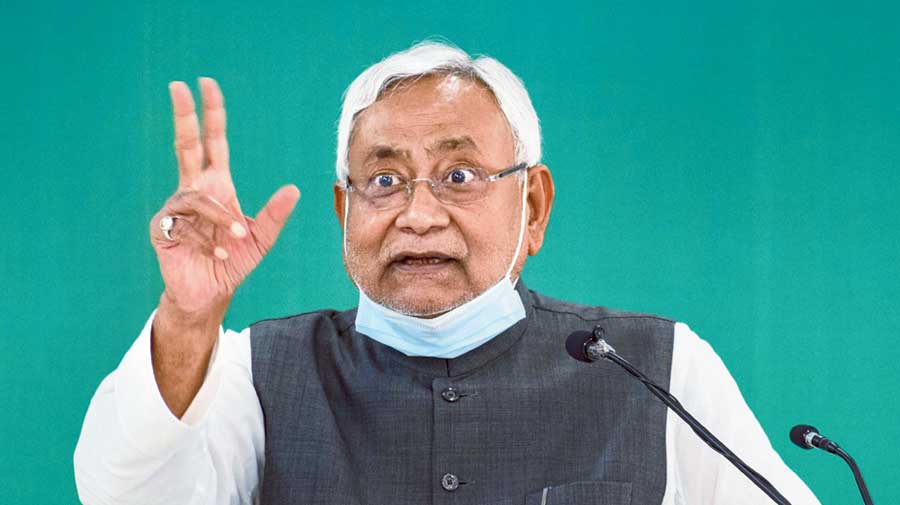 ---
|
Patna
|
Published 04.02.21, 12:20 AM
---
The Bihar government has issued a diktat that people involved in criminal activities while staging protests or road blockades will not be eligible for government jobs or contracts.
The Opposition slammed chief minister Nitish Kumar for trying to strip the people, especially youths, of their right to protest in a democracy by threatening to harm their career opportunities.
"If any person indulges in any criminal activity while participating in any law and order situation, protest, road jam and other such things, and is charge-sheeted by the police for this, it should be specifically and clearly mentioned in his character verification report," a circular issued by Bihar director-general of police S.K. Singhal said.
"Such people should be ready to face serious consequences because they will not be able to get government jobs or contracts," the circular added.
RJD leader Tejashwi Prasad Yadav termed the circular a "diktat of North Korean dictator Kim Jong-un".
The directive comes at a time when the government is facing demonstrations and protest marches by students, unemployed youths, job exam candidates, teachers, farmers and other sections of the society.
Youths who have qualified in various recruitment exams many months ago are demonstrating for not receiving appointment letters.
Normally, character verification is done prior to the appointment of a person in any government job and his criminal records are cross-checked, but the latest directive seems intended to dissuade youths from participating in protests by trying to instill in them the fear of loss of employment opportunities.
"We have specifically stated that if a youth creates a situation for himself without any reason, like sitting in a demonstration or participating in any agitation, and subsequently a case is registered and he is charge-sheeted, then the consequences will be grave for him," Singhal told The Telegraph.
Singhal said the intention was not to dissuade youths from participating in demonstrations but "to provide law-related information to them. It is their wish to participate in the protests or not. We are not telling them anything about it. We are just saying that the character verification will now be done in a more elaborate manner than earlier."