Amnesty call to free Bhima Koregaon activists
On this day 2 years ago, they had been arrested on the suspicion of involvement in an alleged terror plot linked to an Elgaar Parishad event in 2017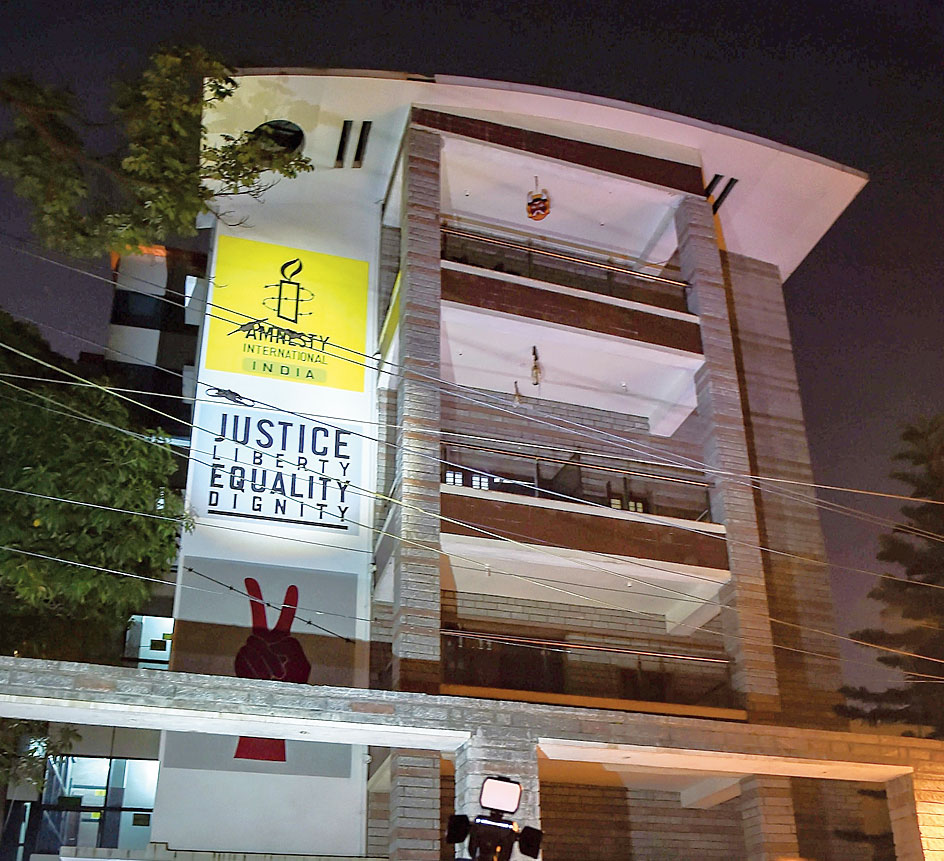 The Amnesty building in Bangalore.
PTI
---
New Delhi
|
Published 06.06.20, 07:56 PM
|
---
Amnesty International India has sought the release of 11 human rights activists jailed in connection with the Bhima-Koregaon violence.
On this day two years ago, activists Surendra Gadling, Rona Wilson, Sudhir Dhawale, Shoma Sen and Mahesh Raut were arrested by Pune police on the suspicion of involvement in an alleged terror plot linked to an Elgaar Parishad event in 2017.
The Elgaar Parishad meeting by Ambedkarites in Pune on December 31, 2017, meant to commemorate the second centenary of the Battle of Koregaon against the Peshwa's army, is being probed for alleged Maoist links, incitement of the violence that followed and a plot to attack the Prime Minister's rallies. Since then six more activists — Sudha Bharadwaj, Varavara Rao, Arun Ferreira, Vernon Gonsalves, Anand Teltumbde and Gautam Navalakha —have been arrested.
Amnesty International India's executive director Avinash Kumar said in a statement: "Repeatedly denied bail over the past two years, the nine male activists are currently detained in Taloja Central Jail, while Sudha Bharadwaj and Shoma Sen are kept at Byculla Women's Jail in Mumbai, Maharashtra. "Across Maharashtra prisons, at least three people have died and 200 have been infected with Covid-19, the highest in the country…. In the last one month, at least one prisoner has died of Covid-19 in Taloja Central Jail whereas a medical officer and another prisoner have tested positive for the virus in Byculla Women's Jail. Amnesty International India is concerned about the health of the 11 activists, most of whom suffer from comorbidities. Of the 11, five are older persons. Both the factors are known to heighten the risk of serious illness in individuals who contract Covid-19, putting the activists at a higher risk."
Rao, 79, who suffers from coronary artery disease, oedema and hypertension, fell unconscious in the jail recently. Bharadwaj, who suffers from diabetes and hypertension, has been denied bail that she had sought on medical grounds. Teltumbde, 69, has spondylitis. The other accused also have chronic illnesses and have been denied bail.
Kumar said: "It is nothing but cruel for the National Investigation Agency (NIA) to insist that these activists must continue to remain in jail as the pandemic rages across Indian prisons. The NIA, which reports to the ministry of home affairs, continues to treat the 11 activists as if they have already been declared guilty, punishing them before they are convicted and making a mockery of their right to be presumed innocent until proven guilty.
"The 11 activists must be considered for release on bail on humanitarian grounds immediately. The government of India says the fight against the pandemic in the country must be inclusive, it is time for the government to act on their words and ensure the health and safety of the 11 activists and other prisoners who have worked to protect the rights of India's most marginalised people."