Akhilesh to contest Lok Sabha poll
Samajwadi Party chief will contest the elections from Azamgarh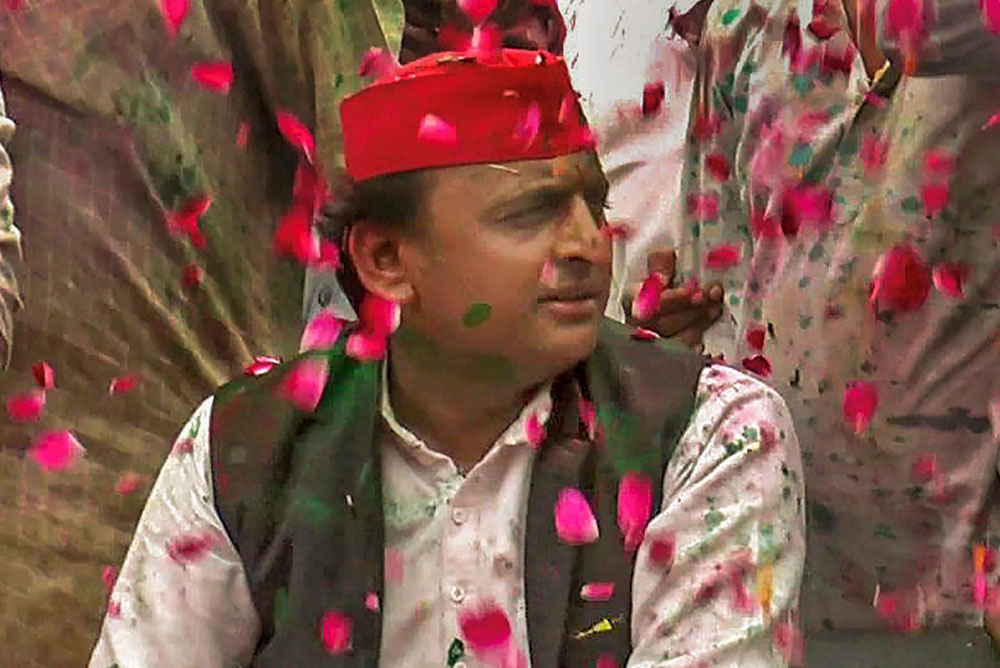 Samajwadi Party chief Akhilesh Yadav during Holi celebrations in Saifai on Thursday
Picture by PTI
---
Lucknow
|
Published 24.03.19, 08:58 PM
|
---
Samajwadi Party chief Akhilesh Yadav on Sunday announced he would contest the upcoming elections from Azamgarh, a seat held by his father who switches to Mainpuri this time in a poll that could elect seven MPs from the extended family.
Multiple sources within the party claimed a hunt was on to find a safe seat for Akhilesh's nephew, Tej Pratap Yadav.
Tej Pratap, great-nephew of Mulayam Singh Yadav, had won a bypoll from Mainpuri, a seat the Samajwadi patriarch had vacated last time after winning from Azamgarh too.
On Sunday, Akhilesh issued a statement in Lucknow saying he would contest from Azamgarh.
The party has already announced that Mulayam would contest from Mainpuri this time, necessitating the search for a safe seat for Tej Pratap.
Earlier, the party had declared it would field Akhilesh's wife Dimple Yadav from Kannauj and his cousins Dharmendra Yadav and Akshay Yadav from Badaun and Firozabad, respectively. All three are sitting MPs.
The family list could get bulkier as there is talk that Aparna Yadav, wife of Akhilesh's stepbrother Prateek Yadav, is trying to get Mulayam's blessings for her share of a Lok Sabha seat.
If Aparna gets to contest the polls and Tej Pratap is fielded too, that would make seven contestants from the wider family that once ruled Uttar Pradesh — Akhilesh as recently as 2017 when the BJP overthrew the Samajwadi government. In the last Lok Sabha, the family had five MPs.
Mulayam's extended political family spreads beyond Uttar Pradesh: Tej Pratap is the son-in-law of former Bihar chief minister and Rashtriya Janata Dal chief Lalu Prasad.
Samajwadi spokesperson Rajendra Chaudhary defended the decision to field so many candidates from one family. "A candidate is decided on the basis of winnability," he said.
The Samajwadi on Sunday also announced the nomination of Azam Khan — its Muslim face — from Rampur.
The party has formalised an alliance with Mayawati's Bahujan Samaj Party and Ajit Singh's Rashtriya Lok Dal for the heartland state's 80 seats. The BSP and the Samajwadi would contest 38 and 37 seats and the RLD three.
The alliance has decided not to field candidates from Rae Bareli and Amethi, the parliamentary seats of Sonia Gandhi and Rahul Gandhi, as a goodwill gesture towards the Congress.