Coalition the only way to stop BJP, says Akhilesh Yadav
Samajwadi president mentions Mamata's effort to bring leaders together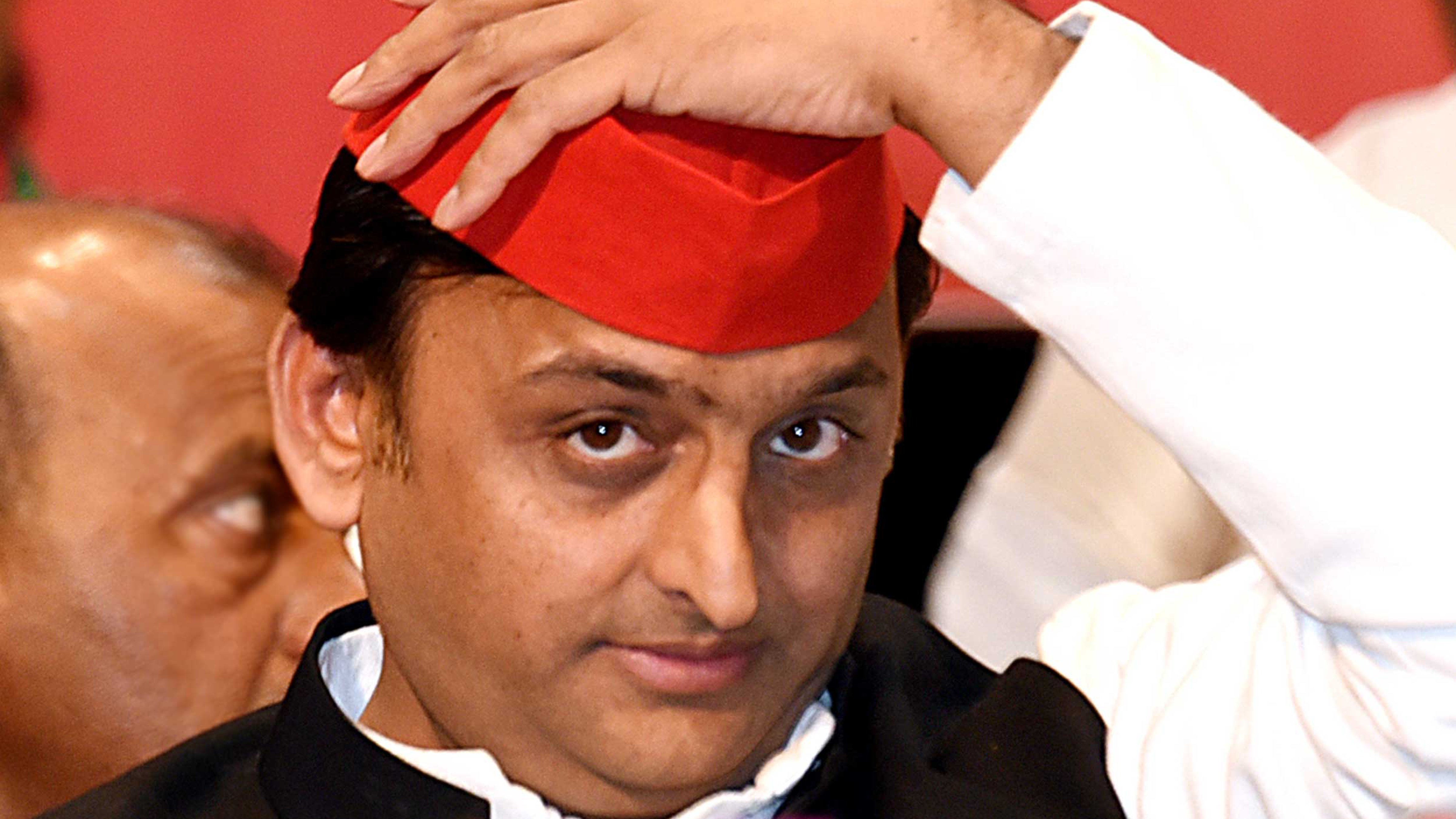 Akhilesh Yadav countered Prime Minister Modi's "mahamilawat" taunt at the Opposition coalition, saying that if anyone can keep the BJP from returning to power, it would be the coalition leaders.
Telegraph file photo
---
New Delhi
|
Published 10.02.19, 03:44 AM
|
---
Samajwadi Party president Akhilesh Yadav played a familiar coalition tune on Saturday night that featured the cast of usual suspects.
He pointed to Mamata Banerjee's effort to stitch together a coalition, and remarked that Nitin Gadkari's track record of making expressways "looks like he wants to reach Delhi soon". Akhilesh ridiculed Uttar Pradesh chief minister Yogi Adityanath and the Centre's rush to make toilets without thinking about water supply.
He countered Prime Minister Modi's "mahamilawat" taunt at the Opposition coalition, saying that if anyone can keep the BJP from returning to power, it would be the coalition leaders.
Akhilesh, however, would not spell out details of the tie-up of his own party with Mayawati's Bahujan Samaj Party (BSP) in Uttar Pradesh, an alliance that could prove formidable for the BJP to counter in the Lok Sabha election.
"We, samajwadi people, have decided that the country will get a new government," he said at the talk titled Jiska UP, Uska Desh – Will Coalitions Decide the Next Government in New Delhi. The Wire news website had organised the event in the Nehru Memorial Museum & Library in central Delhi.
"To bring a new government, we need to increase the speed of the cycle… and for that we have the support of the elephant," Akhilesh said.
Akhilesh said he saw the coalition as a "sangam" of different ideologies, not as a 'mahamilawat'. "This is not the first time (for coalitions). Ask them (the BJP) what all they had mixed to get more than 70 seats in UP." In the 2014 elections, the BJP won 71 of the 80 Lok Sabha seats. It was the party's best performance after 1998 when it secured 57. Then undivided UP had 85 Lok Sabha seats.
Asked about the SP-BSP partnership in his state, Akhilesh said it took him "25 minutes to end the fight between SP and BSP, which has been going on for the past 25 years".
How did it happen?
"If people learn how it happened it will be a problem," Akhilesh said. "It'll be a bigger problem if any Delhiwala finds out about this. Let it be a secret until the next government comes to power."
Using humour and wit, he steered the conversation away from the UP tie-up on which he was unwilling to reveal more.
Bengal chief minister Mamata, however, popped up in Akhilesh's answers more than once.
He cited her when discussion on the coalition came up. Speaking about her invite to leaders of different parties, he said: "I believe that all the parties who came together on that platform will give us a new government and Uttar Pradesh will play a major role in it. The road (to Delhi) goes through UP only."
Later, he also said: "If anyone can stop them (the BJP) in Bengal, it'll be Mamataji. In Bihar, it'll be this new alliance being formed."
Akhilesh had written an open letter supporting Mamata, who sat on a dharna last week in Calcutta following the CBI's effort to question the Calcutta police commissioner in the Saradha deposit default case.
Asked about the Congress's place in the coalition, he said: "Without the Congress, no coalition can exist. So the Congress is there too," but he also repeated that the SP-BSP don't have any understanding with the party in Uttar Pradesh.
Akhilesh and Rahul Gandhi had come together in the 2017 UP Assembly elections and faced a crushing defeat from the BJP. After the elections, it was said the coalition worked against the two young leaders as the BJP was able to consolidate all Hindutva votes. Akhilesh denied that the coalition in 2017 hadn't suited the SP. "We don't think that. There was a coalition then. It couldn't happen now. These are different things. We, SP and BSP, together want to stop the BJP. The other party doesn't want that. It wants to build its party."
About Priyanka Gandhi's entry in politics as the Congress general secretary in charge of eastern UP, Akhilesh seemed cagey. Without taking any name, he said a "naya Bharat" is possible only when new people join politics.
He said the BJP too was looking for another prime ministerial face because of the coalition. A few minutes later, Akhilesh mentioned minister for road transport and highways Gadkari. "Look Gadkariji is also building expressways, looks like he wants to reach Delhi soon. If anyone is building a new expressway in the country, it is him," he joked.
He said that a lot of people fell for the "achchhe din" promise. They realise now that those in power had taken two oaths. "Imagine, if someone had taken two oaths, how confused they might be. To run it (the country) by the Constitution or something else."
When asked what this other oath might be. He said people should look at what his chief minister (Yogi Adityanath) says. "Once he said that if a monkey attacks you then recite the Hanuman Chalisa." Keeping the glare on Adityanath, Akhilesh asked why was the UP chief minister going to Bengal and saying all sorts of things. "He should take care of Uttar Pradesh."
He said that "people wanted to hear something else now".
"Let the Prime Minister talk about his work. He says that he constructed toilets. If you listen to his speeches, they start with toilets and end with them," Akhilesh said. "I thought this was the last budget and these toilets will get water supply. But the toilets didn't get any water. They made toilets which don't even have water in them."