RLD joins UP alliance
Samajwadi chief Akhilesh said he has the "names of the 3 parliamentary constituencies" that RLD will contest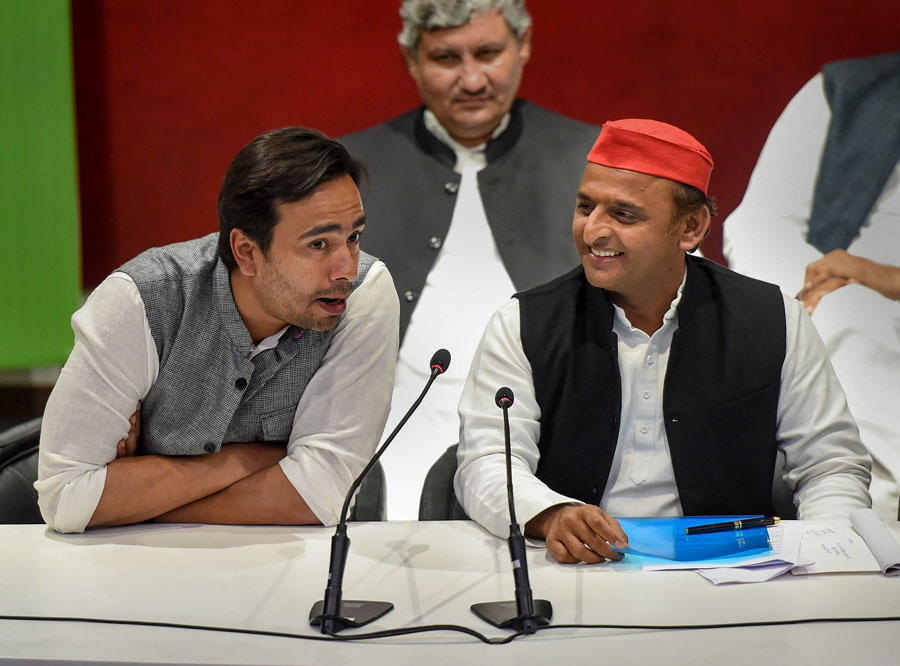 Samajwadi Party (SP) President Akhilesh Yadav(right) and RLD Vice President Jayant Chaudhary during a joint press conference, at the SP office, in Lucknow on Tuesday, March 5, 2019.
(PTI)
---
Lucknow
|
Published 05.03.19, 09:38 PM
|
---
The Rashtriya Lok Dal has joined the Samajwadi Party-Bahujan Samaj Party alliance in Uttar Pradesh for the Lok Sabha polls.
"The RLD will be a part of our alliance and contest three seats. It is a confluence of ideologies," SP chief Akhilesh Yadav announced at a media conference on Tuesday, RLD national vice-president Jayant Chaudhary by his side. Jayant's father Ajit Singh is the founder and president of the RLD.
When reporters asked Akhilesh why the Congress was not part of the alliance, Akhilesh said: "The Congress is with us and it is a part of the alliance."
The SP and the BSP had earlier declared that they would contest 38 and 37 seats in Uttar Pradesh, respectively, leaving aside for the Congress Rae Bareli and Amethi — represented by Sonia Gandhi and Rahul Gandhi. Uttar Pradesh has 80 Lok Sabha seats.
At the media conference on Tuesday, Akhilesh told reporters following repeated questions that he had the "names of the three parliamentary constituencies" that the RLD would contest and "would let you know".
The RLD is believed to have a strong support base among farmers in west Uttar Pradesh.
A source claimed that Akhilesh had agreed to give Muzaffarnagar, Mathura and Baghpat to the RLD.
"But knowing Mayawati well, he doesn't want to declare it on his own. He will take it to Mayawati and let her announce the names of the constituencies. There is also a possibility that Mayawati wants the SP to field a candidate of her choice from Mathura, which Jayant represented from 2009 to 2014 before the BJP's Hema Malini defeated him," the source said, requesting anonymity.
"As far as Akhilesh's claim that the Congress is part of the alliance is concerned, I believe he is trying to confuse the voters of the Grand Old Party. A section of non-Yadav OBC voters may support the Congress, and the SP doesn't want this at any cost," the source said.
Earlier, Akhilesh and Mayawati had dubbed the Congress "a party of snobs". Akhilesh had suggested that the Congress support the SP-BSP alliance if it wanted to defeat the BJP. Mayawati had said the Congress was "as bad as the BJP".