Ahead of PM Modi's Morbi visit, govt hospital gets quick makeover
Portions of entry gate painted in yellow, while some areas inside the hospital got a coat of white paint; Congress, AAP pounce on BJP' for 'eventbazi'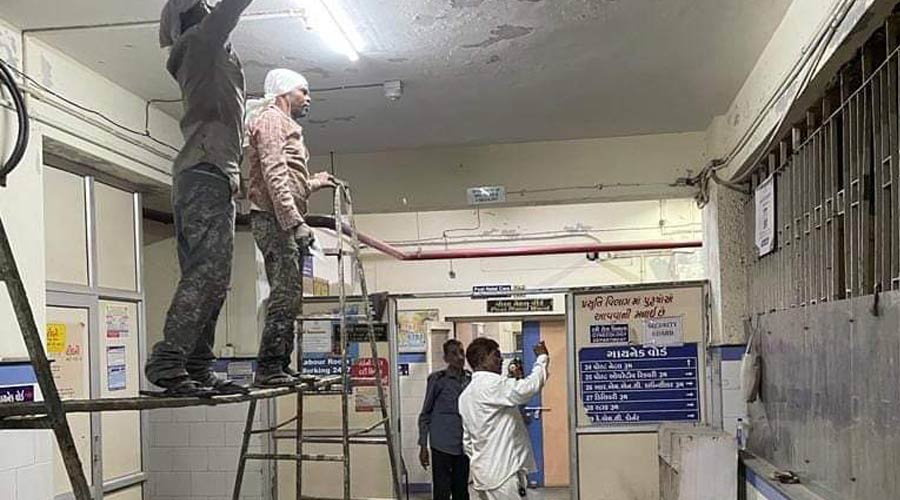 The ongoing renovation of the government hospital.
Twitter / @INCIndia
---
Morbi
|
Published 01.11.22, 10:42 AM
|
---
The government hospital at Morbi has got a makeover ahead of Prime Minister Narendra Modi's visit to the facility to meet those injured in Sunday's suspension bridge collapse which claimed 134 lives.
Workers were seen cleaning and painting a portion of the 300-bed hospital, which is a ground plus two-storey structure of three wings, ahead of Modi's visit sometime on Tuesday.
Six of those injured in the collapse are undergoing treatment at the hospital, while four to five other injured are being treated at a private hospital, a doctor said. So far, 56 people have been discharged, he added.
Portions of the entry gate have been painted in yellow, while some areas inside the hospital have got a coat of white paint.
The Congress tweeted images that showed repair work going on inside the Morbi hospital, to launch a tirade against the BJP.
The photos posted by Congress on Twitter showed overnight repair work going on inside the Morbi hospital, which included a fresh coat of paint, new tiles on the walls, and minor construction work to beautify the hospital ahead of PM Modi's visit to the facility on Tuesday.
Slamming the BJP for this "eventbaazi", the Congress said that "people have died but the ruling party is making an event out of this tragedy."
"Trasadi ka event (event of tragedy)," it tweeted. The Congress claimed that these arrangements are being made for PM Modi's photo op in the hospital. "They are not ashamed. So many people died, and they are preparing for an event," it said.
त्रासदी का इवेंट

कल PM मोदी मोरबी के सिविल अस्पताल जाएंगे। उससे पहले वहां रंगाई-पुताई का काम चल रहा है। चमचमाती टाइल्स लगाई जा रही हैं।

PM मोदी की तस्वीर में कोई कमी न रहे, इसका सारा प्रबंध हो रहा है।

इन्हें शर्म नहीं आती! इतने लोग मर गए और ये इवेंटबाजी में लगे हैं। pic.twitter.com/MHYAUsfaoC

— Congress (@INCIndia) October 31, 2022
Aam Aadmi Party, which is contesting all the 182 Gujarat Assembly seats, posted a video of the hospital being painted."Morbi civil hospital is being painted overnight so that the poor condition of the building does not get exposed during PM Modi's photoshoot," AAP claimed.
Rajkot range IG Ashok Kumar Yadav said on Monday evening that 134 people had died in the incident while 10 were under treatment.
"Fifty-six persons who were rescued alive earlier (have been) already discharged. As of now, no person is missing. However, we will continue our search-and-rescue operation tomorrow. People can contact us if they have any information about any missing person," he said.
Morbi town houses scores of clock makers; it is also known as the ceramic industry capital of India. The Oreva Trust, run by the well-known quartz clock manufacturer Oreva-Ajanta as part of its corporate social responsibility (CSR), had bagged the contract to maintain and operate the bridge. Some of its employees were arrested on Monday.
The colonial-era bridge, reopened only five days ago after months-long repairs, was packed with sightseers enjoying holiday festivities when it ruptured on Sunday evening, sending people plunging about 33 feet into the water.
Police officers said the swinging bridge could at best accommodate 150 people while tickets were issued by Oreva managers and staff to more than 400 people.
Technical and structural flaws and some maintenance issues were prima facie responsible for the Morbi bridge collapse, in which 134 people were killed, Rajkot range IG Yadav said.
The police have arrested nine persons, including a public relations officer of Oreva and staff who issued the tickets and were present on the spot.
With PTI reports