After Priyanka arrest, power & water tricks
A guesthouse on the premises of which Priyanka Gandhi Vadra was sitting in the dharna lost power and water supply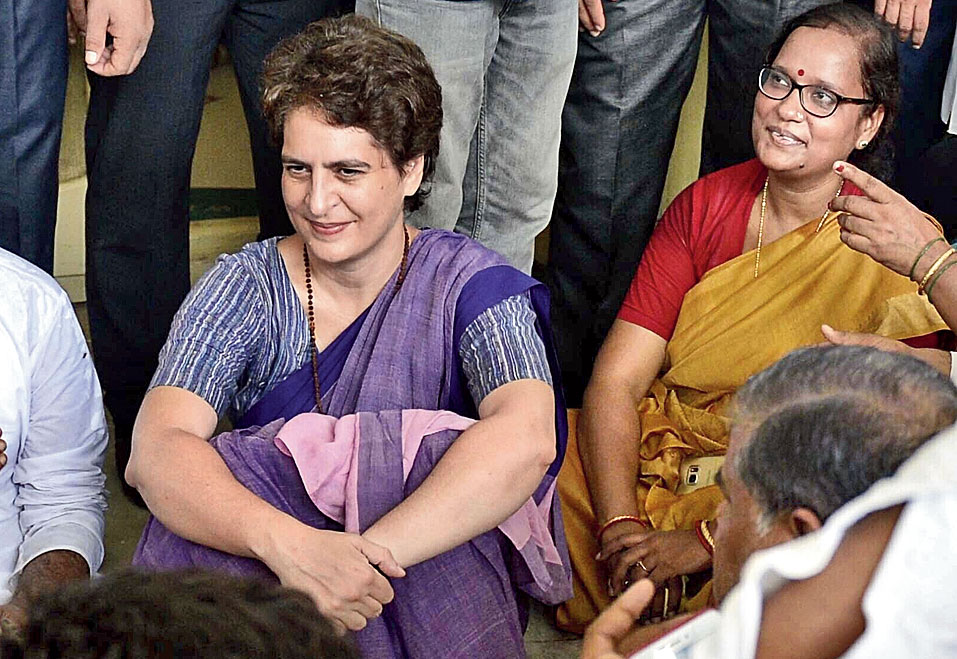 ---
|
Lucknow
|
Published 19.07.19, 09:48 PM
---
The Yogi Adityanath government and Priyanka Gandhi Vadra were locked in a standoff at a guesthouse in Uttar Pradesh on Friday night after the Congress leader was arrested to prevent her reaching a village where 11 tribal people had been gunned down in a land dispute on Wednesday.

At 7.30 pm, a guesthouse on the premises of which Priyanka was sitting on a dharna, vowing to continue it till she was granted permission to visit the village, lost power and water supply.
Congress workers alleged the BJP-led administration had deliberately snapped the supplies to force Priyanka out of the guesthouse where she had been taken by the police, apparently without realising they were gifting the party a high-voltage issue.
A source in the administration said the electricity and water supply had been disconnected on the hope that she would withdraw the agitation and return.
The showdown injected unexpected adrenaline into the veins of the enervated Congress, which showed signs of being an Opposition for the first time since the crushing Lok Sabha election defeat. (See Page 4)
As night fell, Priyanka continued to sit on a dharna on the premises of the guesthouse in Mirzapur, 80km from Sonbhadra, the district where the tribal people had been killed and which was Priyanka's intended destination.
The BJP-led administration cited the possibility of law-and-order problems as the reason for blocking her travel but Priyanka said she was willing to go to the village with just two people.
The police, who had initially detained Priyanka, later registered a case against her and a dozen other Congress leaders under Section 151 of the IPC for "continuing in assembly of five or more persons after commanded to disperse".
Priyanka is legally under arrest now and can be released from a police station only after furnishing a personal bond.
Chief minister Adiyanath blamed a Congress-mafia nexus for the land dispute. The last time the Congress was in power in Uttar Pradesh was in 1989 while Adityanath is the state's fifth BJP chief minister in the past three decades.