Academics point out campus caste harassment 'endemic' in India
Study comes after Dalit PhD scholar Deepa Mohanan levelled similar charges against a Kerala varsity director and conducted a 10-day hunger strike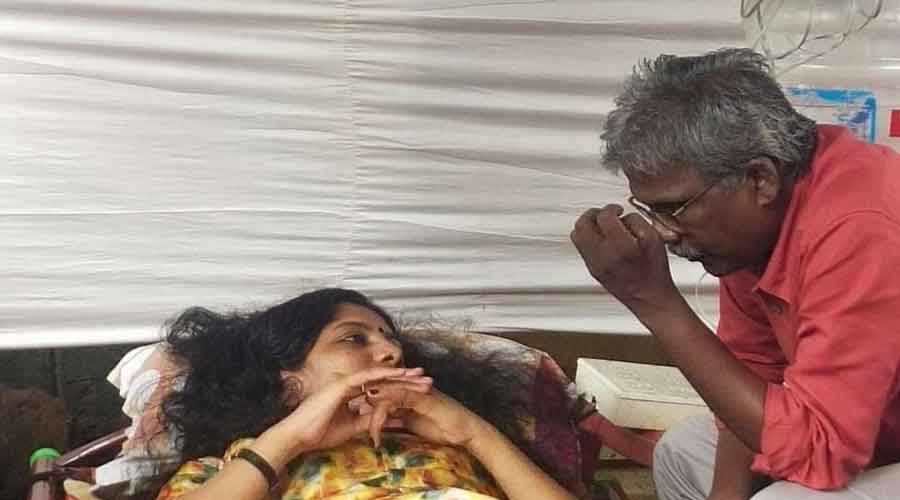 Dalit PhD scholar Deepa Mohanan
(twitter.com/Shinde_Voice)
---
Published 09.11.21, 01:33 AM
|
---
The allegation of campus caste harassment levelled by PhD scholar Deepa Mohanan, who conducted a 10-day hunger strike at a Kerala university, is only the latest among similar complaints from varsities across India where caste bias is endemic, academics and activists have said.
At a webinar organised on Sunday to express solidarity with Deepa, academics cited data accessed from the University Grants Commission that shows universities have largely ignored a June 2019 UGC letter seeking information on caste discrimination over the previous year and the action taken.
The data provided by universities that did comply reflected a high incidence of caste harassment on campus, they added.
For instance, Banaras Hindu University told the higher education regulator that it had received 11 complaints from Scheduled Caste students, four from Scheduled Tribe students and two from Other Backward Class students — all in a single year.
Apart from the June 2019 letter, the commission has written nine letters in the past 10 years — the latest on September 9 this year — to all universities and colleges asking them to establish a mechanism to tackle caste discrimination on campus.
This mechanism includes a committee to look into complaints by Dalit and tribal students, and a page on the university website where they can lodge the complaints.
Sources said many universities have yet not complied, and the commission has done nothing to pull up the defaulters.
The commission's June 2019 letter came after Dr Payal Tadvi, a postgraduate gynaecology student at Mumbai's Topiwala National Medical College, committed suicide in May 2019. She had accused three senior students of taunting her over her tribal background.
Last year, an academic filed an RTI plea seeking to know how certain leading universities had responded to the commission's directives.
According to data supplied by the UGC, Delhi University had not provided the information sought in June 2019.
Hyderabad Central University, where Dalit PhD scholar Rohith Vemula hanged himself in 2016 alleging caste victimisation, told the regulator it had received one complaint from a Dalit student in the previous one year and "solved" the matter. It added that it was yet to develop the web page, as instructed.
N. Sukumar, Ambedkarite and DU political science teacher, said many universities were setting up committees with people whose political inclinations made them likely to bury any complaint of caste abuse.
"Many universities, DU among them, did not provide the data (on caste discrimination) sought," he said.
"The grievance redress mechanism too is poor in most institutions. In most instances, the universities pressure the aggrieved students to withdraw their complaints."
Sukumar advocated a central law that stipulated stringent punishment not only for the campus caste bullies but also the universities that failed to act against them.
C. Lakshmanan, convener of the Dalit Intellectual Collective, which organised the webinar, said the UGC's letters and instructions were "ritualistic". "The UGC is not sincere about its own regulations," he said, adding that the regulator never acted against errant universities.
Beena Pallical, secretary of the National Campaign for Dalit Human Rights, told The Telegraph that the repeated campus suicides had not deterred dominant-caste teachers from victimising Dalit students.
"It's a pattern seen across universities. There's deliberate discrimination to deny higher education and research opportunities to Dalits so that education remains a Brahminical fief," she said.
Mohanan, a scholar with the Kottayam-based Mahatma Gandhi University's nanotechnology institute, ended her hunger strike on Monday, sources said.
Earlier, the Kerala government and the university had agreed to remove the institute director, whom she has accused of humiliating her.