AAP hails Sajjan conviction, slams Nath as CM
For us, Kamal Nath has the same level of guilt as Modi: AAP MP Sanjay Singh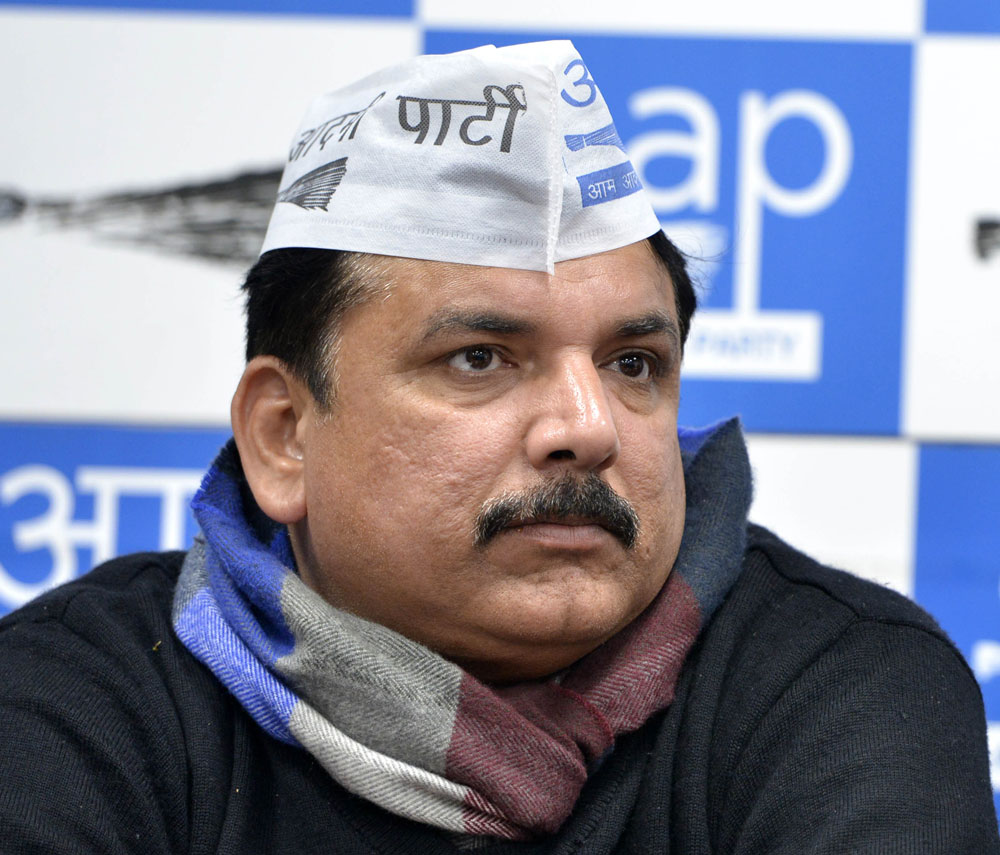 AAP MP Sanjay Singh skipped the swearing-in of 2 Congress chief ministers and attended only Ashok Gehlot's swearing-in ceremony.
Telegraph picture
---
New Delhi
|
Published 17.12.18, 10:05 PM
|
---
The Aam Aadmi Party on Monday welcomed former MP Sajjan Kumar's conviction in a 1984 riot case and AAP boss Arvind Kejriwal skipped the swearing-in of all three Congress chief ministers as Delhi's ruling party made clear its stand on Kamal Nath's elevation.
AAP MP Sanjay Singh was deputed to attend one swearing-in, that of Rajasthan chief minister Ashok Gehlot.
There have been questions about Kamal Nath's alleged role in the pogrom but the Congress veteran, who took oath as chief minister of Madhya Pradesh, has said there was no FIR or chargesheet against him. A judicial panel that probed the riots did not find sufficient proof to indict him.
The AAP said Delhi High Court's judgment sentencing Sajjan Kumar to life imprisonment was "truly landmark" in multiple ways.
"Even though 34 years have passed and even majority of family members and relatives of riots victims had lost all hope of justice, this is the first major conviction of big fish who presumed to be above law and received complete support of the powers that be in making a mockery of law," it said in a statement.
Party leader and Punjabi Academy vice-chairman Jarnail Singh said: "Rahul Gandhi had said sometime back the Congress is not guilty in these riots. Today the HC has clearly said that this happened with political patronage. Today you have made Kamal Nath CM. If you can see the tears of innocents and widows, then you should not have made him CM. Now, even after Sajjan Kumar has been convicted you have not expelled him from the party."
Singh, a former journalist, had thrown a shoe at P. Chidambaram during a media conference in 2009 after the CBI had closed a case against Jagdish Tytler, another Congress leader, linked to the riots. Chidambaram did not press charges. A Kejriwal aide told this paper the Congress leadership had invited the Delhi chief minister to attend the swearing-in Nath and fellow chief ministers Gehlot and Bhupesh Baghel (Chhattisgarh).
"Only Ashok Gehlot called him up to personally invite him. Hence, Sanjay Singh has attended his swearing-in. For us, Kamal Nath has the same level of guilt as (Prime Minister Narendra) Modi. There are sworn affidavits alleging their involvement in communal violence but not enough evidence to convict them, so far."
Nath has admitted he was present outside a gurdwara behind Parliament House on November 1, 1984, where two Sikhs were burnt alive. But he denied having any control over the mob. The Nanavati Commission did not find sufficient proof to indict him.
The AAP statement said: "As for the role of BJP in probing 1984 riots — what further proof of collusion is required that the retired judge appointed by then Congress government to whitewash the 1984 probe (Justice G.T. Nanavati) was also appointed by the BJP government in Gujarat to probe the 2002 riots."The CPM in a statement demanded that all victims of communal violence, whether they were from "1984, 2002 or other such incidents", should get justice. "Political leaders who led, backed and shielded the mobs must be brought to justice."