Aruna Roy and others are ready to face consequences
16 ready to take risk for Prashant Bhushan
The civil liberties activists offered to face any consequence for contempt for choosing to support the lawyer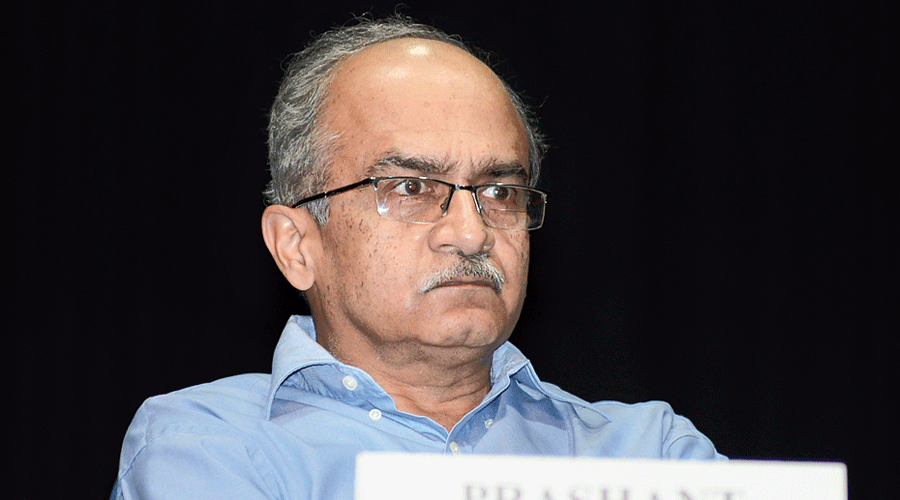 ---
New Delhi
|
Published 05.08.20, 04:55 AM
|
---
Sixteen civil liberties activists on Tuesday moved an intervention application in the Supreme Court in support of lawyer Prashant Bhushan and urged the top court to drop the contempt proceedings against him over two tweets.
They also offered to face any consequence for contempt for choosing to support him.
The joint petitioners are Aruna Roy, Jayati Ghosh, Shantha Sinha, E.A.S. Sarma, P. Sainath, T.M. Krishna, Jagdeep S. Chhokar, Anjali Bhardwaj, Prabhat Patnaik, Bezwada Wilson, Nikhil Dey, Deb Mukharji, S.R. Hiremath, Paul Divakar Namala, Wajahat Habibullah and Syeda Hameed.
"It is urged that this Hon'ble Court as an institution, described as the sentinel on the qui vive (vigilant), ought to allow debate and discussion regarding its functioning and must not appear to stifle such expression through invocation of its power of contempt," they said in the intervention application filed through advocate S. Prasanna.
The intervention petition added: "The applicants herein are aware that in the event that the Hon'ble Court allows them to be made party respondents and proceeds to find that the utterances/tweets constitute criminal contempt punishable under the law, they may themselves be liable to face all consequences thereof, including being proceeded against similarly for contempt."
In a separate contempt case, Bhushan on Tuesday expressed regret over some of his comments in 2009 that half of the 16 former CJIs were involved in "corruption".
"I did not mean only financial corruption or deriving any pecuniary advantage. If what I have said caused hurt to any of them or to their families in any way, I regret the same," Bhushan said.
He "unreservedly" supported the Supreme Court "as a great institution" in which he has "complete faith".
The statement was made through his senior counsel, Rajeev Dhavan, before a bench of Justices Arun Mishra, Bhushan Gavai and Krishna Murari.
The video hearing on Tuesday was briefly halted as the judges interacted over phone with Dhavan and another senior counsel, Kapil Sibal, appearing for Tarun Tejpal, the then editor-in-chief of Tehelka magazine, which had published Bhushan's interview.
Later, in a written order, the bench said it had not received any formal explanation or apology from the lawyer. It will, however, consider (as and when received) such an explanation/apology and decide whether the charges should be pursued or not.