Resistance at home
Till a few years back, it would have been virtually impossible to train with this objective at home without investing in costly home gyms, weights and benches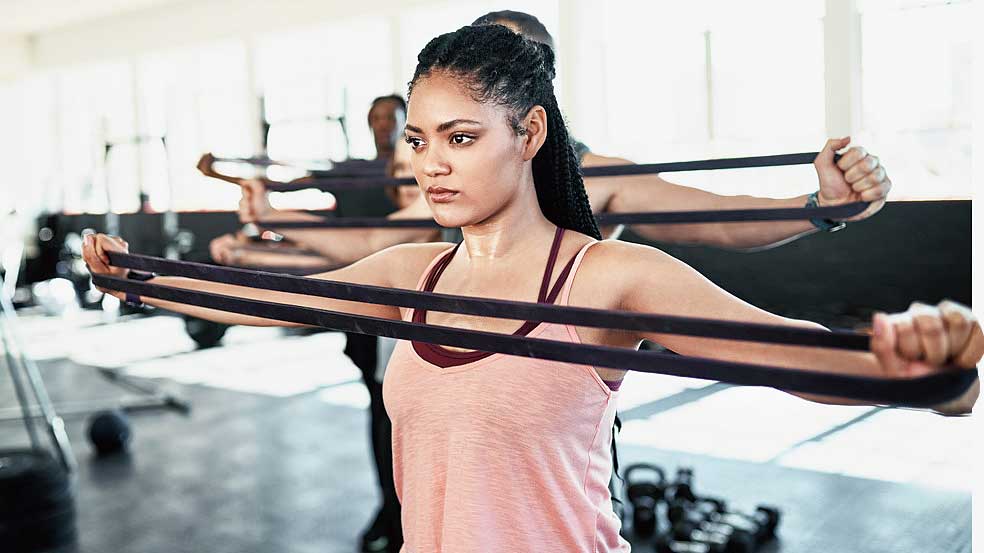 ---
Published 12.08.21, 12:07 AM
|
---
The secret to a toned body is resistance training. Till a few years back, it would have been virtually impossible to train with this objective at home without investing in costly home gyms, weights and benches. However, with the advent of resistance bands, kettle bells and other portable gear, working out efficiently has become a breeze now. All you need is proper guidance and a good exercise plan.
With this in mind, let us look at the second part of our series on developing your own home gym. (The previous article can be found here: https://epaper.telegraphindia.com/calcutta/2021-07-22/71/Page-9.html.)
Resistance band origin:
The resistance band was invented more than a hundred years back. It was patented in 1940 and was used in physiotherapy sessions from the 1990s. But only recently it is being used as mainstream exercise equipment for gyms and homes.
Benefits:
Resistance bands are a great workout tool not only because they're super affordable, transportable and versatile, but also because they can help target larger muscles as well as smaller stabilising muscles. They can be used to substitute or compliment most weight training exercises. Also, they can be used with great efficiency in stretching and rehabilitation exercises.
What to buy?
The most common types of resistance bands are:
1. Resistance tubes: These are resistance bands with handles at either end.
2. Endless loop bands: These are flat bands (like large rubber bands).
3. Therapy bands: These come without handles and are cut off at the ends. Resistance bands are available in different sizes and colour codes, depending upon the resistance or tension to pull that they offer. In general, the deeper the colour, the greater is the resistance of the band.
I suggest that you start with an endless loop band of standard size. The resistance should be around 5–15 kg if you are a beginner. Of course, the level of resistance would depend upon your strength and there is a little bit of experimentation involved here to find the correct resistance level for yourself.
The workout:
I have developed a set of 10 full body resistance band exercises that can be done up to three times a week in a circuit training format. If you are going for walks, runs or engaged in other forms of exercises, you may do this once a week to add that strength training quotient to your workout.
The training program can be found here: https://www.mikesmartialarts.in/post/full-body-resistance-band-workout. Get going, have fun and send me your feedback on the email id below!
Always consult a professional before starting on a workout.
The writer, a martial arts and fitness coach, is the founder of Mike's Martial Arts, a Calcutta-based martial arts and advanced functional fitness studio. Contact: mayukhpb@yahoo.co.in