Why is Salman irked by Arjun and Malaika?
Arjun Kapoor stood in the dock answering questions from the Khans about his relationship with Malaika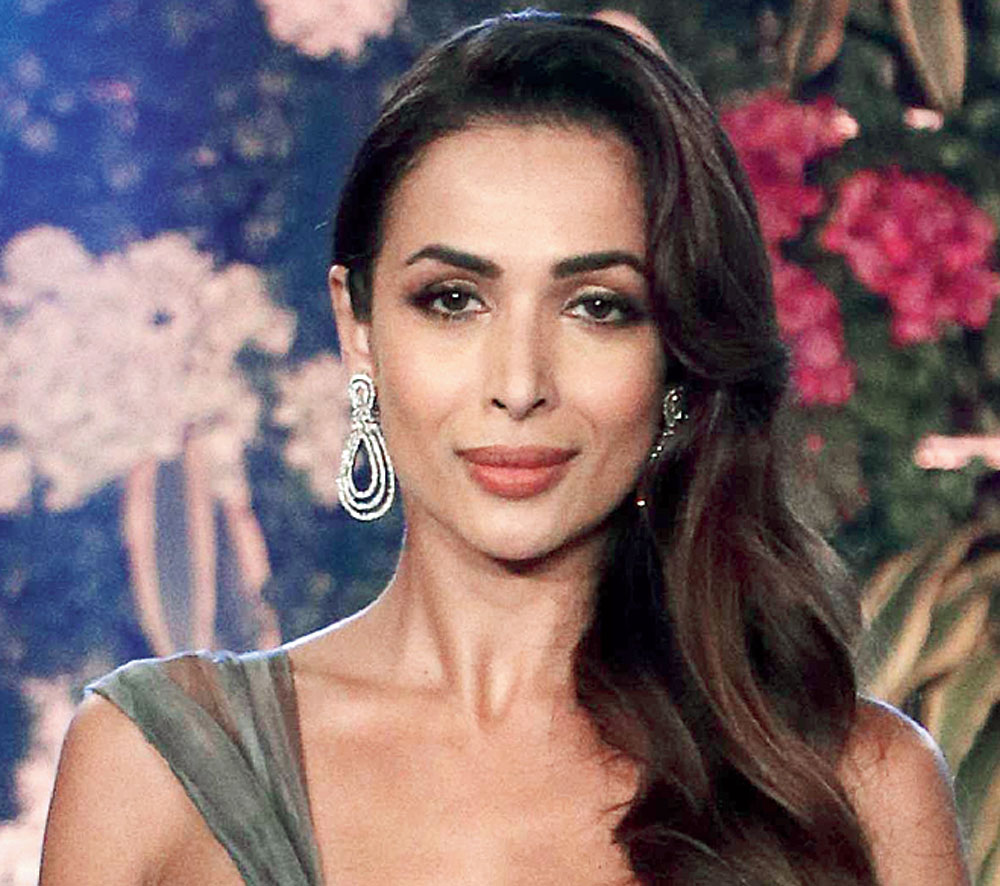 Malaika Arora parents were divorced when she was a little girl
Telegraph file picture
---
Published 10.11.18, 06:52 PM
---
Or, is it because Salman didn't expect his protégé, who once dated his sister Arpita (when both were young, nice and plump) to get seriously involved with his bhabhi? That shouldn't matter either since Arjun and Arpita broke up ages ago and, at that time, the young Kapoor wasn't even looking at Malaika.

Could it be that Salman felt cheated that a fat boy he had brought into the house to use his gym, a boy on whom he prevailed to shed weight fast, had found chemistry with his bhabhi?
One can now mention with names that way back in 2012, Salman and his entire family had sat around the hall at home and put Arjun on the mat like an accused in a courthouse. He had stood in the dock while answering questions from the Khans about his relationship with Malaika. Yes, it went back to more than six years ago, when Malaika was still married to Arbaaz and Arjun's debut film Ishaqzaade hadn't even been released. It was perhaps prudent in those circumstances to deny the mutual attraction and wait for her to be single again. Now that she is a free bird, why shouldn't they date openly?
Besides being single, they have much more in common. Malaika's parents were divorced when she was a little girl and her sister, Amrita Arora, was too young to even know what was happening. Their mother, Joyce, remarried and today all of them get along famously with one another, stepfather included. Malaika has seen it work out for Joyce after she had two grown-up daughters. No reason why it shouldn't for her too.
Arjun has also gone through the same heartache of watching his parents go their different ways. He went through seriously trying times when his asthma would act up in school out of the sheer trauma he experienced when his father set up home with Sridevi. All those emotional and social creases got ironed out with time as it will with Malaika and Arjun too.
Perhaps the couple will be bound together by mutual needs and mutual understanding. What I can say is that they're both very warm people and as long as they're happy with each other, Salman and co. can go take a hike.
It takes me to another Khan, Shah Rukh. When he eats, he says, he's "almost Islamic" in the sense that he keeps it simple and isn't obsessed with food. One recently heard of another Islamic gesture from him — he doesn't take interest on the money he invests in a film stating that it's "haram" to do so. He encashes his percentage of the profits but won't take a single rupee as interest which is the normal practice here or in any other business. Now one hears that for Zero, he has invested his own money — and it's a huge sum — without picking up even a rupee from the market. Anybody would be willing to finance an SRK movie and most of them use their clout to find investors and never dip into their own pockets. But not Shah Rukh. He's told his advisors that he wants to sleep well at night without owing anybody even a rupee in debt. His principled stand is quite a revelation. 
I don't understand why Salman Khan gets his knickers in a twist at former sister-in-law Malaika Arora and former protégé Arjun Kapoor getting together as a couple. She's single today and so is Arjun, so why is everybody getting hot under the collar? Because she's 45 years old and he's 33? Can't be, since Saif Ali Khan (now 48) was not gossiped about so brutally when he wed Amrita Singh (now 60), who was 12 years older than him, and tut-tuts have stopped over Priyanka Chopra's marriage to 10-years-younger Nick Jonas. Or is it because whatever the age difference, the girls were single and of "marriageable age" while Malaika is 45, divorced and the mother of a 15-year-old? Coming from a household where two mothers exist and his dad brought in the second wife when he was 50 or more, age shouldn't be a worrying factor for Salman.