The Sound of Julie Andrews
London's South Bank to come alive with Home Work: A Memoir Of My Hollywood Years on November 2
---
---
The South Bank, London's premier cultural centre, will be filled later this year with the sound of Julie Andrews, one of the world's best-loved actresses.
Generations have grown up with Mary Poppins (1964), her debut film from 55 years ago which won her an Oscar, and The Sound of Music (1965), which she made a year later, starring as Maria von Trapp in an Austria overrun by the Nazis.
She first rose to prominence via Broadway musicals such as My Fair Lady (1956) playing Eliza Doolittle, a young Cockney flower seller, opposite Rex Harrison's Henry Higgins, a professor of phonetics. But when the film version of My Fair Lady was made in 1964, she was disappointed to be denied the role of Eliza, which went instead to Audrey Hepburn, who was considered a bigger box office draw.
There were highs and lows in both her Hollywood career and her personal life. Andrews has been married twice, first to set designer Tony Walton from 1959 until 1967, then to director Blake Edwards from 1969 until his death in 2010.
Born Julia Elizabeth Wells on 1 October 1935 in Walton-on-Thames, Surrey, she discovered at the age of 15 that her biological father was a family friend with whom her mother had had an affair. She kept this a secret from the public for over 70 years. When her mother married a second time, the stepfather tried twice, when drunk, to get into bed with her. She thought it prudent to fit a lock to her bedroom door.
Apart from her film and stage career, Andrews, now 83 and a grandmother to nine and great-grandmother to three, has written a number of children's books and published an autobiography, Home: A Memoir of My Early Years (2008). It is the second part of her autobiography — Home Work: A Memoir Of My Hollywood Years — she will be discussing "in conversation" with Alex Jennings, a well known British actor, when she appears at the South Bank on November 2.
Andrews, made a Dame by the Queen in 2000 "for services to the performing arts", will also answer questions submitted by the members of the audience at what is expected to be a sell-out event.
Her new book, due out on October 15, has been co-written with her daughter, Emma Walton Hamilton.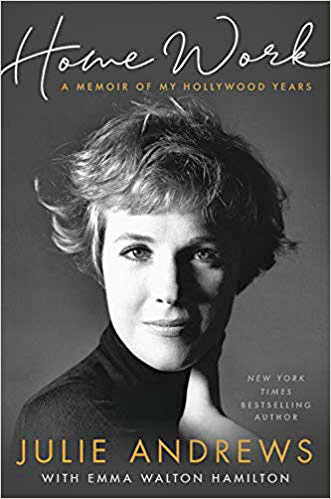 According to the publishers, the book, "told with Julie Andrews's trademark charm and candour, takes us on a rare and intimate journey into an astonishing life that is funny, heartrending and inspiring. Not only does she discuss her work in now-classic films and her collaborations with giants of cinema and television; she also unveils her personal story of adjusting to a new and often daunting world, dealing with the demands of unimaginable success, being a new mother, the end of her first marriage, embracing two stepchildren, adopting two more children, and falling in love with the brilliant and mercurial Blake Edwards".
In the UK, the book is being brought out by Weidenfeld & Nicolson, whose chairman, Alan Samson, said: "Dame Julie Andrews is indisputably a British national treasure, famous for her starring roles in some of the most successful and timeless films ever made. This vivid memoir of her Hollywood years recounts Julie's personal experiences of these times, and her reflective insights will beguile and enchant her multitudes of admirers, of which I am proud to be one."
But millions around the world still associate her with the theme song from The Sound of Music whose innocence has not withered despite the passage of time: "The hills are alive with the sound of music/ With songs they have sung for a thousand years/ The hills fill my heart with the sound of music/My heart wants to sing every song it hears…"
Not to forget: "Doe, a deer, a female deer/(Re!) ray, a drop of golden sun/(Mi!) me, a name I call myself/(Fa!) far, a long, long way to run..."