Get set to feel the ABBA vibe
Name of the Game is a UK tribute band that honours the iconic Swedish group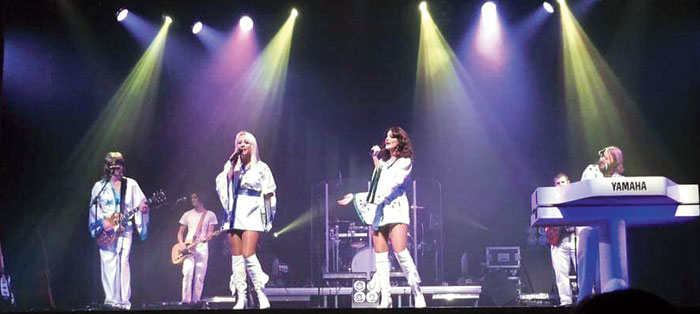 ---
---
The 2008 film Mamma Mia! was nothing less than an out-and-out cultural reappraisal of ABBA's music, proving the Swedish quartet's enduring gloriousness. As much as in the 1970s and 80s, their music still makes people feel comforted, happy and dance-y. Over the decades we have discovered how much of a musical genius were Agnetha Faltskog, Bjorn Ulvaeus, Benny Andersson and Anni-Frid Lyngstad and it wouldn't be out of line to say that the two male members form one of the greatest pop songwriting team ever.
Between two successful Mamma Mia! movies and the upcoming release of new music (yes, the first in 35 years), treat yourself to some ABBA moments presented by Name of the Game, a popular tribute band from the UK, which will perform in Calcutta on August 16 at Netaji Indoor Stadium as part of the concert 'In aid of charity: Breaking through Dyslexia'. It will highlight the efforts of Dyslexia Trust of Kolkata, an organisation working towards creating awareness and teaching dyslexic children to reach their potential.
The Telegraph emailed Michelle Cleave, the creator of Name of the Game, to ask all things ABBA.
The obvious question: How did you get started with the ABBA tribute band?
I have been involved in the ABBA tribute circuit for 17 years now. I first went to an audition — as a 17-year-old — that my father had heard about and I got the job to actually play Frida (Anni-Frid Lyngstad), the redhead, although I am a natural blonde. It was my first proper professional singing job and we toured all over the UK and Europe. After a few years I started my own show and became involved in a few other ABBA shows and soon gained popularity as a lookalike and soundalike of Agnetha (Faltskog, 'the blonde one'). I began to be booked quite regularly for bigger shows. I decided to start Name of the Game so that I had an ABBA show that I felt was a proper portrayal of the group… something that I felt was a respectful representation of ABBA.
The last ABBA album (The Visitors) was released in 1981. What lends their music an endearing quality? Why are people still crazy about their music?
I think ABBA records are like no other. They have a magical quality about them. The clever production behind them and creative genius between the songwriters — Benny and Bjorn — sets them apart… they are quite universally-written songs that hold appeal to a wider audience.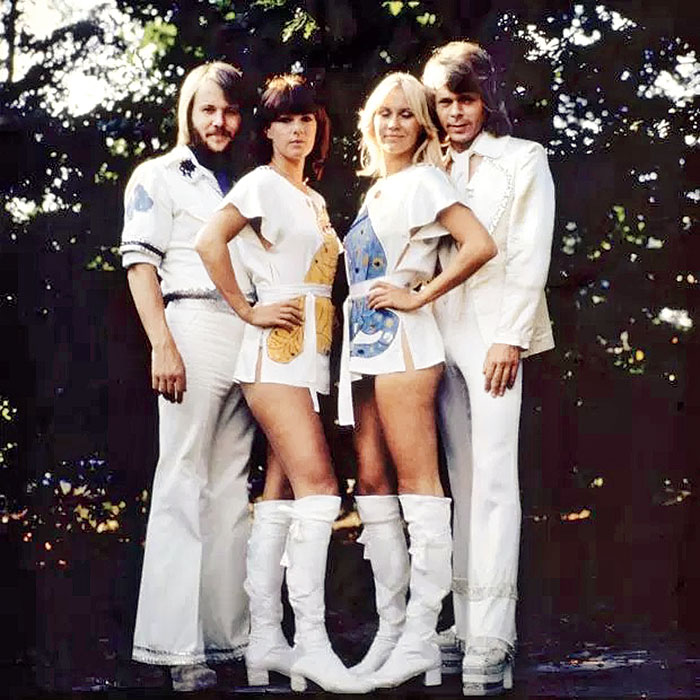 Who in your group represents the actual ABBA members Agnetha, Bjorn, Benny and Anni-Frid?
Michelle represents Agnetha immensely from a soundalike and lookalike aspect. People have talked about how much she vocally sounds like her and she has made people cry (in a good way!) singing The Winner Takes It All.
Steve plays Bjorn Ulvaeus. He has a lot of fun with stage style, like Bjorn did, and he has had many years of experience playing the role. His vocals are very suitable to the character and he brings energy to the performance. Of course, he loves the music of ABBA.
Louise has more than done her 'Frida apprenticeship'. She loves portraying the role of Frida and also has picked her mannerisms and on-stage traits.
Harry is the newest member of Name of the Game and is an extremely talented pianist. I think when people first think of ABBA songs they think that these are easy. But to play the role of Benny (Andersson) is a real challenge. The stuff is not easy and one needs to have a lot of energy to pull it off. Plus, the person needs to have a beard to match! A lot of ABBA tribute bands just bring in a lookalike and stick them behind the keyboard and get them to mime. We don't do that.
Does the audience response vary from country to country?
I think ABBA goes down well in most countries. Some countries prefer to sit and watch for a bit before dancing but it doesn't mean they are not enjoying it.
ABBA is remembered as much for their music as for their iconic wardrobe. How do you find the costumes? What are the five must-haves?
I absolutely love the costumes. I love the style. The matching but slightly different outfits between the girls, the platforms, the make-up, the glitz… everything. The five must-haves are a kimono, a pair of white boots, a pair of gold boots, lycra and satin. The 'cat costumes' are my favourite and we will bring these to India.
There are, of course, the popular ABBA songs but the group has some fantastic underrated numbers, like My Love My Life, Summer Night City, When All Is Said and Done. How do you decide on the set list for your gigs?
I love the underrated numbers. They are lovely to sing but we don't always get a chance as a lot of the time you have to play to the crowd and they might not know the lesser-known ones. We will perform Summer Night City though.
What has been some of the milestone moments for your band?
The upcoming trip to India as well as performances all over the UK. We have a great secret event coming up in London soon. You might see us on the tele.
Your thoughts on the two Mamma Mia! films and also what do you expect from the new ABBA tracks that are expected to come out this year?
They are quite fun to watch. They have definitely made younger people more aware of the music but they now know the film versions of the songs rather than the originals. As for the songs, I don't know what to expect with the new music to be honest.
Why do you think an ABBA tribute show holds appeal to youngsters who were born in the 1990s?
The films play a big part in that and also their parents or maybe grandparents would have played ABBA.
Do you think age would ever catch up with your tribute group?
We are okay at the moment. I will cross that bridge when I come to it. I may have to train up a younger model and run the band as its manager.
Besides ABBA, who are the singers you grew up on?
I grew up listening to a lot of Elvis Presley. I used to love Mariah Carey when I was a young girl and also the Spice Girls. Talking of the Spice Girls, I also run a great tribute to them called SPICE… perhaps you will see them in India one day.
There are a few ABBA tribute bands. Have you encountered competitiveness on the circuit?
Of course. A lot of ABBA groups think they can do ABBA by just putting on a wig and singing over karaoke tracks. We don't do this. So we try to maintain quality in way of looks and performance. A lot of acts will be cheaper and they ruin it for the higher-quality acts.
Any message for ABBA fans in Calcutta?
We are excited to see you all soon and share the ABBA experience with you!