The Red Bull BC One World Final takes Mumbai by storm
B-boy Menno from the Netherlands and b-girl Kastet from Russia were crowned champions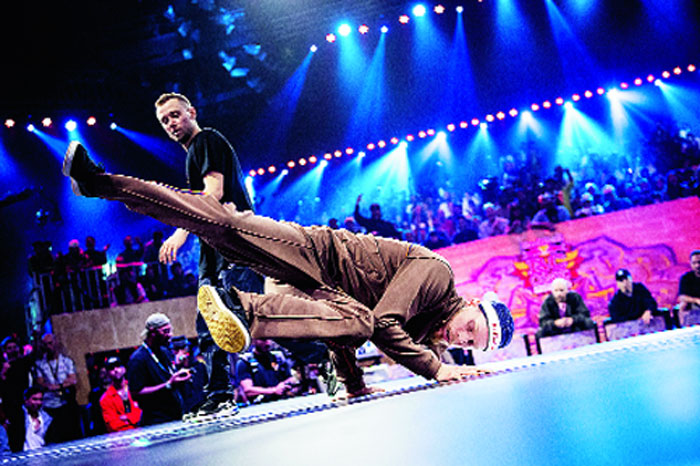 ---
---
After 15 successful editions, the Red Bull BC One World Final was held in Mumbai. On November 9, people from different countries gathered at The National Sports Club of India (NSCI) in Worli to watch 70 breakers battle it out for the win. The results? B-boy Menno from the Netherlands and b-girl Kastet from Russia were crowned champions. Although it was b-girl Kastet's first win for this competition, b-boy Menno won the belt for the third time (he is the winner of Red Bull BC One, 2014 and 2017).
Although the audience at NSCI appreciated each of the participants, the loudest cheers were reserved for b-boy Flying Machine from Mumbai, who had reached the final through wild card entry. Unfortunately, his run ended in the top 16 of the b-boy battle against b-boy Robin from Ukraine.
Also, keeping the crowd going were emcee Amjad and DJ Smirnoff who dropped mixed beats for the breakers.
B-boy Menno, a member of Hustle Kidz crew, BC One All Stars and Def Dogz, in the middle of his battle against b-boy Killa Kolya from Kazakhstan. Starting his breaking journey in 2001, he would train with his older cousins and has won different breaking competitions, like the 2007 and 2013 UK B-Boy Championships solo competition, the 2013 and 2015 Battle Of The Year and Unbreakable solo competitions, the 2017 R16 Solo competition and he was also the winner of the first official WDSF 2019 World Breaking Championship. The father of one also wears different masks... that of a painter and designer of a clothing line. "This win means a lot to me. It is the perfect closure for this year, I have been working very hard for it. The battles weren't easy; we only battled three rounds but my opponent Killa Kolya went all in. I'm very happy to take this title back home, it is dedicated to my next kid," he said.

B-girl Kastet, member of crew 3:16, was all smiles with her Red Bull BC One World Final belt. The girl from Krasnodar in Russia started breaking at the age of 12 in 2010 after trying her luck with Latin dances and judo. With the help of her crew mates b-boy Marvel and husband b-boy Jerry Metal and inspired by b-boys Kmel, Machine, Remind and Rockadile, this art student has won competitions like Combonathion 7 2v2 B-Girl battle, the Combonathion 9 1v1 B-Girl battle and the 2018 Russian Red Bull BC One B-Girl qualifier. "I didn't think about the title. I thought about growing in my understanding of dance and hip-hop culture. But when I got the title, I was very happy, and it's great to win the belt. Dancing evolves when you put in hard work and understand yourself better," said Kastet.
The first Indian boy ever to compete in the Red Bull BC One World Finals, b-boy Flying Machine in action. "I went on to win the Red Bull BC One India title three times and now finally became the first Indian to represent my country in the World Final. I got to stand on the big stage itself and battle along with all my idols! The fact that it was in my home city Mumbai, the whole nation was cheering for me and I had my family watching me for the first time made it unforgettable," he said.
Between rounds, there were special performances by V Unbeatable and Mumbai's finest Divine who sang the Red Bull BC One anthem besides numbers from his new album, Kohinoor. DholDhamaal opened the event with some "dhol beats".
Calcutta was there
Crafts of Kammotionn: "Although we are an all-style crew, most of us ventured into the world of dance watching b-boying videos, Red Bull BC one being one of the first battles which we saw together. Every year we get together to watch the live stream. So after 10 years, we're finally getting to watch live all those dancers one only saw on YouTube. It was an indescribable experience and a dream come true. The MCs created the vibe, the DJs played some fire tracks and the dancers from India and all over the world were off the hook! It was also the first time our entire crew and fam travelled and learnt together. The highlight of the event: under the Popping category, out of almost 60 dancers, two of our crewmates (Siddharth Basu Roy and Roshan Banerjee) were in the top eight. The cherry on the cake was that Roshan bagged the winning title in the Popping category. This was the biggest jam that happened in India... hands down... and all thanks to Red Bull. Looking forward to the next season."

FullStop Crew: "This was the craziest weekend of our lives. It was an amazing opportunity for all the dancers in India to witness one of the biggest dance events in the world. We knew we had to be present to witness history. We were rooting for the very talented and dear friend b-boy Flying Machine who was representing India and made us all proud by reaching the World Final. Although b-boy Killa Kolya won our hearts through the duration of the competition, b-boy Menno has always been a favourite. We met so many friends from all over the country and the BC One Camp was just crazy with killer music and a series of events that were literally overhyped. It was one really well-organised party. BC One filled our hearts and left us inspired and wanting more. It was a huge step for the hip-hop scene in India and will help in its growth in immense ways. We are so happy and honoured to be a part of this world-class event and hope that India gets to host many more events like this and we also hope that the Indian street dance community gets recognised on a global scale. Big ups to Red Bull for doing this and organisers for pulling off such a world-class event with ease!"