Snapshots from the special screening of the romantic thriller Kaberi Antardhan
The film was shot mostly in the idyllic landscape of North Bengal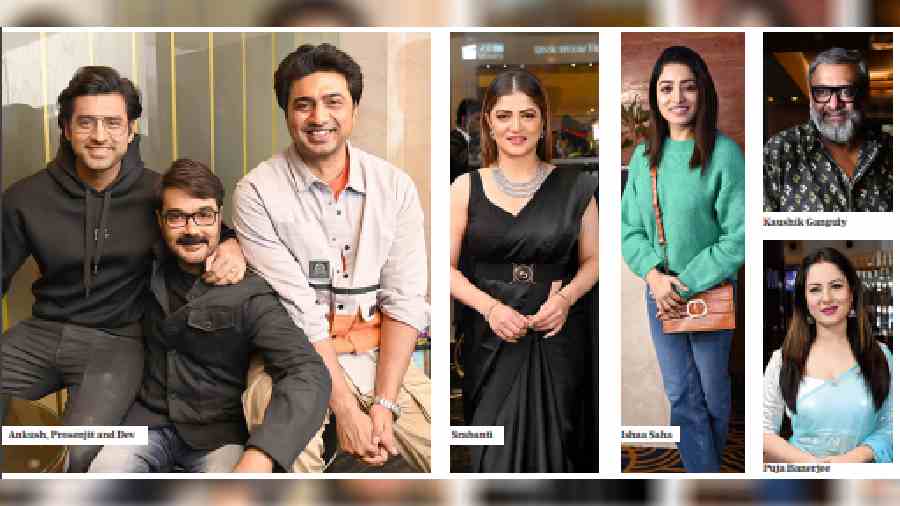 ---
Published 26.01.23, 04:27 PM
|
---
Team Kaberi Antardhan and friends got together at INOX, Quest mall, recently for a special screening of the Kaushik Ganguly film, starring Prosenjit, Churni Ganguly, Koushik Sen, Srabanti, Ambarish Bhattacharya and Purab Seal Acharya, among others.
Talking about his bond with Kaushik Ganguly, Prosenjit said: "Our bond has become stronger. We understand each other really well. This is our fourth film together. Without expressing it, we know what the other person wants to say during a shot. Also, it was great to share screen space with Kaushik Ganguly."
"Kaberi Antardhan was shot mostly in the idyllic landscape of North Bengal. Prosenjit, Srabanti, Churni Ganguly, Koushik Sen, Ambarish, Indraneil and others have done absolute justice to their respective roles," said Kaushik Ganguly.
Kaberi Antardhan is set in the small town of Hatimara, which is surrounded by tea gardens. Hatimara is a pro-extremist small town which has turned out to be a ghetto for the Naxalite movement in the last few years. Prosenjit plays the prolific artist Arghyakamal, who has refused to move out of the disturbed small town for a better life. He is a smart, charming middle-aged man whose life revolves only around art. After the sudden demise of police officer Mrinmoy Ghosh (Koushik Sen), Arghya learns that Mrinmoy's sister, Kaberi Bhattacharya (Srabanti Chatterjee) has gone missing. 
"Kaberi Antardhan is our muchawaited New Year's gift for movie buffs. The movie has a stellar cast. After the remarkable success of Drishtikone and Jyeshthoputro, we have brought Prosenjit and Kaushik Ganguly together," said Nispal Singh, director, Surinder Films.