Salaam Venky to Vadh — 1 Bengali and 5 Hindi films releasing in theatres this Friday
You can watch Maarrich, Shadow Assassins, Vijayanand, Salaam Venky, Vadh and Satbhoot Adbhoot in theatres this weekend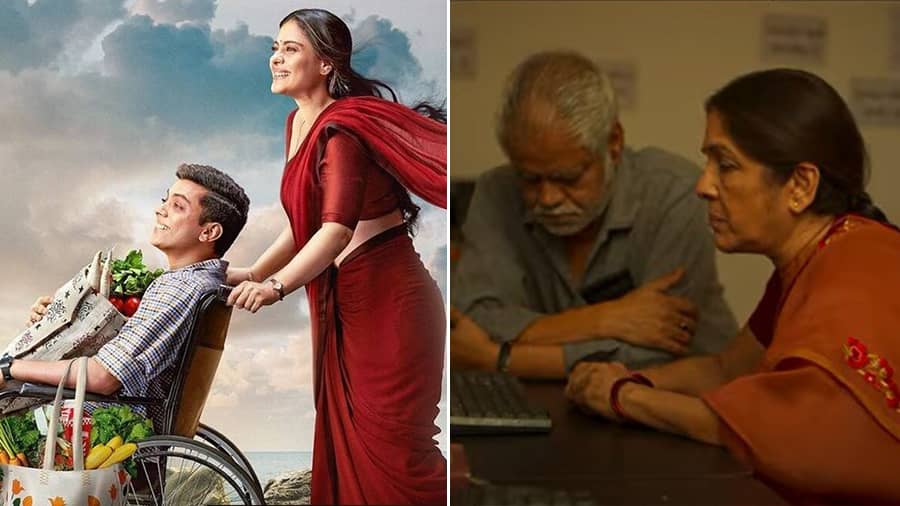 Salaam Venky; Vadh
Twitter
---
Calcutta
|
Published 08.12.22, 04:32 PM
|
---
From the moving tale of a mother and her son to a murder mystery involving an elderly couple, the biopic of a renowned industrialist and a social satire — here are one Bengali and five Hindi films that will hit the cinemas this Friday.
Salaam Venky (Hindi)
Cast: Vishal Jethwa, Kajol, Kamal Sadanah, Rajeev Khandelwal, Aahana Kumra and Rahul Bose
Salaam Venky follows the bond between a mother and her son. When Venky (Vishal Jethwa) is diagnosed with Duchenne muscular dystrophy, his mother Sujata (Kajol) goes out of her way to fulfil his wishes because Venky believes that zindagi lambi nahi badi honi chaiye.
Maarrich (Hindi)
Directed by: Dhruv Lather
Cast: Naseeruddin Shah, Tusshar Kapoor, Rahul Dev, Anita Hassanandani Reddy and Dipannita Sharma
Tusshar Kapoor will be making his big-screen acting comeback with Maarrich. He will be reprising the role of a cop, Inspector Rajeev, who is tasked with nabbing the killer of two young girls. On his list of suspects are six interesting characters. Naseeruddin Shah plays a catholic priest in this whodunnit thriller.
Vadh (Hindi)
Directed by: Jaspal Singh Sandhu and Rajeev Barnwal
Cast: Sanjay Mishra, Neena Gupta, Manav Vij and Saurabh Sachdeva
A thriller with shades of Ajay Devgn's Drishyam, Vadh revolves around schoolmaster Shambhunath Mishra (Sanjay Mishra) and his wife Manju (Neena Gupta). They are a most ordinary couple leading an uneventful life. Their world turns upside down when Shambhunath gets embroiled in a murder and is left to covering his tracks in order to stay out of jail.
Shadow Assassins (Hindi)
Directed by: Nilaajan Reeta Datta
Cast: Anurag Sinha, Soumya Mukherjee, Hemant Kher and Rakesh Chaturvedi
From 1998 to 2001, mysterious assailants unleashed a reign of terror in Assam. More than 1000 civilians were wiped out mercilessly. Print media termed these assassinations as 'secret killings'. Inspired by true events, Shadow Assassins tells the story of Nirbhay Kalita (Anurag Sinha), a young ambitious boy who gets sucked into vengeance after his dear ones are assassinated.
Vijayanand (Kannada, Tamil, Telugu, Malayalam and Hindi)
Directed by: Rishika Sharma
Cast: Nihal, Siri Prahalad, Bharath Bopanna, Ananth Nag, Ravi Chandran, Prakash Belawadi, Vinaya Prasad and Archana Kottige
Vijayanand is a biopic on the life of Padma Shri Dr Vijay Sankeshwar. He was the owner of the largest fleet of commercial vehicles in India. He had a humble beginning, but went on to become the owner of a leading rags- -to-riches journey.
Satbhoot Adbhoot (Bengali)
Directed by: Pritam Sarkar
Cast: Paran Bandyopadhyay, Kharaj Mukherjee, Partha Sarathi, Prasun Gain and Raju Majumdar
Satbhoot Adbhoot is a social satire that revolves around two friends— Biltu and Rana, one is a thief by profession and the other a ticket blacker. One day suddenly they are caught and beaten mercilessly by people. The duo escape into a forest and summon Bhooter Raja (the king of ghosts). When the latter appears before them, Biltu and Rana ask for a boon from him. The king of ghosts concedes, but with a rider.