Sachin before cinema
Celebrity Circus: With a trip to the theatre out of question, the timing could not have better for Saiyami Kher when Choked was premiered on Netflix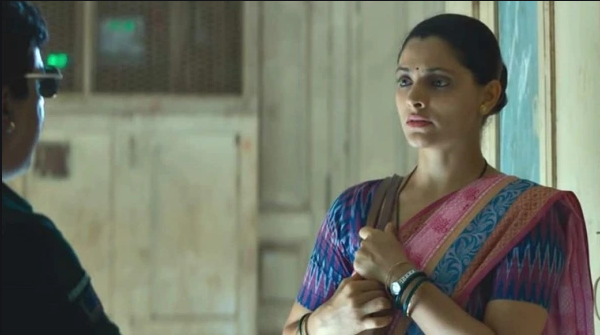 ---
---
When Sachin Tendulkar, the cricketer who makes her swoon, roots for her on Instagram and her closest buddy, Aditya Thackeray, becomes a minister with his dad as chief minister, you know that her achchhe din are round the corner.
Her father's mother was one of the top actresses of the 50s, making her debut with noted dancer Uday Shankar. Usha Kiran was her name and her co-stars included Ashok Kumar, Dilip Kumar, Raj Kapoor and Dev Anand, the big four of the 50s and 60s.
Her father's sister is actress Tanvi Azmi, who is married to cinematographer Baba Azmi, Shabana Azmi's brother and Javed Akhtar's brother-in-law.
She herself has light skin and striking light eyes. And she got a break from Rakeysh Omprakash Mehra who was launching Anil Kapoor's son.
Her credentials couldn't have been more impeccable, her debut couldn't have been more perfect.
Yet, it took a small-budget Anurag Kashyap film for a tonne of compliments and a slew of positive reviews to come her way.
With a trip to the theatre out of the question, the timing too could not have better for Saiyami Kher when Anurag's Choked was premiered on Netflix.
With the backdrop of the chaos that followed demonetisation in 2016, and Anurag no fan of this dispensation, he plonked Saiyami's middle-class character as a no-nonsense bank teller in Choked, for a closer view of what bank employees inside and the public outside went through. But, apart from making the point that certain politicians were privy to the impending demonetisation, Choked revolved around Saiyami's Sarita Pillai. A sari-clad working mother facing a financial crunch and a crumbling marriage, with nosy neighbours and a large dose of schadenfreude, the title worked on many fronts — she choked as a singer before an audience and found her El Dorado in a choked kitchen pipe.
And Saiyami was stoked when such a well-played part earned her this Instagram post from Sachin: "A friend who can't just act but also bat! Loved your performance @saiyami. #Choked."
"After three years of so much negativity (when her debut film, Mirzya, failed), these compliments have been overwhelming. Sachin's post was the ultimate," she said, trying her best to stay on terra firma. But his post had her walking on air as she replied to him in a gush, "This feels like a Khel Ratna and Oscar put together!"
Knowing her passion for playing gully cricket, it's a wonder Saiyami didn't choose to be with Mithali Raj or Harmanpreet Kaur out on the field. For even her Twitter profile makes her preferences clear: "Sport/Sachin/Chocolate/ Cinema lover". And she peppers most of her statements with expressions like, "The pitch has been bouncy so far".
But becoming an actress is what she chose to be and when Anurag sent her the script, she made sure he was going to direct it personally before going on board. On his part, he wanted to be certain she knew what she was getting into. "You're going to be playing a woman older than you are and she's not going to be glamorous," he had said to her.
That is actually what worked for Saiyami — she could finally perform and go through a whole gamut of emotions.
Besides, the OTT platform is not new for her as Special Ops — the Kay Kay Menon hit on Hotstar — goes into Season 2 with Saiyami getting to do more this time. Special Ops too was chosen with care — it had Neeraj Pandey (maker of superb films such as A Wednesday, Special 26 and MS Dhoni) at the helm. With the big players of the wide screen coming to OTT, this is where the action currently is.
But it's not all about herself. She's equally ecstatic that college buddy Aditya Thackeray is in power today. She enthused, "We've been close friends since we were 17. He's always happy for me when I sign something and I'm always happy when he does something significant. I'm thrilled that he's doing so well in politics."
It's powerplay of a different kind and best friends hitting sixes in different fields.