A tale of gender politics, lust and revenge
Howrah girl Poulomi Das on her big break in period drama Paurashpur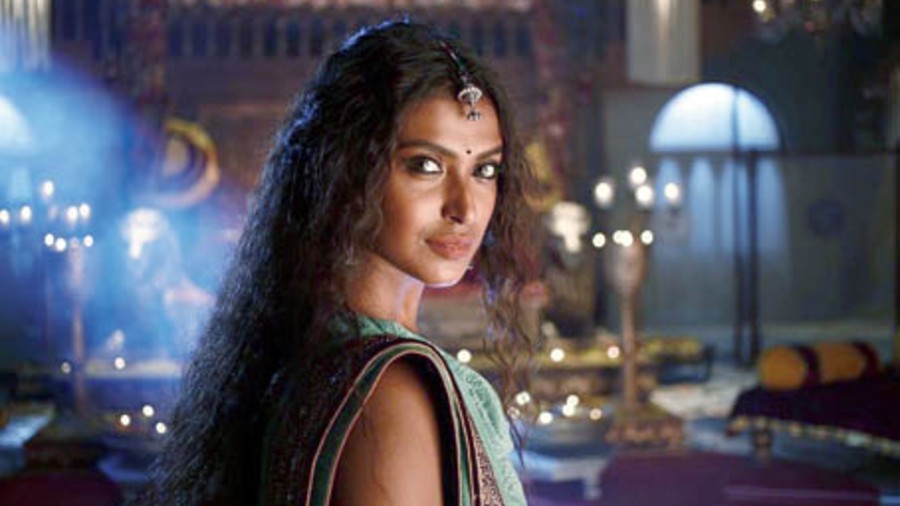 Poulomi Das in Paurashpur, streaming on Zee5 and Alt Balaji
Sourced by the correspondent
---
Published 29.12.20, 01:54 AM
|
---
The trailor of Paurashpur throbs with gender politics, intrigue, revenge and sexual tension. The fictional period piece that is set to drop on December 29 on Zee5 and Alt Balaji, has a king who brands women he beds with hot iron if he is dissatisfied with them. Poulomi Das from Howrah tells us about the biggest role of her career in possibly the most lavish web show from the Alt Balaji stable.
Paurashpur seems to be a period drama.
The show is based in the 16th century when women were treated harshly, like payron ki jooti. Their rights were trampled upon. It is a women-oriented show that chronicles how they stood up for themselves, for their dignity.
Tell us about your character Kala.
There are seven queens of the king of Paurashpur. Kala was a dasi. She fell in love with the prince, Ranvir. There is a sequence of events which leads her to become a queen. But she stood up for her dignity. There are lots of twists and turns in the show. It will be binge-worthy.
It seems to be mounted on a lavish scale.
The show had one of the biggest budgets for Alt Balaji and Zee5. We have seen foreign shows like Game of Thrones and Lord of the Rings. But a fictional magnum opus of this scale is a first for the Indian web series platform. There are seven episodes.
When did you shoot?
The show came to us in January 2020. Many in the cast did not have dates; then the lockdown happened. We started shooting on September 16 and ended in the first week of November with a short break in between.
Paurashpur has senior artistes like Annu Kapoor and Milind Soman. How was the experience of working with them?
My first scene was with Annu Kapoor. I was scared whether I would be able to stand up to him. As for Milind Soman, all women have a crush on him. I learnt so much about fitness and lifestyle from him. He is such a fun-loving person. He was impressed with me as I eat a lot but don't put on weight. I said it's my Bengali genes. (Laughs)
He has a remarkable look in the trailer, wearing a nose ring. Does he have a gender-fluid role?
Yes. He is playing a eunuch. I have many scenes with him.
There is a lot of physical intimacy in the show. How was the shoot managed amid a pandemic?
In such a big show, you need a minimum of 150 people on the sets. But we were allowed only 40. All the non-actors had to be in PPE. The crew had to go for Covid tests every seven days, we actors had to do it every three days. The first couple of times it (swab collection) was very uncomfortable.  Afterwards, it became like "Esho baba, koro aar jao". We stayed secluded from the rest of the world for 20 days at ND Studio in Karjat. The place is about two-and-half hours from Mumbai.
Since it is a period drama, what kind of a look do you have?
The look was fashioned by Leena Daru, the National Award-winning costume designer. She passed away during the lockdown. She had done the costumes for iconic films like Umrao Jaan and Chandni. 
The ambience in the trailer is dark and semi-lit, and wholly indoor.
There was no electricity in those days. We shot in natural light to keep it authentic. In most scenes, no artificial lights were used. It was only candles and mashal.
Our DoP was Manoj Khatoi. He is famous for such lighting.
Would you put this show at the top of your filmography?
It's been five years in Mumbai for me. This show surely has the most established cast I have worked with. Next on my list would be Kartik Purnima (Star Bharat) and Dil Hi Toh Hai (Sony). This is the fifth show I am doing with Balaji. I call Ekta (Kapoor) a one-woman army. She is so focused and knows what she wants.
You are from Howrah, right? Is there anything you miss?
Yes, I am from Dasnagar in Howrah. I haven't been home for three years now. My parents, brother, sister-in-law and nephew are there. But I miss my dogs the most. There were five of them, but one died recently.
How is life in Mumbai?
I quite like it. I was a model in Calcutta and there was hardly any brand that I did not work for. I came to Mumbai to pursue a career in modelling but acting happened by chance. My first show was Suhani Si Ladki on Star Plus in 2016. I have done five serials so far. Baarish was my first web series. Right now, I am doing Bekabu for Alt Balaji and Zee5. I like living alone. I stay here with Khilji.
Who is Khilji?
My two-and-half-year-old Labrador. He has such a personality that I wanted to call him Ranvir Singh but he is a good friend and will kill me if I name my dog after him. So I chose Khilji. He cannot sit at one place for two minutes. He has a sofa to himself on which he will not let anyone else other than me sit. He needs AC and pillows and 90 per cent of the bed. He has three servants at his beck and call, to brush his teeth, to take him for walks, to feed him, to massage his feet… onar elahi byapar!