New Netflix trailers: Mismatched S2, The Green Glove Gang, The Midnight Club, Holy Family
From coming-of-age romantic drama to spooky tales of horror, here's what you can expect to watch on Netflix soon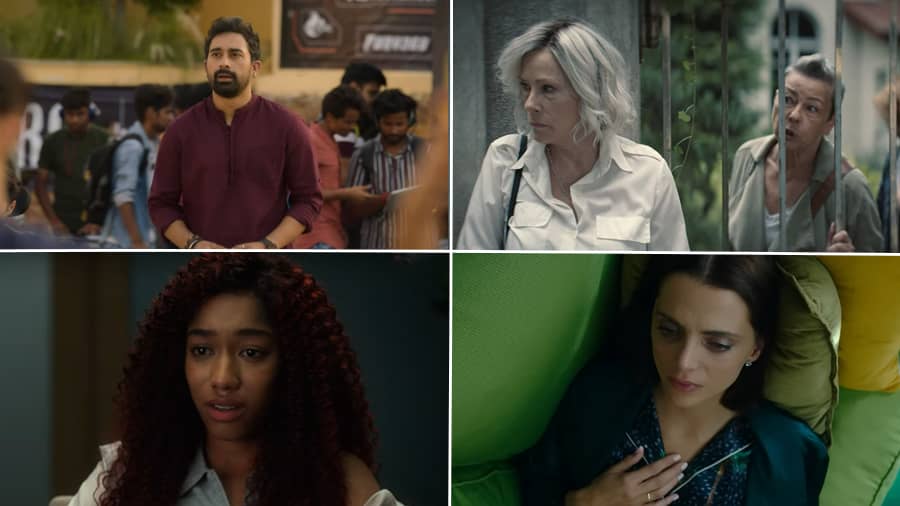 Stills from Mismatched S2, The Green Glove Gang, The Midnight Club and Holy Family.
YouTube
---
Calcutta
|
Published 21.09.22, 06:06 PM
|
---
From exploring the changing equation between young and reckless college friends to unravelling the hidden secrets of a family in Madrid, Netflix has dropped new trailers of shows you can watch on the streaming platform soon. Here's what to expect.  
Mismatched Season 2
The trailer of Mismatched, a romcom series based on Sandhya Menon's 2017 novel When Dimple Met Rishi, is out. Directed by Akarsh Khurana and Nipun Dharmadhikari, the show promises possible love triangles, conflicts and drama. 
The two-minute-eight-second-long trailer shows the main characters dealing with their bittersweet experiences from the first season. We all see Rishi taking the 'cold coffee' revenge on Dimple at the start. The second season will throw them into yet another competitive project which will test their mettle and interpersonal skills. The series, produced by Ronnie Screwvala's RSVP Movies, stars Prajakta Koli, Rohit Saraf, Rannvijay Singha and Vidya Malvade in prominent roles.
Mismatched Season 2 will arrive on October 14. The Green Glove Gang
The trailer of Polish heist thriller series The Green Glove Gang follows the life of three 'nobel' thieves as they find a hideout in a nursing home to dodge the police.
Directed by Tadeusz Śliwa, the series has been penned by Joanna Hartwig-Skalska and Anna Novak-Zemplinska. The eight-episode series features Magdalena Kuta, Małgorzata Potocka and Anna Romantowska, and Beata Bandurska, Karolina Rzepa and Mirosław Zbrojewicz.
The official synopsis reads, "After a failed robbery, the elusive gang of three noble thieves — Zuza, Kinga and Alicja — hides in a quiet nursing home. While the police are on their heels, the gang continues their activities at the centre, giving its elderly residents a second youth."
The Green Glove Gang will be available to stream from October 19. The Midnight Club
The trailer of upcoming horror series The Midnight Club promises a spooky experience. Created by Mike Flanagan, who previously helmed Netflix's highly acclaimed The Haunting of Hill House, the show is based on Christopher Pike's 1994 novel of the same.
The synopsis reads, "At a hospice for terminally ill young adults, eight patients come together every night at midnight to tell each other stories – and make a pact that the next of them to die will give the group a sign from the beyond."
The Midnight Club will be available to stream from October 7. Holy Family
Spanish thriller series Holy Family, starring Money Heist star Alba Flores (Nairobi), is set to premiere on October 14. Created by Manolo Caro, who is known for shows like The House of Flowers and Someone has to Die, this series promises suspense, drama and unravelling of dark secrets.
The official synopsis of the series reads, "A family hiding a shocking secret starts over in Madrid, where new relationships complicate their plans and the past begins to catch up with them."