Right after the release of Chal Ghar Chalen — pictured on Mohit Suri's Malang leads Aditya Roy Kapur and Disha Patani — early this month, The Telegraph caught up with the song's composer Mithoon. Excerpts from a chat on the trending song.
Chal Ghar Chalen is out. What's the response you're getting so far?
This song has been very special to Mohit and me, both. We had kept this song for almost a year in our heart and worked on it together off and on. It means a lot to us. I'm really glad because the song was trending on Twitter and some of my fans were talking about 'Mithoon being the king of melody'. While I personally do not acknowledge these kind of titles, I'm just glad that the very core of melody is reaching people, something that I strongly believe in as an artiste. I'm happy about that, I think it's good for the health of our fraternity.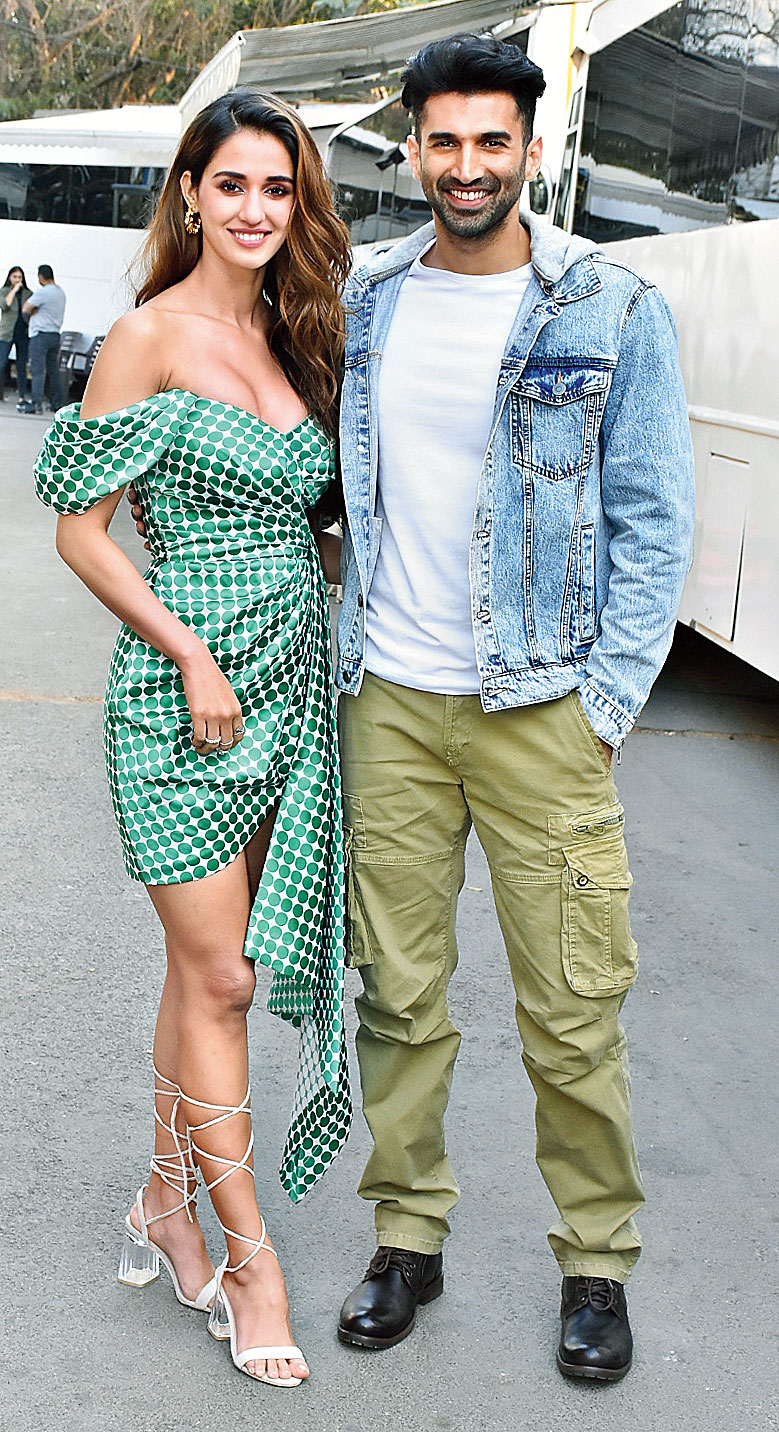 Malang leads Disha Patani and Aditya Roy Kapur Yogen Shah
Was Arijit Singh the obvious choice for such a soulful number?
Arijit is a brilliant singer and the entire world knows that. More than being an obvious choice, I'll tell you something that Mohit said. The reason we wanted Arijit to do it is because it's a song that talks about going home - someone who has walked a journey enough, who has been through a long day, who has walked a mile, who knows what it is like to go through the ups and downs in life, who has been through a journey himself. While Mohit and I are all for launching new singers... Arijit himself did his first song Phir Mohabbat from Murder 2 with us, 11 years ago. We have done some of the biggest songs together in the last 10 years.
Tell us about your process of working with Sayeed Quadri who wrote the lyrics for the song.
Mohit was very clear about the basic idea of the song, which was paying respect and tribute to 'home', which is the real temple we have, more than anything else. Then we got in Sayeed Quadri saab who's the best poet we have in the country today, in my opinion. He just brought a dimension to it, what does 'home' mean. It doesn't necessarily mean four walls, it can mean a person, a smile, a feeling, it could be anything! A lot of people feel more at home working rather than being at home. It's about that feeling of security and safety that we wanted to glorify. Sayeed saab has given that dimension. When he says, 'Khushbuon se teri mehke har ek kamra/ Daro-diwar nahi kaafi hai teri panaah' he is making it clear that it isn't about the walls or the windows, it's about you being around me that makes me feel secure. I think there's a lot of poetic brilliance hidden in this song and I think this song will linger for a long time to come.
Why don't we see you singing for your compositions?
I'm not very kicked about that right now. I don't rate myself very highly as a singer. I think there are some really good singers in our fraternity right now and I want to experiment with a lot more voices this year.
Over the years, Mohit and you have collaborated on many chartbusters in films like Zeher, Kalyug, Ek Villain, Aashiqui 2. What's the equation that you both share with each other today?
Between Mohit and me, there's a connect that we have with the listeners. I think it's because of the organic place he comes from, he has never asked me for a 'hit song', he doesn't believe in numbers. But he has asked me for songs that convey a particular emotion and that makes it very easy for me. I think that's a very respectful place to operate in, when you tell a composer that it's the emotion we need to work on. I think it's a very beautiful way to start a work process and all credit to Mohit for that.
What was Mohit's brief for Chal Ghar Chalen?
He wanted to pay an ode to the concept of 'home', the concept of family. You may have a hard day at the office and I may have a hard day at the studio because life gives us all kinds of moments. But just the feeling of calling up your mom and telling her that you've left and her telling you that she has cooked your favourite food, that blessing is so big, though we tend to take it for granted sometimes. We wanted to glorify that feeling in the song and that's what we have done.
What do you like about the picturisation of the song that features Aditya and Disha?
n Mohit is known for the way he shoots his songs. He is very involved in the poetry and justifies each line so beautifully. Every shot has a reason behind it, it's not just a random collage of shots. I know the way he works. But what I like the most about it is the bonding between Aditya and Disha because when we saw the trailer it was all about being 'malang', it was all about wanderlust. Immediately after showing that high in the trailer, he has come out with Chal Ghar Chalen, I love that paradox. After wandering all around they realise that all they both need is each other. The bond between the two has come out beautifully and I enjoyed that chemistry between them.
What is your composition process like?
I am one of those composers who does not bank songs and the entire fraternity knows that. Any director who wants to work with me, I do not have songs to play. It's not like I'm operating from a place of arrogance but I just don't work that way. I always want to work on a brief and that's why I like to work with people who can give me time and have time themselves. I like to go through the script and I like to react. When I hear something, being a musician, I react in the language of music. I think of all of my best songs, be it Maula Mere Maula from Anwar or Tum Hi Ho from Aashiqui 2, they were all reactions to something I have heard. They were not just tunes kept in a box. I think music deserves a lot more respect than that and that's something I want to stand for as long as I keep working.
Did people start looking at you differently as a composer after Tum Hi Ho?
It does happen, perspectives do change… But for an artiste or anybody who's more internal, they should know what defines me is not what is around me but what is within me. Things can change, your cars and house can change. But those are not going to make music for me, music needs to come from inside me. Those changes will only last for sometime but what will keep me going is what is inside me and I can't let that change or get to my head. I tried to keep my core the same because I knew that there's miles to go before I finally call it off.
What are you working on next?
My next is Karan Malhotra's Shamshera which is my first film with Yash Raj Films. I am doing a few scores along with the background music.