Mimi Chakraborty on playing Ma Durga for a Mahalaya TV show
'A different kind of positive energy surges through you, which inspires and motivates you'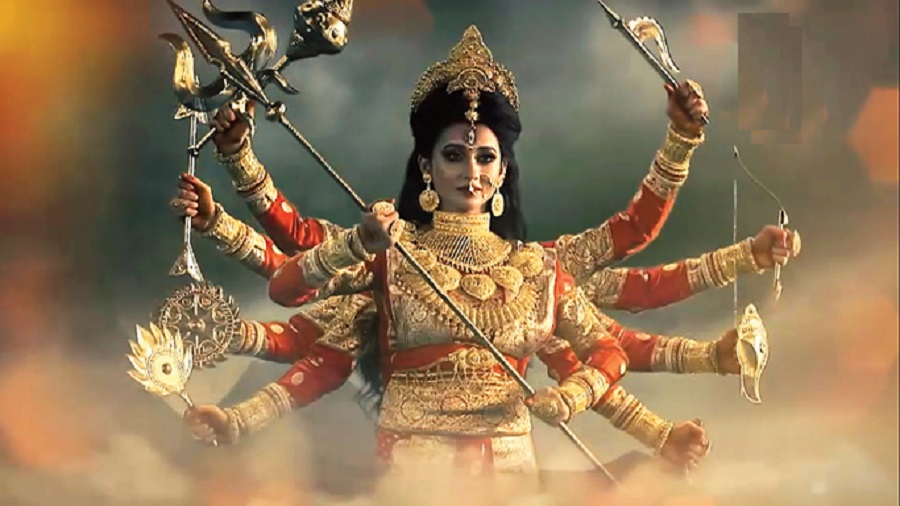 ---
Published 16.09.20, 10:17 PM
---
The teaser of Mimi Chakraborty's Mahalaya programme on Star Jalsha has already gone viral on social media. Mimi plays Ma Durga as the epitome of strength for the first time. "I am really excited. This is the first time I am playing Ma Durga. The team has worked really hard on this project to make something new. I am sure everyone will really like the programme," smiles Mimi. The Telegraph chats with Mimi…

What are your Mahalaya memories from childhood?
Those are very vivid. People in Jalpaiguri would wake up very early in the morning to listen to
Birendra Krishna Bhadra's soulful chant on the radio… it would truly give the morning a new meaning. For one-and-a-half hours, firecrackers would go off to mark the occasion. It was a ritual there. I was in school at that time. It was a joyous beginning that would herald the festive spirit. There was a nip in the air at that point of time…. A group of people from the neighbourhood would wrap themselves up in shawls and get together at a tea stall… they would sip on their tea while listening to Mahishashurmardini… that was like a countdown to the Durga Puja for us.

What is the USP of the Mahalaya programme?
It stays true to the tradition and captures the spirit. The new thing is the VFX. I was really impressed by the teaser. We were very careful to make sure that everything was perfect… I tried my level best. Now it is up to the audience. My entire family will be watching it at 5am! I'll be waiting for my mom's reaction!

Did you feel different once you got into the look?
Yes, there is an amazing sensation. I really felt it. A different kind of positive energy surges through you, which inspires and motivates you.

How was it like working with director Kamaleswar Mukherjee?
He is super fun to work with… and so sorted.