Kriti Sanon on being a dog parent and why she wants a female dog
She spoke on the sidelines of the launch of Mars Petcare's IAMS, a "tailor-made pet nutrition brand" in Mumbai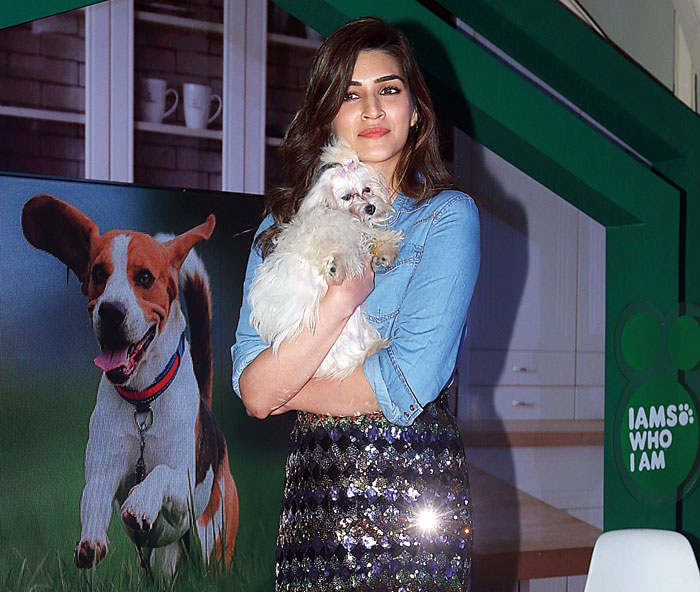 ---
Published 02.02.20, 01:52 PM
|
---
She loves dogs in general and her three-year-old bichon frise Disco is her stress-buster. Kriti Sanon. The spunky actress of films like Bareilly Ki Barfi and Luka Chuppi chatted with The Telegraph on the love of her life on the sidelines of the launch of Mars Petcare's IAMS, a "tailor-made pet nutrition brand", in Mumbai recently.
You've been Disco's mom for how long now?
It's been around three years. And, I think I might be more of a dad than a mom. My sister (Nupur) is the mom. She is the one who pampers him the most. She is the one he sort of follows everywhere. Also, she is a lot more home, like for a longer time. I am someone who is travelling a lot… I am not home that much. I am also someone who scolds him if he has done something wrong. Nupur is someone who doesn't have the heart to scold him at all.
A lot of dog parents say it is the best feeling in the world…
It is! It is! Trust me, I am someone who was scared of dogs at one point. That fear went away when I met this little pup of a friend… when you meet a little pup that fear sort of goes away. When you see them grow in front of you, you realise that it is the most beautiful feeling to have. That's when I decided to get Disco.
I think when you come home after a tired day or any kind of day, your mood is not great… I think the kind of welcome a dog gives you… it is so overwhelming… it changes your mood. He is my stress-buster for sure. He just puts a smile on my face no matter how I am feeling. Also, I feel that dogs love unconditionally. They don't differentiate between who is good and who is not, what kind of a person you are, what you do… what's your profession… he doesn't know if my films are working or not. His love doesn't change.
What are the things you love doing with Disco the most?
I play a lot of tug with him… his toy. He loves playing that. He loves playing tug and fetch. He is also a very moody dog. It totally depends if he is up for it or not. But he likes it when I get very competitive… when he makes a growling sound and I make it too… he gets very excited. (Laughs) He also loves getting massaged and pampered. If you stroke him and press around his ears… he would be like… keep doing it. He is an attention-seeking dog. He is someone who wants attention and pampering all the time. At the same time he is moody enough to go in a corner and sleep if he is sleepy and not care about you! (Laughs)
Nutrition is important. What are no-nos in Disco's diet?
I think every dog is different. It is a process to figure it out what works for your dog and what doesn't… what the dog likes and what he doesn't. I am still in the process of figuring certain things. Like recently, I realised that wheat is not really good for his system. My mom would feed him parathas and he used to love it. He loves roti, paratha and butter. If you are having bread and butter, he would just come and be all innocent and whiny. You would see his face and feel so bad that you would give it to him….
We have to realise that dogs are differently made. Everything that we eat is not something they can. I launched IAMS today. What made me really curious and excited was that they do tailored nutrition… different for different breeds and sizes and different kinds of dogs. That is very important… to figure a balanced nutrition for your pet. It makes a difference in the way he is… his health… his fur… his happiness quotient. Everything. As much as Disco hates me for not giving him bread and butter, I know I am doing a good thing. He is an allergy-prone dog. So, I have to take extra care about what I am giving him. I am sticking to the dog food and certain things which are not harmful to him, like eggs.
Who do you think Disco is in his head?
I think he is the owner of my house. (Laughs) He is my sister's chamcha. He really likes this dog called Disney… always excited when she is there. Because he is a smaller breed, he is a bit of an under-confident, fearful dog… he doesn't go out interacting so much, but yes, there are a few friends that he has.
Do you want more pets?
To be honest, I want a female dog. I love dogs in general, but I also feel that Disco would love to have some company at home… some friends to play with. I am travelling a lot and even my sister's working.