Key moments from the thriller Doctor Bakshi
Film revolves around three main characters and their life and how are they connected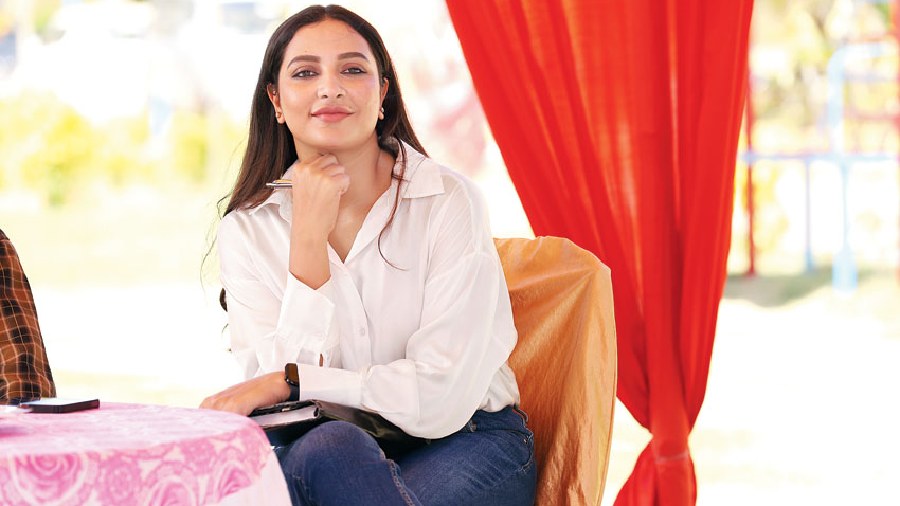 Subhashree in Doctor Bakshi, which is running in theatres now
---
Published 21.01.23, 12:11 AM
|
---
Saptaswa Basu's new thriller Doctor Bakshi, starring Parambrata Chattopadhyay, Subhashree Ganguly, Bonny and Maahi, revolves around a charming doctor who takes up his own path of justice, a writer who is caught in a web of murder mystery and a criminal recently out of jail. Director Saptaswa Basu picks three key moments from the film.
THE SEASIDE RESORT
The film opens with the sequence of Mrinalini visiting a resort to spend some time alone. She has been writing her new novel and planning ideas while walking down the sea beach. We see a number of other guests in the resort including Doctor Bakshi (Parambrata), Sradhha (Maahi), John (Devtanu), Dr Jain (Akshay) and others. This sequence leads to a murder mystery which builds up the entire film from that point onwards. Shooting outdoors is always fun, specially with an ensemble cast. Paramda and others had a fantastic time playing cricket along the sea beach in the off time. We used two separate resorts to match and create our visuals for the scenes. It was exciting but tiring, as the summer heat was unbearable. There is a song and classical dance sequence by Sradhha (Maahi) in the Poila Baisakh festival of the resort and that took a lot of time as all the key characters are present in that scene. Devtanu is seen as a photographer while Akshay as a doctor. One of these characters gets murdered and that sets up the film. It was a very important outdoor schedule and thematically this location comes back in our film later on as well with a big twist.
THE OT ROOM
Shot in a real hospital with additional set elements designed particularly for our film, there are two scenes inside the operation theater. It was a crucial task as simulating a medical mystery needs proper research and knowledge. The actors who played doctors needed to adapt the body language and proficiency in dealing with medical elements. There were many protocols of the hospital before we could enter the theater and use their equipment.
THE CHASE SEQUENCE
There is an extensive chase shot with Bonny and another character and it was really tough. Shot in real locations including a busy marketplace, an under-construction building and some roads in Calcutta, it took two days to complete the chase sequence. Bonny plays Aditya, the antagonist. The theme of the character is pain and he is seen to have a lot of physical elements in his performance, be it a chase or following in a bike or shooting with a gun in the middle of the road. From managing police permits to crowd handling, it took a huge number of crew members and meticulous planning to arrange the shots. There were multiple takes where the crowd got into the frame and we either reshot entirely or cleaned up in CGI later. There is a great fan following of Bonny and everyone wanted to have a glimpse of the star. Also I must mention that he does his stunts by himself and sometimes gets injured or pulls a muscle while doing so. There is a lot of dedication to his craft that the upcoming generation must learn from.