'I've never enjoyed playing anything sweet and simple' — Deepti Naval
One of the leading lights of the parallel cinema movement in the country in the '80s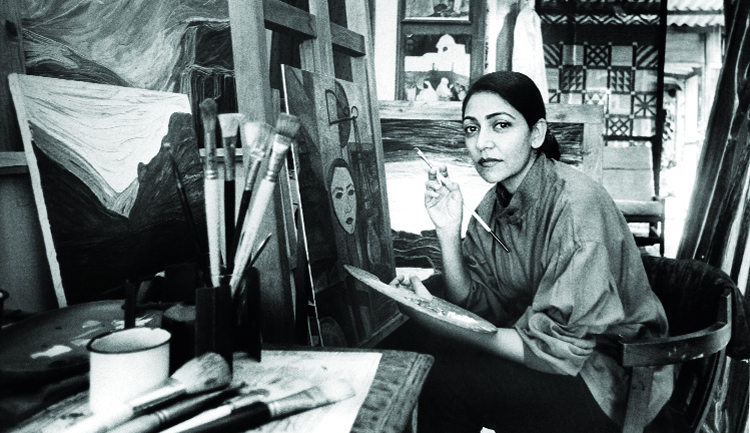 Let's please redefine 'girl-next-door'. Let's make her independent, confident, free thinking, ahead of her time and somebody who has a huge amount of adventure and spirit… someone who is not afraid to experiment with life. For me, that's the girl-next-door
(Pic: Deepti Naval)
---
Published 31.10.19, 01:35 PM
|
---
In a career spanning more than four decades, Deepti Naval has made some memorable films. One of the leading lights of the parallel cinema movement in the country in the '80s, the 67-year-old actor has diversified into writing, painting and directing, even as she continues to make an impression with outings on screens big and small. The actor — last seen in an episode of the Amazon Prime Video series Made in Heaven — was honoured with the Excellence in Cinema award at the recently concluded Jio MAMI 21st Mumbai Film Festival with STAR 2019.
t2 chatted with Miss Chamko (yes, we all loved her in Chashme Buddoor!) at MAMI.
Among all the accolades you have received through the decades, where would you place the Excellence in Cinema award that MAMI has bestowed on you this year?
For me it's as huge as it gets because it's the recognition of my work in totality. It awards my entire body of work and not just a role. The reason it's so special for me is because I don't identify myself as just an actor. This award also recognises my work as a painter, as a writer… and I'm thrilled that this has come to me now because even my work as a director is out there on Netflix. People are watching my film Do Paise Ki Dhoop, Chaar Aane Ki Baarish and we are receiving a lot of love for the film. I feel somewhere it completes the circle.
This is a rare honour for you from India, given that most of your awards have come from foreign festivals and international podiums. Does that rankle somewhere or have you always considered the high of making a film as your biggest reward?
That's the funny part. When you're doing your work in the best way possible for years, it does make you feel the need for such an encouragement. But now that it's finally here, it really is of great value. I remember early on being disappointed a few times when my hard work wasn't recognised. But I also realised that it was easy to get over these things. As an artiste, you just continue doing your work and enjoy the process of working… and that's what I've always done. The best way to sustain is to enjoy your working process. However, at the end of the day, when you do get an award, it's a feeling you can't compare.
When you see the kind of craze for so-called offbeat cinema at MAMI, does it ever make you feel that you, in some way, helped in this movement, being one of the frontrunners of the parallel cinema movement in India?
Yes, we have all been pioneers and have led this movement. Shabana (Azmi), Smita (Patil), Farooq (Shaikh) we are all part of it. We have, in a way, contributed to this movement and it's very exciting to now see that it's taking larger dimensions.
The thread that binds most of your characters is relatability. Which of your parts do you feel have been the most relatable and which do people come up to you and talk about the most?
People often talk about Ankahee and Main Zinda Hoon. They mention Panchavati because they feel that the character of the girl (Sadhavi) I played in that movie is closest to me as an artiste and in real life. She took her own decisions and was ahead of her times. The most popular character remains that of Chashme Buddoor because of its commercial success. I have personally enjoyed Ankahee made by Amol Palekar and also Memories in March. In Leela, I played this NRI woman who in her own personality has many contradictions, she lives in a grey area. I love those characters. Main Zinda Hoon by Sudhir Mishra is also a huge favourite of mine. And Kamla (in the 1984 film Kamla) has been also been one of my favourite characters.
You've seamlessly straddled mediums and have also ventured into the web space. Are you being offered some of the best work now given the avenues that have opened up and that people are not shying from telling new stories?
Well, now is a very good time for actors, if not the best. I do have a soft corner for the times that we were working in because at that time we thought that was the best time. We all had the opportunity to do the kind of cinema we wanted to do… I definitely did. Today, the difference is that there are ample opportunities… documentaries, shorts as well as feature films. There is an experimental cinema space and you can just say whatever you want to say through the medium of cinema and you can put it out anywhere, be it on YouTube or any other new-age platform. The horizons have widened, there is a lot more work. Cinema and TV have their own demands, convictions and limitations… but now with a plethora of content and platforms, the limitations are diminishing.
Where do you stand on the current debate that roles of 60-plus characters should go to only 60-plus actors? The case in point being 30-something actors Bhumi Pednekar and Taapsee Pannu playing 60-year-olds in Saand Ki Aankh…
I'm happy because my very dear friend and ex-husband Prakash Jha is playing a very important role in it. I'm looking forward to the film. But of course, there is no dearth of older actors and it would be wonderful for an older actor to play his or her age because with a life full of experiences and great insights, one can play mature roles with much ease. As for Saand Ki Aankh, I'm sure they have a valid reason to cast these young, talented actresses. I would love to play a character of a 50 or 60-year-old. But if I'm offered a role that also requires me to look 25-30 years younger, I don't think that I will be able to do justice to it. The most popular character remains that of Chashme Buddoor because of its commercial success. I have personally enjoyed Ankahee made by Amol Palekar and also Memories in March. In Leela, I played this NRI woman who in her own personality has many contradictions, she lives in a grey area
- — Deepti Naval How are you enjoying this phase of your career?
This is the best time for me. I am feeling creatively alive right now. I am writing my fifth book and I am enjoying the process so much as I get to draw wonderful experiences from life. Writing my memoir and recalling and recollecting has been wonderfully enriching. I've also just finished doing a 10-episode web series called Pavan & Pooja. I've been enjoying acting, writing and the next thing I want to have is a major exhibition of my work.
Personally, I've always felt that I've enjoyed my work. But there have been times where I've have waited for interesting work to come my way. I've always utilised every phase of my emotional life and translated it into work and that's what I will continue doing.
Is there a plan to direct another film soon?
I hope so. I should next year since I've written a few scripts that are in the pipeline and which are ready to go on the floors. We'll work around it and see which one raises money. Instead of directing someone else's subject, I would love to do one of my own.
If you had to prepare a showreel of three of your best performances, which would you pick?
The characters I played in Ankahee, Panchavati, Main Zinda Hoon and Leela were layered and not just sweet and sensible. I've never enjoyed playing anything sweet and simple. I've wanted to not just become a popular heroine. I never wanted to play a role in any movie that didn't make audiences think about life. I've always wanted to tap their conscience and make them think about who this woman is, what is she going through, her concerns and her angst. The character must matter to someone's life. So that's why the simpler characters are not so fascinating for me.
In NH10, a negative role for a sweet girl-next-door like me was a tough one to play. I would request one thing… and that is to stop calling anyone 'girl-next-door'. Let's please redefine 'girl-next-door'. Let's make her independent, confident, free thinking, ahead of her time and somebody who has a huge amount of adventure and spirit… someone who is not afraid to experiment with life. For me, that's the girl-next-door.