It all happened at the 20th IIFA Awards in Mumbai
The Telegraph gets you a ringside view of the big Bollywood action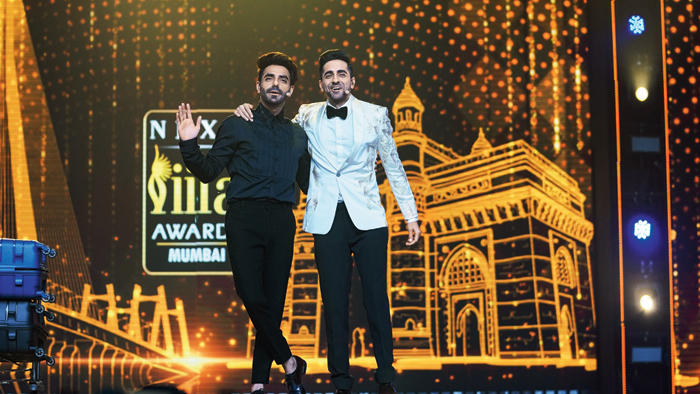 ---
---
After traversing 14 cities and 12 countries in its 19-year run ever since it kicked off in London in 2000, the IIFA (International Indian Film Academy) Awards staged its first edition on Indian shores this week. The venue? Mumbai, the hub of Bollywood.
Kicking off with the technical awards called IIFA Rocks on September 16, all roads led to the NSCI Dome at Worli on the night of September 18, for the main awards night. Stars — new and not-so-new — jostled for space on the front row, with livewire acts on stage being performed by everyone from Ranveer Singh to Madhuri Dixit to Salman Khan and some special awards being handed out through the course of the evening. The
five-hour song-and-dance extravaganza played out well past 3am, but none seemed to mind because that meant seeing their favourite stars deliver entertainment, entertainment, entertainment!
The evening kicked off a little after 10pm, with filmmaker Karan Johar, a member of the IIFA advisory board for many years now — a role he took over from his father Yash Johar — talking about how IIFA has globalised Bollywood cinema for the last two decades and that the award show picking Mumbai as its destination this year — after the likes of South Africa and Sri Lanka, the US and the UK, Malaysia and Macau — was a classic case of "Ghar aaja pardesi tera des bulaaye re". The power and reach of IIFA, added Karan, had ensured that Amsterdam had named a street after Raj Kapoor and Madame Tussauds comes forward every year to wax some of Bollywood's biggest, in association with IIFA.
The Telegraph sat through the action to bring you the highlights of the evening...
THE HOSTS
The hosts for the evening started off a bit on a sticky wicket, but warmed up as the evening progressed and even came up with some winners. Ayushmann Khurrana, fresh off a National Award win and "six hits in a row" — a fact the young actor kept repeating (good-naturedly) throughout the evening and which prompted Ranveer Singh to say, "Khurrana is a gift that keeps on giving to the film industry" — was joined by brother Aparshakti as co-host after an unexplained exit by Arjun Kapoor at the last minute. The brothers played off each other, relying more on familiarity than chemistry, with their wives Tahira and Akriti cheering on from the front row.
Ayushmann, who started off his career as a VJ, is a pro in public speaking, something that he used to his advantage here. We loved how he took a self-deprecating dig early on with, "Mere films ki shooting toh kabhi Haridwar ya Bareilly ke bahaar hote nahi hai. Saal mein ek baar foreign jaane milta tha IIFA ke liye, ab woh bhi gaya iss saal," he LOL-ed.
Aparshakti also did well. When his older brother said that like the Khans and the Kapoors, they too could brand themselves as the 'Khurrana brothers', Aparshakti shot back with, "Kuch kirane ki dukan type ki feeling aa rahi hai". Aparshakti, a former RJ, brought on the laughs easily saying that till the time he was 10 years old, he couldn't pronounce his own name, with Ayushmann summing up his brother in one line: "Yeh woh hai jiske duniya mein aane ke baad mere dad ki property ke do hissey bann gaye!"
The other 'Keeping up with the Khurranas' gems:
When Deepika Padukone sashayed on to stage in her lilac custom-made Gaurav Gupta gown to present an award, Ayushmann made everyone go LOL with, "Aapka gown gaon se gaon tak chal raha hai!"
While talking about the trend of remixed songs in Bollywood, the siblings started singing, "Gaana lo puraana, usme Badshah ko ghusana". Try humming this to the tune of Dilbar dilbar!
Ayushmann turned to Salman — who was looking super fit on Wednesday night after shedding some kilos — and said, "Kitne young lag rahein ho aap. Hamare chhote bhai lag rahein ho."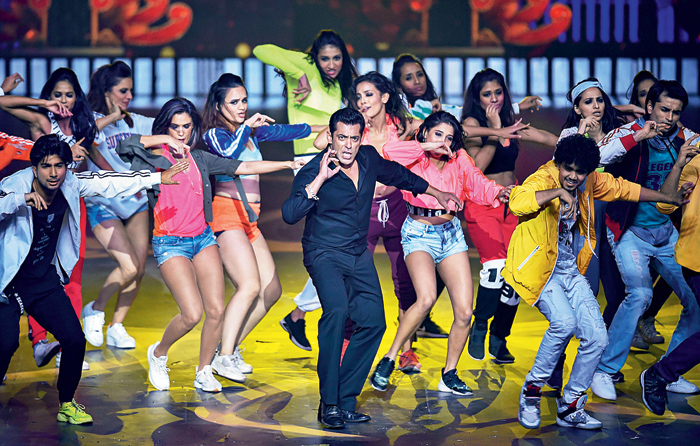 THE ACTS
Can it be anything but rocking when Ranveer Singh takes the stage? The tone for an exhilarating evening was set early on with Bolly's resident Duracell battery jumping and jiving, moving and shaking with abandon to put up an act that combined the rebellious angst of his Gully Boy rap numbers with the desi dhol beats intrinsic to the annual Ganpati visarjan in Mumbai. Coming in through the audience and sending everyone into a tizzy, Ranveer lent his own voice to hits like Meri gully mein, Asli hip-hop and Apna time aayega. Slipping into his trademark kitsch-meets-cool-meets-what-the-hell-is-that outfits, the star moved on to Malhari and Khalibali, capping off a scintillating performance with the ever-popular Aankh marey. His was the act that drew one of the loudest cheers of the evening.
The other top acts came from 'IIFA debutants' Vicky Kaushal and Sara Ali Khan. The cutest bit of a beaming Sara's performance was her dancing to dad Saif Ali Khan's hits like Ole ole and Aahun aahun, and finishing off her performance with her trademark aadaab. Vicky, easily one of the most popular stars of the evening with women from age six to 60, came in screaming "How's the josh?" and then went on to win over the crowd even more with a spirited performance to Kawa kawa, Gud naal ishq mitha and his own popular numbers like Dhyaanchand and Challa.
The best dance act of the evening undoubtedly came from the dance diva herself. Madhuri Dixit, looking nothing like 52, paid tribute to veteran choreographer Saroj Khan with a soulful yet pulsating 10-minute performance that saw her dance to some iconic numbers born out of the Saroj Khan-Madhuri Dixit jugalbandi —from Ek do teen to Tamma tamma loge, Channe ke khet mein to Choli ke peechhey, Mera piya ghar aaya to Humko aajkal hai intezaar. The inclusion of some Sridevi-Saroj Khan numbers like Kaate nahi kat te and Na jaane kahaan se aayi hai brought on loud cheers. Khan, presented by Madhuri with an award that honoured her work over 50 years, complimented her "favourite student" with "Agar yeh nahin hoti toh main nahin hoti aur agar main na hoti toh yeh nahin hoti". Did you know? The 'Best Choreography' honour at film awards was first introduced in the 1980s, simply to honour Saroj Khan for Ek do teen from Tezaab, a fact revealed by Madhuri on the IIFA stage.
The evening was capped off by a performance from the biggest star present — Salman Khan — who took the stage well past 3am to come up with a fun, foot-tapping act which, in true Salman style, scored for its spontaneous look and feel in a sea of rehearsed performances. Done with showing off his moves to Swag se swagat, Baby ko bass pasand hai and Didi tera devar, the superstar brought on the laughs, first by literally crawling belly-down down the stairs of the stage and then pretending to mock the audience asking for an encore with, "Teen baj chuke hai aur mere barah. Ghar jaake so jao!"
The big disappointment of the evening? Katrina Kaif, easily one of the best dancers in Bollywood today, failing to get the crowd going with a lacklustre act. Kat, despite Salman serenading her with Main hoon hero tera during his performance, was a relatively quiet presence through the evening, slipping silently into the front row and staying put there. Did the overt stage-to-FROW PDA between Ranveer Singh and Deepika Padukone and the repeated references to Ranbir Kapoor every time his ladylove Alia Bhatt was on stage have anything to do with it, we wonder.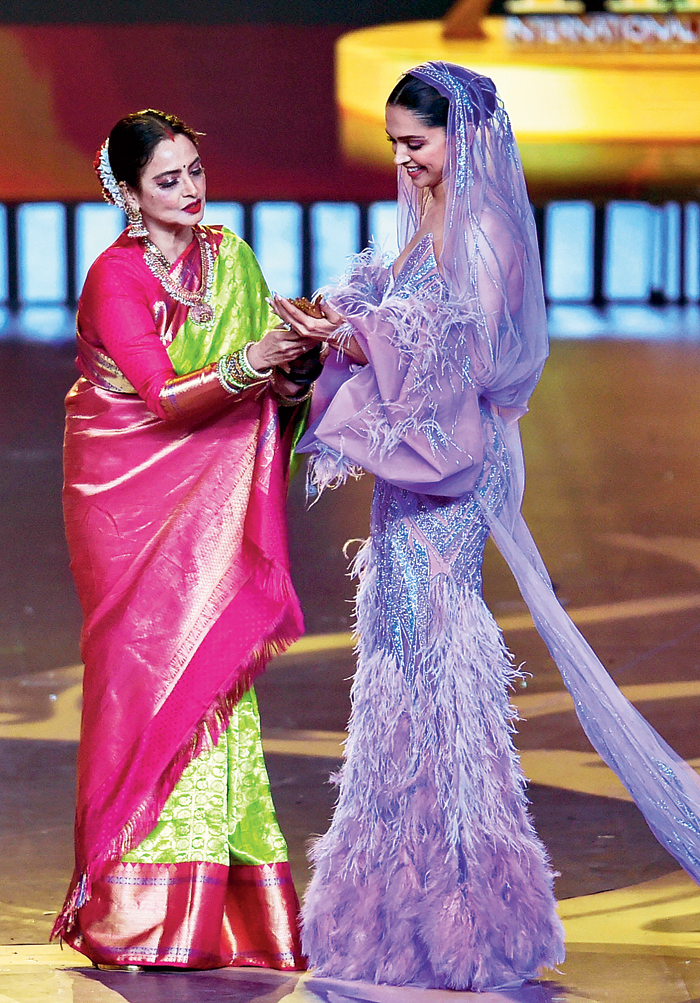 THE SPECIAL AWARDS
The regular honours apart, the 20th edition of IIFA witnessed some special awards being handed out to those who had left an indelible mark on Hindi cinema in the last two decades. Rajkumar Hirani — the man behind iconic films like Munna Bhai, 3 Idiots and PK — took home the golden statuette for 'Outstanding performance by a director in the last 20 years'. "When I first came to Bombay, I just wanted to make one film. God has been very kind. I am an ordinary man with limited talent who just got lucky," smiled Hirani, who was presented the award by Salman Khan ("Raju hasn't made his best film yet," Salman smiled wickedly, pointing to himself).
Judged on the basis of an audience poll, Ranbir Kapoor won 'Best Actor over the last 20 years'. Ranbir wasn't present to receive his award from Rekha, so his Barfi! director and friend Anurag Basu stepped up to collect it.
Deepika Padukone, who missed husband Ranveer's act, was chosen 'Best Actress over the last 20 years'. "Grateful is the only way I can describe my state of mind at the moment. I will continue doing the work I am doing," said a moist-eyed Deepika, with Ranveer cheering on the loudest from the audience.
The award for the 'Best Film over the last 20 years' was (rather inexplicably) won by Kaho Naa… Pyaar Hai, Hrithik Roshan's debut film. The Roshan father and son were not present to receive the honour.
Pritam — who won for 'Best Music over the last 20 years' for his work on Ae Dil Hai Mushkil — not only trooped up on stage to receive his award from Preity Zinta, but also made sure he brought along singer Arijit Singh — who drew one of the loudest claps and cheers, and more than made up for coming in late and failing to receive his Best Playback Singer award for Ae watan from Raazi in person — to fill the NSCI audi with the strains of the title track from the Karan Johar-directed romance. The moment was one of the best of the evening, with singer Jonita Gandhi joining them to sing The breakup song, also from the same film.
The Lifetime Achievement award was presented to comedian Jagdeep. Wheeled on to stage, the 80-year-old actor — who has made us go ha-ha through the years, especially as Soorma Bhopali in Sholay — was accompanied by sons Jaaved Jaaferi and Naved Jaffrey and grandson Meezaan, who made his debut this year with Malaal.
THE GAGS
What's a Bollywood award show without some fun and jokes? A couple of gags, including one in which a blindfolded Ayushmann (in character 'extension' for Andhadhun) walked around the A-listers off stage and tried to guess whose hand (in one instance, he had to run his fingers over Ishaan Khatter's abs) he was touching, was fun. But what really made the audience go ROFL was Ayushmann teaming up with Jaaved Jaaferi for a Gully Boy-styled rap battle. Jaaved was a riot, bringing the house down with his impersonation of popular screen characters, from Munna Bhai to Amrish Puri's Babuji in DDLJ.
THE STAGE MOMENTS
Riteish Deshmukh, an IIFA regular for years who has hosted the show eight times in the past, trooped on to stage, his pretty wife Genelia D'Souza in tow, to present an award. But the Khurrana brothers were not going to let him go without having some fun, and trust a sporting Riteish to strap on a ghagra and show off some dance moves, with Genelia clapping along.
The bro bond between Shahid Kapoor and Ishaan Khatter was evident when Shahid presented Ishaan with the trophy for Best Debut for Dhadak and an emotional Ishaan — reaching for a bear hug with his big bro — said, "He's the best. He's my inspiration. I love him like I love no other." The two then broke into an adrenaline-pumping dance to Ishaan's Zingaat, with Shahid being cheered on by lusty cries of "Kabir Singh! Kabir Singh! Kabir Singh!"
Ranveer Singh won Best Actor for Padmaavat but before that, the man was called on stage for a special honour — the young actor is next in line to be waxed at Madame Tussauds in London. An exuberant and emotional Ranveer delivered one of the best speeches of the night, with most of it dedicated to Deepika. "I will stand next to you as an accessory, baby," he smiled, referring to Deepika's wax statue at Tussauds. He then went on to draw laughs from everyone saying, "My wife's putla — and also Morgan Freeman's — is the sexiest of all. I am partial of course, but that's okay!"
FROW FUN
The front row was also all about Ranveer and Deepika, with the camera frequently zooming in on them holding hands, whispering into each others' ears and in a super fun moment, Ranveer holding on to the extremely long train of Deepika's gown as she walked on to the stage.
Alia Bhatt and Sara Ali Khan were caught on camera cracking jokes and giggling uncontrollably while Bobby Deol and Preity Zinta — co-stars in Soldier and good friends ever since — were posing and preening for a series of selfies.
Vicky Kaushal was the top draw, drawing 'oohs' and 'aahs' from the girls every time they spotted him. When asked by Ayushmann who he would want to see being locked up in the Bigg Boss house, Vicky promptly took Ranveer's name, saying "Dekhta hoon woh ghar usey kaise rokta hai", making Ranveer break into guffaws.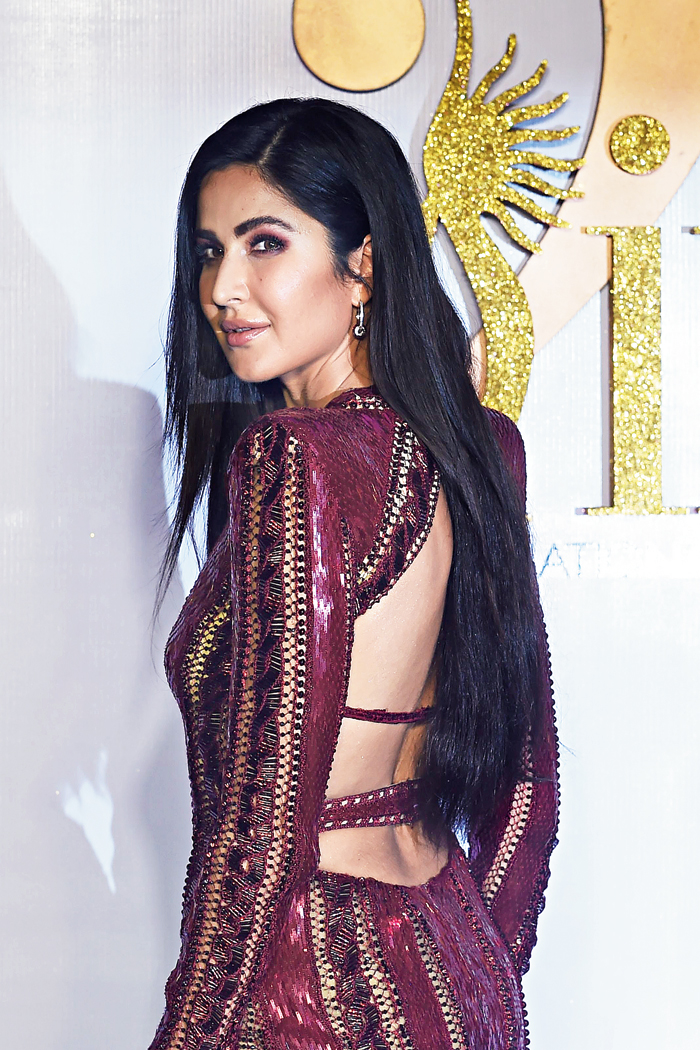 FASHION, FILMS & MUSIC
The night of IIFA Rocks was all about films and fashion, but it was music that held centre stage. Held at the NSCI Dome on the night of September 16, the three-hour extravaganza served as a prelude to the big awards night and honoured the best in the technical awards category.
Andhadhun, the Sriram Raghavan-directed thriller with Ayushmann Khurrana and Tabu in the lead, walked away with as many as four technical awards, including screenplay and story, with the horror film Tumbbad and Sanjay Leela Bhansali's period epic Padmaavat laying their hands on two golden statuettes. "It's been a great year for cinema in general and Andhadhun in particular and I couldn't have been happier. It's a rare film that's won over almost everyone," Raghavan told t2oS on the sidelines of the awards.
Radhika Apte, the leading lady of Andhadhun, hosted the evening with Ali Fazal, who's just notched up a big Holly project in Death on the Nile, a fact that the young actor, hosting an award show for the first time, alluded to at the beginning of the evening. "I am going to meet Wonder Woman soon," was his good-natured jibe at Radhika. Yes, Ali shares screen space with Gal Gadot in the Kenneth Branagh-directed film based on the eponymous Agatha Christie thriller.
Starting off a tad unsure, the two hosts gradually eased up as the evening progressed, with Ali's off-stage 'bromance' with Vicky Kaushal — dapper in a black suit but sans his trademark stubble — as the two 'flirted' while mimicking a popular dialogue from Amitabh Bachchan's Shahenshah, making the crowd go LOL. The cute moment of the evening? Ali walking up to ladylove Richa Chadha in the FROW and asking her, "What does being natural mean to you?" Her top answer: "What I was three hours ago without all this make-up on." Richa, who has been earning praise for her turn in recent release Section 375, followed it up with, "Ghar par milte hai, Ali". Oooooh, mush!
The awards apart, what made the evening stand out were the musical performances. Bollywood song 'n' dance had its moment with peppy performances by Neha Kakkar, Tulsi Kumar and Dhvani Bhanushali while Punjabi pop was well represented by Jassi Gill and B Praak. But the evening was taken to a whole new level by two music acts. First up was Ranjit Barot and his Musafir Band, which brought the house down with its headbanging twist to folk numbers. Rajasthani folk singer Kutle Khan and Bolly vocalist Jonita Gandhi were the pick of the lot, but what earned top points from us was a soulful-meets-electric twist to Rabindranath Tagore's Ekla cholo re by hitmaker Nakash Aziz, rendered in almost-flawless Bengali.
The other music performance that made the event worth remembering was Amit Trivedi's glorious tribute called Indradhanush, in which the singer-composer lent his voice to some of his own hits, illustrated through emotions like happiness, anger, sadness, hope, courage, friendship and unity and diversity. Even as the clock inched well past midnight, the man behind the music of films like Lootera and Manmarziyaan made sure the audience sang along to memorable numbers like Iktara, Nayan tarse, Naina da kasoor and Dariyaan.
Seated in the front row at IIFA Rocks were big names like Arjun Rampal and Katrina Kaif, but the biggest cheers for the night were reserved for the all-new heartthrob Vicky Kaushal. The screams didn't stop even after the man exited the stage, prompting host Ali Fazal to tell the audience, 'Arre, gaya woh! Ab toh khamosh ho jao!'
Capping off the evening was a fashion show by designers Shantanu & Nikhil, which saw Arjun Rampal as the showstopper, flanked by Rakul Preet Singh and Aparshakti Khurana. Arjun's biggest cheerleader in the FROW? Partner Gabriella Demetriades.