High on acting, but to no avail
'Bob Biswas' scores high on acting and atmospherics but an emotional assassin is just no fun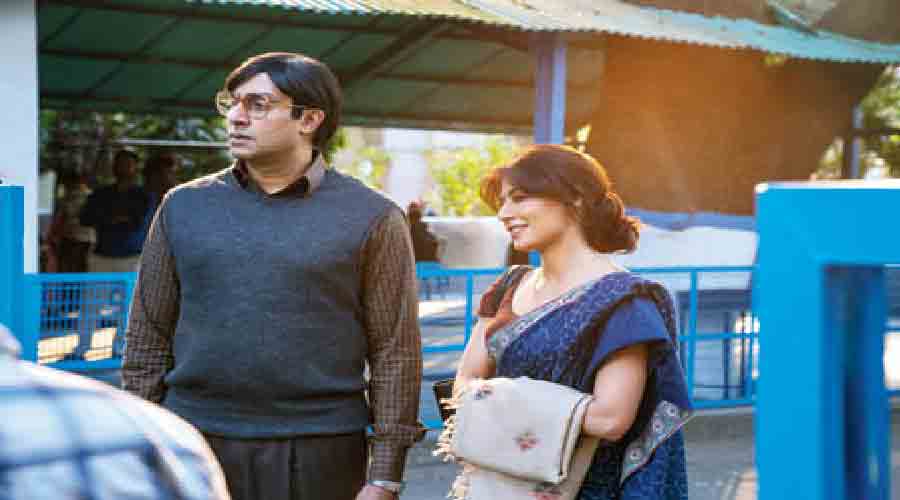 Abhishek Bachchan and Chitrangada Singh in 'Bob Biswas'
File Picture
---
Published 04.12.21, 01:07 AM
|
---
In Kahaani, Sujoy Ghosh gave us a Calcutta that we had seldom seen before. A city with a sooty underbelly whose every nook and corner housed a dark secret, making his 'mother of a story' a mind-boggling medley of manipulation, masked identities and, ultimately, murder. Kahaani's primary pull may have been a stellar turn from Vidya Balan as the redoubtable Bidya Bagchi, but its ultimate piece-de-resistance turned out to be a man who demanded 'ek minute' of the viewer's time, but has ended up being an indelible part of Indian pop culture over the last decade.
With Bob Biswas, Saswata Chatterjee — armed with a paunch, a cheap wig, an ancient flip phone and a beatific smile that quickly turned sinister — turned the idea of an assassin on its head. The timid life insurance salesman moonlighting as a killer-on-hire may have had a relatively short time on screen but has gone down in Indian movie history as one of its most memorable characters. When he came under that truck after huffing and puffing at the end of a chase on the city's streets, we all wished for Bob Biswas to magically reappear by some twist of fate and plot. He didn't.
Nine years later, Sujoy gives us Bob Biswas once again. In a film of his own. The film-maker, who mostly calls London home but whose heart remains in Calcutta, once again crafts a story that views the city not as a postcard of romantic images (they are all there, though not as a touristy tick-off box) but as a hotbed of drugs, shootouts and contract killings.
And where there is a contract killing to be carried out, there has to be Bob Biswas. Except that it's no longer Saswata Chatterjee. Abhishek Bachchan slaps on a prosthetic stomach — much like Vidya in Kahaani — slips on a pair of glasses and sports a receding hairline to become Bob Biswas 2.0. When we first see him in the film that marks the directorial debut of Sujoy's daughter Diya Annapurna Ghosh, Bob has no memory of his past life (not a spoiler, it's all there in the trailer) and has just been discharged from hospital after many years of lying in a comatose state. Even as his wife Mary (Chitrangda Singh) takes him home and attempts to make him fit right back in, Bob is seen being pursued by people from his past who want him to get back into the game. The question on everyone's mind — is Bob trying to pull off yet another trick of manipulation by claiming memory loss, or is he genuinely now a victim himself?
Bob Biswas initially functions on the fringes of the narrative before claiming the pole position of the protagonist. Sujoy's story (he co-writes the dialogues with Raj Vasant) places Bob's return to the game against the backdrop of the city's youth falling prey to a performance-enhancing drug that's simply referred to as 'Blue'. Matters get too close for comfort when Bob's step-daughter Mini (debutant Samara Tijori) gets embroiled in the mess, and Bob sheds off his silence soon enough to pick up his trademark revolver with a silencer and start making some noise.
There is very little to fault in Bob Biswas's mise en scene. Gairik Sarkar expertly trains his lens on the city we live in, allowing his camera to lurk in its dark alleys as much as lovingly capturing Calcutta — both intense and imperturbable — in motion. Church to school, the waters of Rabindra Sarobar to the floating market in Patuli, find a place on the film's tapestry.
The primary intrigue, to be fair, isn't as riveting as Kahaani, or even as Sujoy's last film Badla. Bob Biswas, in all honesty, chiefly functions as a tale of revenge and redemption, with its atmospherics serving as its biggest winner. The fanboy in Sujoy kicks in once more with R.D. Burman's tracks — some popular, some not so known — lending a sharp edge to the sinister proceedings. Double dealing, fake identities, murder plots being hatched under the cover of darkness and carried out in broad daylight...
Bob Biswas has it all, tempered with the story of a husband and father who wants one last shot at absolution. Which is where the film, now streaming on Zee5, falters. One understands that an entire film can't be built on just the gleeful trigger-happy personality of a character, but an emotional Bob is somehow no fun. Abhishek Bachchan — who now goes by Abhishek A. Bachchan — throws in all he has, and the effort, for better or for worse, shows. What appeared as a quirk — in get-up and gait — in Saswata's portrayal ends up looking comical, to the point of caricaturish, on Abhishek. But Chitrangda Singh, who has had many a misstep after her promising debut in Hazaaron Khwaishein Aisi, is a revelation here, effortlessly nailing her part of a supportive wife, and carrying off those crisp cotton saris beautifully.
Samara Tijori — actor Deepak Tijori's daughter — is a natural, and we would love to see more of her, while Tina Desai holds her own in a relatively small part. Like Kahaani, Sujoy peppers this film with local talent, from Kaushik Raj Chakraborty to Rajatava Dutta, but it's Paran Bandopadhyay, as the enterprising Kali da — with his constant supply of 'Arnica' and other 'medicines' — who well and truly steals the show.
At 131 minutes, Bob Biswas — despite editor Yasha Ramchandani's largely brisk work — is a tad too long for a thriller. The twist in the tail is intriguing and either circles back to Kahaani or is a precursor to another Bob Biswas adventure. We will wait for that 'killer of a story'.  

I liked/ didn't like Bob Biswas because? Tell t2@abp.in
BOB BISWAS
Director: Diya Annapurna Ghosh
Cast: Abhishek A. Bachchan, Chitrangda Singh, Paran Bandopadhyay, Samara Tijori, Tina Desai
Running time: 131 minutes