Dahaad actress Sanghmitra Hitaishi: 'My love affair with the Berlin International Film Festival continues'
Strap: Amazon Prime Video series Dahaad, also starring Sonakshi Sinha and Vijay Varma, is the first-ever series from India to be selected for the Berlinale Series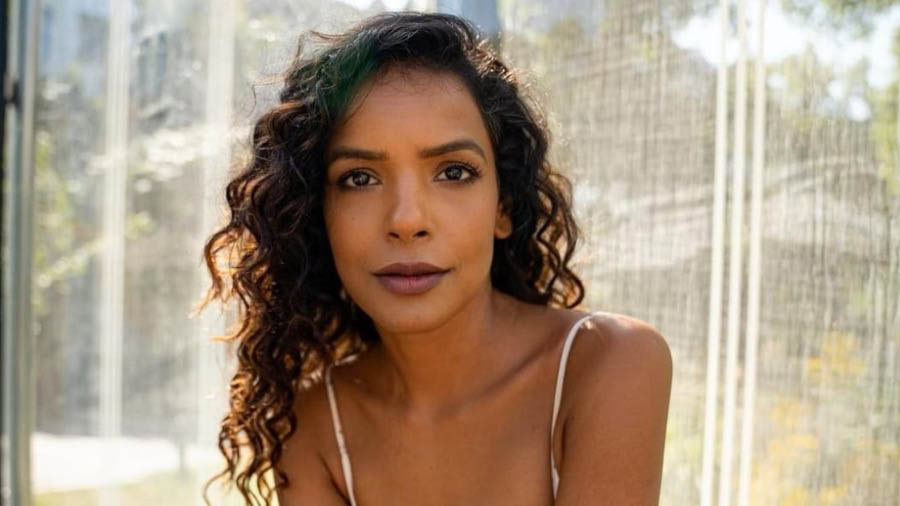 Sanghmitra Hitaishi
Instagram
---
Calcutta
|
Published 02.02.23, 11:31 AM
|
---
Sanghmitra Hitaishi, whose first feature film Lajwanti (The Honour Keeper) had its world premiere at Berlinale in 2014, will be next seen in Amazon Prime Video's Dahaad — the first-ever series from India to be selected for the Berlinale Series.
Talking about her first-ever Berlinale experience, Sanghmitra said, "It was a special moment. I met Ralph Fiennes. There were posters of the film in the hall and a crowd of 400-500 people. So, for me as an actor in her first feature film and major role, I remember standing there and feeling that after all the rejections it is all worth it. I felt like I belonged, for the first time."
Sanghmitra acted in National Award-winning short films before making her mark on the OTT world with series like Bombay Begums (Netflix) and Out of Love (Disney+ Hotstar). 
In Dahaad, she will be seen alongside Sonakshi Sinha, Vijay Varma and Gulshan Devaiah. Directed by Reema Kagti and Ruchika Oberoi, Dahaad will mark Sanghmitra's third visit to the Berlinale. 
After the world premiere of her 2014 film Lajwanti, Sanghmitra became the first female actor from India to get selected for Berlinale Talents the following year. Berlinale Talents is a mentorship and networking programme for which 250 young film professionals are chosen from around the world.
Recollecting the exposure she got from Berlinale Talents, Sanghmitra said, "They had mentors like Meryl Streep, Darren Aronofsky, and Howard Shore. You get a chance to interact with the greats of Hollywood from all departments and get mentored by them. Also, you meet 250 film people from around the world. They create a space for you to meet and interact. Berlinale Talents opened work for me in Europe. I ended up getting an agent in Spain and a big film El Desentierro (2018)."
Sanghmitra played a Pakistani girl in El Desentierro. The actress, who essayed an LGBTQIA+ character in Bombay Begums, said that 2019 was the best year in her career. It was during the filming of Bombay Begums that she got a call to audition for Dahaad.
"While I was shooting for Bombay Begums (Netflix), I got a call from Karan Mally who is the casting director of Dahaad. He called me for an audition saying 'I can't tell you much but it's an important role'. The character that I play in Dahaad was still being developed while they were casting. After the first round of auditions, Karan told me that it was Tiger Baby Films' show and Reema Kagati is the showrunner. Apparently, Alankrita who directed Bombay Begums recommended my name to Karan," she recalled.
Sanghmitra, who is currently in talks for national and international projects, said that she had a great time shooting for Dahaad as it was a female-led set. Talking about working with Reema Kagti, she said, "You can tell that Reema Kagti has been here for a long time. Firstly, it was a set where most of the HODs were women. There's a lot of kindness and empathy on female-led sets. She was very understanding and respectful towards everyone. Reema is a taskmaster and she doesn't waste time if she has got what she wants. Dahaad was the first filming experience where my shift would get over in five-six hours. Otherwise, a shift is 12 hours."
"Vijay Varma is a very humble and giving actor. He would create a safe space for me to perform with him. Gulshan Devaiah is a very funny guy. He is a very sharp and smart actor. I didn't get to spend a lot of time with Sonakshi Sinha but whenever we spent time together, she was very chirpy and cheerful," she added.
From Lajwanti's world premiere to Dahaad's selection for Berlinale Series, life seems to have come full circle for Sanghmitra. But she hopes that her special connection with the reputed film festival doesn't end here. "I hope it's not a circle because a circle has an end to it. I hope it continues. It does feel familiar like coming back home. I have been there and my love affair with the Berlin International Film Festival continues," she concluded.