Nora Fatehi sizzles in Gauri & Nainika as she talks fashion essentials
'It's chic, the fabrics used, the colours used, everything about this outfit spills elegance and grace'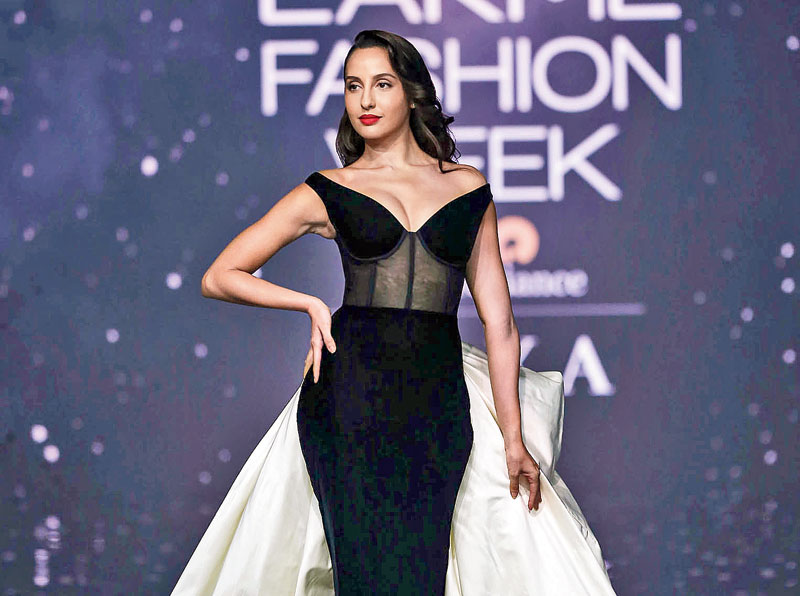 ---
---
Nora Fatehi scorched the ramp showcasing designers Gauri & Nainika's creation on Day 3 of Lakmé Fashion Week Summer/Resort 2020. After the show, The Woods caught up with Nora — stunning in a black off-shoulder gown with a voluminous train.
How close is the outfit you're wearing tonight to your own personality?
It's almost exactly like my personality. It's chic, the fabrics used, the colours used, everything about this outfit spills elegance and grace. But still it's sexy in a very classy way. I just love that. And I love anything that accentuates a woman's curves and femininity and that is what this dress is doing for sure.
You're shooting for Bhuj: The Pride of India with Ajay Devgn. What's going on at the shoot?
I just finished my entire schedule. We were shooting for a very high-on-energy action sequence and I got injured really badly. But we finished the shoot and now I'm going to do some patchwork in March. I'm looking forward for the release, it's a very big role for me.
How are you now and how did you manage to walk the ramp tonight with an injury?
I was injured like 15 days ago, so I've recovered thankfully. Even if I was injured, I would have come and walked, definitely.
What other projects do you have in your kitty?
I'm just wrapping up Bhuj: The Pride of India and I'm in talks for another film. I'm also preparing for my international independent project where I'm collaborating with a very big artiste. We start in the next month or two and I'm very excited about that.
Who is your most favourite designer of all time and why?
I love Gauri & Nainika for sure, I've always admired their designs. I'm very happy that I got the opportunity to walk for them. I think a lot of Indian designers should be celebrated because they're very talented.
What's that one fashion trend you do not understand?
Contouring! I hate contouring.
If you could steal one celebrity's wardrobe, who'd it be?
I'd love to steal Rihanna's wardrobe!
If you were an article of clothing what would you be?
A tracksuit.
Who are the best-dressed people in the world according to you?
Jennifer Lopez and Kim Kardashian.
What's the one fashion trend you've always hated and wish it never makes a comeback?
The weird coloured braids was so tacky in the '90s. Also, very thin eyebrows.
What's the one vintage fashion trend you wish makes a comeback?
Anything that Marilyn Monroe did, she's just eternal. It just keeps coming back.
Have you ever committed any fashion faux pas?
Every day! According to all the fashion blogs, not according to me (laughs).
What are the five essentials we would always find in your purse?
You'd always find a small perfume, a small hairbrush, airpods, my lipstick, lipliner and my passport.
Your fashion inspiration of all times?
It changes every month but I really do like Kim Kardashian's style.
One fashion tip you'd want to give everyone?
Just follow your instinct because everybody's body type and personality are different.