Bhalobashar Morshum to Tapa Tini: 7 Bengali chartbusters of 2022
Singers like Arijit Singh, Shreya Ghoshal, Sonu Nigam, Iman Chakraborty and Arfan Mredha Shiblu have lent their voices to these songs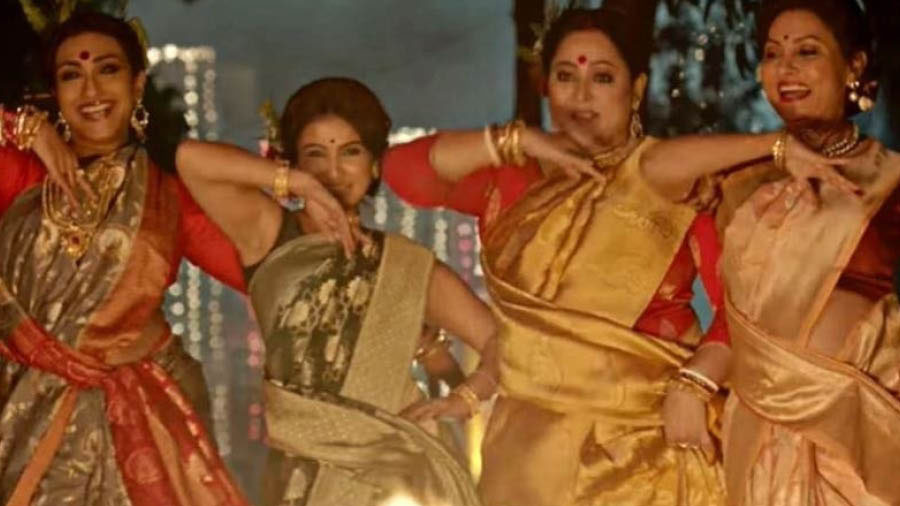 Rituparna sengupta, Monami Ghosh, Aparajita Adhya and Indrani Dutta in Tapa Tini
Windows Production
---
Calcutta
|
Published 26.12.22, 10:25 AM
|
---
The year 2022 witnessed a steady line-up of Bengali film and non-film songs that went on to become instant earworms upon release. From Shiboprasad Roy-Nandita Roy's Belashuru numbers to Coke Studio Bangla productions, here are six of the most-loved Bengali songs that rocked the charts this year. 
Tapa Tini (Belashuru)
A lively folk song from Nandita Roy and Shiboprosad Mukherjee's Belashuru, Tapa Tini is one of the most viral film songs of the year. Iman Chakraborty, Ananya (Khnada) Bhattacharjee and Upali Chatterjee have lent their voices to this song. Rituparna Sengupta, Monami Ghosh, Indrani Dutta and Aparajita Adhya shook their legs to the beats of the dhamsa and the madol in this foot-tapping number composed by Anindya Chatterjee. From a gala release at Nandan to a flash mob inside the Dumdum airport, Tapa Tini has made people put on their dancing shoes at the most unlikeliest of places. Bhalobashar Morshum (X=Prem)
Sung by Shreya Ghoshal, the song Bhalobashar Morshum from Srijit Mukherji's sci-fi love story X=Prem will fill your heart with a warm, fuzzy sensation. Written by Barish and composed by Saptak Sanai Das, the song is already a rage among young people. Apart from Shreya's rendition, the male version sung by Arijit Singh is equally popular among music lovers. The song is visualised on Khilat (played by Anindya Sengupta) and Joyee (played by Shruti Das) — a lovestruck couple — in the movie. Sada Sada Kala Kala (Hawa)
Written and composed by Hashim Mahmud, the song Sada Sada Kala Kala from Mejbaur Rahman Sumon's Bangladeshi blockbuster Hawa has won the world over. The vocals by Arfan Mredha Shiblu have captured the imagination of listeners on both sides of the border. A whacky composition that celebrates the folk music of Bengal, the song is celebratory in mood. The use of unconventional musical instruments like pots and pans adds an extra appeal to this viral song. Oboseshe (Kishmish)
A romantic melody sung by Arijit Singh, Oboseshe from Rahool Mukherjee's Kishmish rekindles the essence of love and nostalgia of the 1980s. The song is visualised on Dev and Rukmini Maitra as they bring back the charm of old school love. Arijit's soulful crooning brings Nilayan Chatterjee's words to life. Ei Mayabi Chander Raate (Baba Baby O)
Another song that captured the imagination of Bengali music lovers in 2022 was Ei Mayabi Chander Raate from Aritra Mukherjee's family drama Baba, Baby, O… Popular Bangladeshi singer-songwriter Chamok Hasan has co-written and composed the song. Ikkshita Mukherjee, Hemlata Chakraborty and Barnomala alongside Chamok have lent their voices to this magical melody filmed on Jisshu Sengupta and Solanki Roy. Mukti Dao (Kacher Manush)
Mukti Dao from Kacher Manush, directed by Pathikrit Basu, is a melancholic melody that expresses the angst of a person who has given up on life. Sonu Nigam's heartfelt rendition makes it even more magical. Written and composed by Nilayan Chatterjee, Mukti Dao has been picturised on Prosenjit Chatterjee, Dev and Ishaa Saha during a crucial moment before the climax of the film. Bhober Pagol (Coke Studio Bangla)
Curated & produced by Shayan Chowdhury Arnob, Bhober Pagol is the most-viewed production from the first season of Coke Studio Bangla. A collage of two songs, the first part of the music video features a folk number — Pagol Chara Duniya Chole Na — which has been popularised by the Lalon Band. The second part consists of a Bengali rap song written by Jalali Set and Mehedi Hasan Ansari.