Data is the next big thing
The columnist offers the best solution to your career-related queries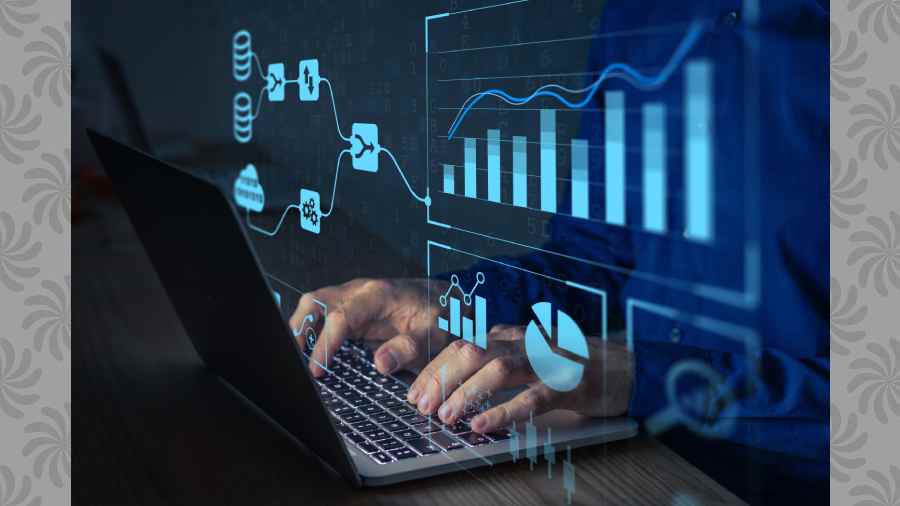 Representational image
Shutterstock
---
Published 09.08.22, 04:22 AM
|
---
I am studying for a bachelor's in computer application, or BCA, and am in my second semester. After this, I plan to do a master's in data science. Could you tell me what the career prospects in data science are? 
Rijul Maitra Calcutta
You have chosen a great career option. There are tremendous opportunities for growth in the field of data science. Demand for people with this particular skill-set is quite high and  salaries are extremely competitive. There are many other perks too, such as getting a job abroad or working with some of the best companies in the world. Data science is "the most promising career" says LinkedIn and, according to Glassdoor, it is the "best job in America".
You don't have to wait to finish your BCA before you take up the study of data science. In fact, you could start your learning right away and even do an internship while you are still studying. It has become quite easy to gain access to quality data science programmes and lectures if you are self-driven. You can do courses in the subject on education websites such as Coursera, edX, Udemy or even through certain YouTube channels. The Indian Institutes of Technology, too, offer some excellent online programmes in this field. In the meantime, you can identify and start reading relevant books on data science and machine learning. Once you have a basic grasp of the subject, do a few short projects in it. You can also apply to companies for internships. This exposure to the practical side of things will further crystallise your understanding. Data scientist, data analyst, business analyst, statistician and marketing analyst are some of the job roles you can apply for after completing your studies.
Excitement always pays
I am currently doing my graduation in English with honours. What are the different career opportunities that are available to me? I want to do something big in life.
Partha Sarathi Das  Asansol
"I want to do something big in life" means different things to different people. For someone, it could be making it big in the financial world or the world of technology. For another person, it could be delivering a performance before adoring fans; for a third person it may mean finding value in social work. Therefore, what you consider "something big" is quite personal. It is, however, a great sign that you are asking this question. It means that you are thinking deeply about what you wish to do with your life. Here are a couple of options that you can consider making a career in — journalism, marketing, public relations, social media, teaching and academia, law and civil services. With learning and hard work, you can make it big in any of these careers.
My advice to you is not to go by socalled trends and what other people say but to go by what you like. Remember, this is something that you will be doing for nearly 40 years of your life. Evaluate the options open to you and select a career that gives you a sense of excitement and joy. If you choose something that you enjoy doing, you will be much more likely to do it well. And that will mean that success will usually follow. However, it would help if you kept in mind the fact that achieving anything significant requires you to work hard, be totally committed and persevere in the face of difficulties. All the best!
Nina Mukherjee is a career counselor and certified psychometric assessor. She conducts workshops in various areas for students. Mail your queries to telegraphyou@gmail.com with "Ask Nina"in the subject line. Don't forget to add the name of your school or college and a contact number