Boss this time
The pandemic-induced lockdown has changed the way people work and led to a rise in demand for freelancers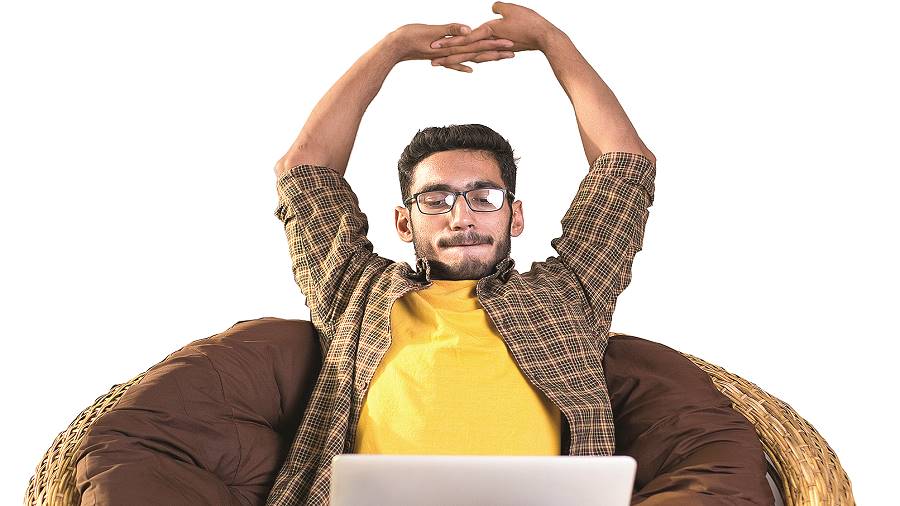 ---
---
A report by the Centre for Monitoring Indian Economy (CMIE produces economic and business databases) says that five million salaried employees lost their jobs in July. This is directly proportional to the rise in freelancing work seen globally.
Flexing It, a platform for freelance and project-based work, says there was a 75 per cent spike in freelance positions published in April while HR technology solutions firm PeopleStrong estimates that 25-30 per cent of the workforce in sectors such as Internet business companies, IT, ITES, start-ups, hospitality, quick-service restaurants, retail and logistics will eventually be converted to freelance roles.
The demand for freelancers is on the rise as organisations get used to remote work and freelancing, to cut risks as well as costs during the pandemic. Workers and organisations alike have embraced remote working in the wake of the lockdown. Indeed, so great are the benefits for both that even as governments allow the return to workspaces, many remain reluctant to give it up.
Neha Bagaria, CEO of JobsForHer — an online platform to help women accelerate their careers — says, "We have seen a big upswing in the number of companies offering work-from-home opportunities, which include freelancing. Two things have happened. The first is that companies are looking at ways to reduce costs and one way is by converting full-time positions into freelance roles to cut rental costs.
Also, this pandemic has made companies realise that most work can be done remotely and productivity doesn't really go down. So now companies are looking at more work-from-home opportunities. This can do wonders to increase women's participation in the workforce, mainly those constrained by time, location and space, especially in Tier 2 cities. A lot of mainstream roles such as software developers and SAP consultants are also being offered as freelance opportunities. This is a trend that is here to stay."
Self-employment is often a fall-back option for workers hit by employment shocks –— an intermediate state between employment, unemployment and possible re-employment. Public relations executive Kirandeep Kaur Bedi was apprehensive about travelling to her office, so she quit and has taken up freelancing. She is very happy as she now has more money and time.
Kamalika Mukherjee, who has been a freelance lifestyle journalist for the last four years, says, "I find it a bit offensive when people tell me to get a 'real' job because for me this is a job. In the current economic crisis, it is difficult but I think there is scope for more freelancers."
She took up freelancing because she "wanted a flexible lifestyle. Also, a regular job would not get me the exposure I get by freelancing".
As far payments are concerned, "I don't have a fixed pay but I make roughly Rs 35,000 a month," she says.
One of the characteristics of freelancing is an unpredictable income. Rates of pay vary wildly depending on the job and the company one works for. Low pay, undervaluing the services on offer and, of course, late payments have been a part and parcel of freelance life.

Adnan Shakil Farrukh, who is a freelance videographer and video editor, says he gets his clients mainly through YouTube, where they see his portfolio and get in touch with him. He also contacts potential clients through various job portals. He gets Rs 4,000 to Rs 6,000 per day, depending on the project.
Tehzeeb Hossain, a full-time content writer with Clirnet, a physician support network, and a freelancer with the British Council as an invigilator during the weekends, balances between the two types of jobs to fulfil her financial needs. She started as a freelancer after completing her education in 2014 to gain industry experience. Since she has freelanced in areas as far apart as fashion and medicine, real estate and television soaps, she says it provides exposure to various kinds of content and that helps you figure out your style and preference. She adds, "I have never had an issue with payments but there is no surety of the flow of work. Networking is very important to get work."
Ayush Bose, a freelancer who works on documentaries and ad production, says, "I would make several short films with different teams and many of them would work with other teams so through word of mouth would get connected to several projects. As I improved and my work began to get recognised, I automatically started landing big projects. Now I take 50 per cent as advance payment and the other 50 per cent once I have delivered the project to the client. My payment varies from month to month but on an average it is Rs 25,000 to Rs 35,000 a month. With reputation, time and effort, I can see it going up by a good margin."

Says Ajit Singh, PR and media consultant, "My parents didn't understand my decision to leave a secure job. I started getting calls from clients for help with PR services as I knew a lot of people in the industry. Luck has also been in my favour. Some clients pay on time, some don't. The time that I got for myself in this whole process is incomparable. Of course, every month is not the same, there is no job guarantee, money flow could fluctuate. Sometimes I find it difficult to sit alone and work. I work 3-4 hours five days a week."
While a lot of employees yearn to be their own boss and have their own schedule, many freelancers envy the stability and security of a full-time job. There are, of course, other things to consider such as no sick pay, no corporate medical insurance, no pay rise, no promotion, no formal or informal review. You are also your own HR, payroll, tax accountant, brand manager and contract negotiator, apart from doing the actual work that you are paid to do. The grass may look greener on the other side for both, but when it comes to deciding what is best for you, you will have to consider your priorities and circumstances.