Shivika Burman channels style aesthetics of three of her favourite tennis stars
The tennis coach experiments with Steffi Graf, Serena Williams and Maria Sharapova's school of styles in a special shoot with The Telegraph. The result? #LoveAll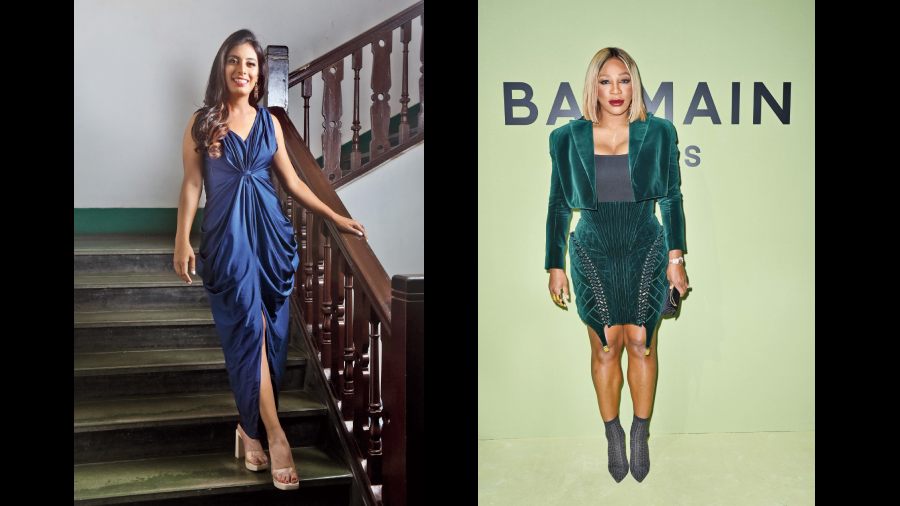 Serena Williams is all about power dressing and making a statement. This cocktail dress fits the bill. While Serena likes to play around with her hair, including the fail-safe open blow-dried hair, she loves highlighting her eyes. Shivika has coats of mascara to enhance her eyes.
---
Published 01.08.22, 02:15 AM
|
---
Ballygunge girl Shivika Burman likes to keep it simple when it comes to hair and make-up. For this shoot, Shivika has chosen three of her favourite tennis players and experimented with their school of styles. The result? #LoveAll
Post-shoot, Shivika tells us what she loves most of her experience and her plans with her tennis academy.
Is this the most you have dressed up?
(Laughs) I think so! I like dressing up, but not so much make-up and hair.
What was your favourite look?
My favourite has to be the (Maria) Sharapova look. The colour was nice and the style was different. Sharapova is a style icon. Everyone looks up to her.
These women are also your favourite tennis stars...
Serena Williams is a fighter. I agree at times that she can be a drama queen, but all that is a part of it. She has come back from so many injuries and the way she has performed, I don't think there is going to be anyone like her in women's sports. The powerful game and the confidence that she has, her personality... I have always looked up to.
I haven't really got a chance to see Steffi Graf play, but from whatever little of the old matches I have seen, the slice that she had and the finesse she had in her strokes, were remarkable. My dad would keep talking about her and she was one of his favourites. For any tennis-related discussion, he would always take her example. So many have come and gone, but names like these will be there forever.
Sharapova's story is phenomenal. Moving from one country to another at the age of seven with absolutely nothing with her. Obviously her dad had that belief in her and she carried it forward. She won Wimbledon at 17 and she is an example of everything. Style, looks... more than the game, I was fond of her style and the way she looked on the court. You look at players like these and you know you want to do well and play well... wear clothes like them and look like them. That's also a motivation by itself. Don't you think her looks came in the way of her being taken seriously as a tennis star? It kind of overshadowed her achievements...
It definitely did. There is no taking away from what she's achieved as a tennis player because she has achieved a lot, but it was more her looks and style that were talked about.
Congratulations for completing five years of The Tennis Tree (on Middleton Row with which she plunged into the world of coaching)...
It will complete five years in October. The kids are doing really well. They started playing at the state level and are now competing at the national level. One of our girls, Aleena Farid, broke into the top 10 in under-14. Last year, four kids from our academy won the state championships in various age categories. Now, we want more and more of them to travel and play more national tournaments and some international junior tournaments also. It's been a process and the results haven't shown overnight.
Even during Covid people were not sure how many kids would come back but luckily for us, the kids had faith in us and even our team was there to support each other and we worked through this. We started with 15-20 kids and now we have 200+ kids.
You are also the U-12 girls coach with the Indian team...
Last year I travelled to Kazakhstan for the all-Asia finals and we made it to the finals. We got silver, but that was a brilliant performance by the girls. This year I travelled to Nepal for the South Asia regional event and won the gold. We have qualified for the finals. Every few months I go to Delhi and train the team there.
Ever since I got into coaching, that was one thing I wanted to do... travel with the team. Hopefully I will start travelling with the senior team. It's nice because I am able to share my experience with them and it is always fun. As a coach, you have more responsibilities.
Are you a tough coach?
When I started off, I was a little soft, but now I can't deal with any nonsense on the court. Are you happy with where you are right now?
I am happy. It's taken me a lot of time. As a player, the work that I put in and then when I decided to take coaching as my profession. Both Farid (Alam) and I have worked hard to establish this academy in Kolkata. From what we started with to where we have come right now, we have come a long way. We want to do so much more for the kids. I am so passionate about it and I want to see these kids excel and it pushes me too. Along the way, I am also learning. One method doesn't fit all. Everyone is different with a different personality. Even for a coach it takes time. I also keep going for certifications. I finished my ITF level 1 last year. Then I did a course in the US and this year, I will do my level 2. The game is changing every day. So, you have to keep updated with the latest methods. The plan is to keep growing and working hard. The players are the main focus. I want someone from the academy to represent India and win national championships. That's definitely a goal and a dream.
Are you getting the time to play a little bit, non-competitively?
The last few years not as much. I start my day at 5am and just focus on the kids. I also want to get back to fitness so that I can start competing a little bit here and there, maybe not professionally....
You must be missing that...
I miss the competitiveness. When I see these kids do well, it makes my heart full.
Pictures: Pabitra Das
Location: The Tennis Tree
Styling: Tanvi Shah
Hair and make-up: Bony Chakraborty
Outfits: Atrium by Citrine
Jewellery: Tarasha