Arpita drapes her absolute Puja favourite — saris
During the course of the shoot at the picturesque Ambuja Neotia property at Swabhumi, where Arpita shot for the first time and loved every nook and corner, the beautiful actress was her unfiltered version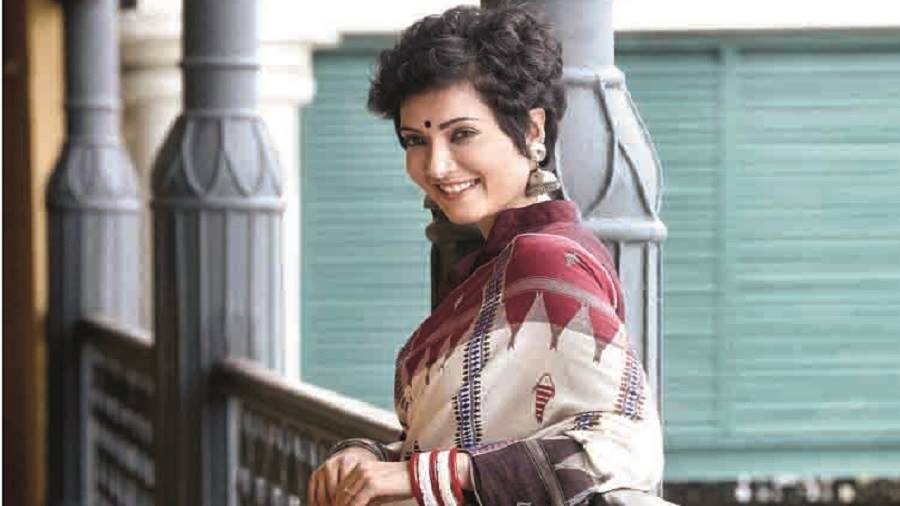 ---
---
Make-up artist Aniruddha Chakladar, almost like a mentor to actress Arpita, remembered almost screaming at his mentee of 24 years once. "She was giving away an original Kanjeevaram with real gold zari work!" recalled a still aghast Aniruddha. And, the courtyard of a dusk-smeared Raajkutir-Swabhumi filled with laughter following Arpita's tale of 'benevolence'.
While planning this shoot, we had learned about her sari love. During the course of the shoot at the picturesque Ambuja Neotia property at Swabhumi, where Arpita shot for the first time and loved every nook and corner, the beautiful actress was her unfiltered version. "With time, onek beshi paka hoyechhi," she smiled, after Aniruddha shared how she had adapted to different looks over the years. "She is not a shopaholic. We have to really struggle to dress her up and she loves her comfort. She has amazing saris which are museum pieces, but she doesn't remember!" laughed Aniruddha who felt Arpita only "hordes emotions". Arpita smiled. And, how that smile made the shoot.

From growing up with the Puja in her grandmother's neighbourhood to celebrating her family Puja in Mumbai, Arpita opened up to The Telegraph on how Durga Puja has changed for her.

You were saying you love wearing saris, especially during Durga Puja…
I prefer wearing saris during Puja. Though it might not be possible to drape one every day because work creeps in, and I am often not in Calcutta, but I prefer it. So, all the looks are relevant to me. The mood is that of happiness. Minimal is my style.

How young were you when you started wearing saris? When did you fall in love with it?
Class XI…. After my marriage, for six years, I would wear saris 80 per cent of the time. I love cotton saris and the traditional ones like tangail. Especially during the Puja, I love wearing the white-and-red combination or the temple border. I love Nalli saris.

Any iconic sari looks from your films…
I had some iconic looks in Satyanweshi (by Rituparno Ghosh). Experimenting with sari drapes for periodicals is fun.

How has Durga Puja changed for you?
The Puja that used to happen in my thakurma'r para, was like our bari'r Puja. I have grown up with that Puja. When I won (Sananda) Tilottama in 1997, shei bochhor je pujota holo, that was a change for me. Aami kintu change holam na, but baki onek jinish change hoye gelo. Every change has pros and cons. My close group of friends were treating me in a different way… some maintaining distance. The pandal-hoppers were pointing at me and the line of admirers… boys, which has always been a part of my life, that queue got longer.
Pujas after marriage, when I wasn't working, cooking became an integral part. There had to be vegetarian food on Ashtami and luchi had to be a part of the menu and mutton on Navami. For the last seven, eight, nine years, it is a combination of work and Puja celebration.

Are you in Calcutta during Pujas?
I try to stay in Calcutta, but it doesn't happen often. I go to Bombay. We have our family Puja there. I make it a point to be there and spend at least Ashtami and Navami there. I am not going to Bombay this year though. I'll either be in Calcutta or Delhi.