A royal tale of legacy and revival
A "Royal Story" shared on Episode 4 of Season 1 of 'The India Story Continues'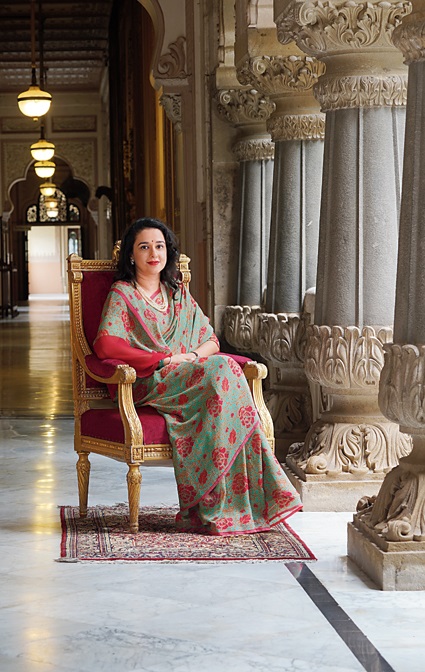 ---
Published 10.09.20, 09:22 PM
|
---
She stays in India's "largest private residence", the Lukshmi Vilas Palace, Baroda. He is a "royal cultural revivalist" or an "old-fashioned designer". Radhikaraje Gaekwad and Umang Hutheesing. They shared their "Royal Story" on Episode 4 of Season 1 of The India Story Continues..., moderated over Facebook and YouTube live by writer, publicist and Nari Shakti Puraskar awardee Anshu Khanna, on September 5. The India Story Continues... is The India Story founder Madhu Neotia's "basic notion to continue the narrative of The India Story".
The beautiful Radhikaraje was born in the "princely family of Wankaner, Gujarat" and later married Samarjitsinh Gaekwad.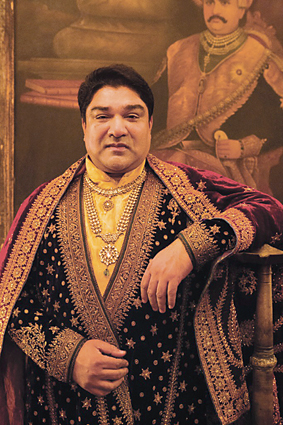 "My story of India is a mix of so many different things because of my background which is royal, but at the same time growing up as an IAS officer's daughter who had a transferable job… I have had that experience too, which is egalitarian," she said, giving us a glimpse of her life that she candidly considers a "privilege".
Her Instagram bio sums up her many passions, "heritage conservationist and textile revivalist" being just a couple of them. At the live session, she traced back how she got into the revival of Chanderi. "It started in 2006 when we took our Raja Ravi Varma paintings to NGMA (National Gallery of Modern Art), Mumbai. The paintings were travelling for the first time to Bombay and there was a lot of interest generated. We thought why not do a collection of Chanderis inspired by Raja Ravi Varma. The Marathas have always been patrons of Chanderi. However, over the years she (mother-in-law Rajmata Shubhanginiraje Gaekwad) realised when she wanted real zari saris for the daughter's wedding or my wedding, they were not being made any more. The fabric had got corrupted.... We took it up as a project," she said. A line of saris which were inspired by the paintings of Lakshmi, Saraswati was "well-received". "That encouraged us to continue with it because the weavers in Chanderi had no reference to what kind work was being done generations before. The level of sophistication, design and finesse of the motifs were lost. Textiles in the family helped them recreate those patterns," she said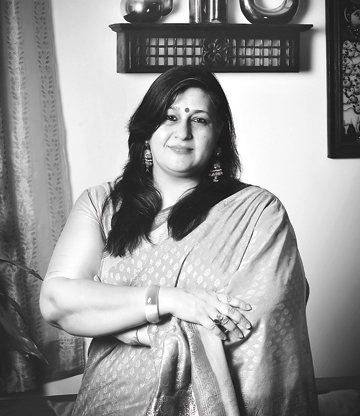 A "history narrator", her description of the Baroda jewels was jaw-dropping. "The Baroda pearl carpets have Basra pearls with over 2.2 million beads, ruby, sapphire, emeralds, 300-400 carats of diamonds. The Baroda pearl necklace… seven strands of Basra pearls, the diamonds…," she shared.
Umang for whom Karl Lagerfeld and Yves Saint Laurent are huge inspirations, looked back at how his family had been in "textiles and jewellery patronage for generations". The idea that even "living heritage" should be preserved saw Umang take up the revival of royal crafts and textiles 10 years ago, with craftsmen of the royal poshak khanas who were sitting jobless. "To give employment to craftspeople, one has to find a market for their products. I see myself as a catalyst between the craftspeople and the patrons. We have done a lot of mochi kaam in tone-on-tone and pastels and revival of the crafts of Gujarat. I am a revivalist and patron. The urban patrons need a space that is more accessible. So, I opened a store, more like a salon," he said.
He has "300 pieces" designed and made by him "in seven international museums" and has held exhibitions at Buckingham Palace and Roosevelt House. "The first thing I did was to make clothes for the royal families; royal families who wanted high quality of craftsmanship and very focused original, traditional garments. Soon I realised that royal families buy things for an occasion. If you have to survive, you have to make clothes for a larger audience," he had told t2 in an earlier chat.
The session also saw Radhikaraje unveil Umang's line of "rare and fine jewellery".
A rapid fire at the end revealed while Umang loves pav bhaji and pizza, Radhikaraje unwinds over Netflix with her husband. #ModernRoyalty