Getting the world to talk about hard things
A key element of the Difficult Dialogues initiative has been the inclusion of the youth perspective and this has been done each year through Daring Debates.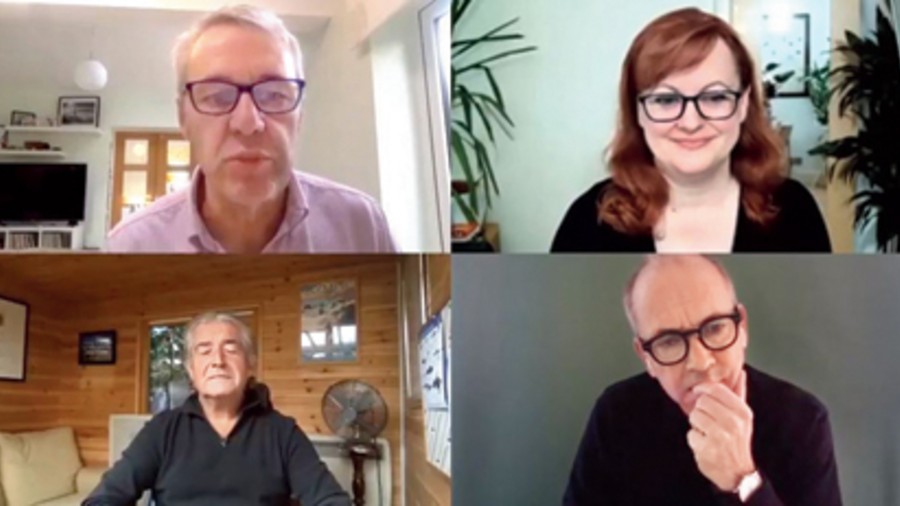 (Clockwise from top left) Andrew Wilson, president of the tve GSFA 2020 and former director of Purpose at Edelman; Solitaire Townsend, author and sustainability expert and co-founder at Futerra; Andrew Dunnett, director of sustainability at Vodafone Foundation; and Tony Juniper, sustainability expert and environmentalist
---
Published 02.12.20, 01:39 AM
|
---
Ten years ago when I was approached by tve (Television for the Environment) to do a fundraiser by Lisa Aziz, the first woman of Indian origin to read the news in the mainstream media in London, she suggested doing a fundraising dinner with a speech by me. I was a bit annoyed that they didn't see my real fundraising abilities and just wanted to use my house as a venue! I let it pass only to go home and research about tve and discover that it was a 30-year-old organisation fighting for global sustainability through the power of media and communication. It was started by film producers who were frustrated that no one wanted to pay to watch films on the environment. The concept then was very new and therefore with the help of the UN and WWF they started tve, which would just commission films showing the depleting resources of the world and bringing awareness to the cause.
In the formative years, we had Richard Attenborough as a patron. I asked Lisa to introduce me to the tve board members so that I could suggest a fundraiser that could help them raise money and forward their advocacy goals. I recall standing in their board room and asking Richard Creasey, one of the co-founders, about what he could bring to the table, and he mentioned that he was a member of BAFTA (British Academy of Film and Television Arts). That is how the tve Global Sustainability Film Awards were born. For nine years they were given at BAFTA. When the organisation was started, little was known about the environment by the masses but with increasing awareness, we had to now think differently and change the mandate of our advocacy. Therefore we asked companies and film-makers to submit films on corporate social responsibility. The narrative had to shift from being about problems to solutions. In the first year, we had a lot of films from Mexico which were about having gender equality in the workforce and how the millennium development goals were being met by many organisations. We often got films from big banks whose social responsibility fund was being spent on funding NGOs doing good work on social and environmental causes. We became more ambitious and talked about corporate social responsibility being more than just keeping a fund, but it being integrated with the core strategy of the corporate.
We now encourage films to be submitted for our awards through different categories to recognise different types of sustainability-related issues and storytelling formats. For example, the Doing Business Differently award category would allow a bank to showcase the fact that it had stopped using plastic and encouraged recycling, whereas the Campaigning category welcomes advocacy and campaigning films to be submitted by NGOs. Under the Solutions News Story category, journalists and media houses can showcase the role they play in highlighting environmental awareness and in exposing corporations who are blatantly exploiting the environment. The tve GSFA awards have traditionally been presented each year at BAFTA, the high-profile venue in London; however this year because of the pandemic we moved to an online but well-attended Awards Week this November.
We had established Difficult Dialogues in 2016 as a three-day international forum in Goa to examine contemporary themes of key importance. After covering issues like civil society, health, education, gender and law, this year's mandate was to focus on the environment and sustainability. Given that commonality, it was a perfect synergy for Difficult Dialogues to partner with the tve GSFA in the pandemic year to present an online Awards Week that showcased crucial issues on global sustainability through the mediums of dialogues, debates and films.
The lockdown during the pandemic made us all pause and look at the world through a new prism and ask soul-searching questions. Can 2020 be such a different year because of a virus? What exactly is our relationship with the ecosystem? We decided to reflect these facets in our award categories and decided to give the Founder's Award to a unique documentary instead of a feature film. The winning film My Octopus Teacher is an extraordinary film which shows a man romancing with this creature in the deep sea. He revels in discovering her mystery and forging a relationship based on trust. Can a man satisfy this need for her trust and learn from the way she adapts to her natural environment. Directed by Pippa Ehrlich and James Reed, this was definitely my favourite film of the Awards Week.
Sustainability of the earth is a very old concept ingrained into our cultures. The different festivals like Baisakhi and festivals that celebrate nature like cleaning the ponds around the villages etc are all connected to the use of earth. While our relationship with Mother Earth was clearly marked and goes back a long way, global sustainability became a new 'concept' only when in the race towards development our genetic memory got eroded and took us away from nature. The tve Global Sustainability Film Awards bring our attention to such films that remind us about our age-old bond with nature and provide solutions for the problems that arise out of the current misuse of our environment.
A key element of the Difficult Dialogues initiative has been the inclusion of the youth perspective and this has been done each year through Daring Debates. In the past, these have been conducted across universities in India, but this year we were able to go international with college teams participating from India, Nepal, Myanmar, Bangladesh, Africa, USA and Sri Lanka. It was an enlightening experience to hear these diverse young voices from different backgrounds and cultures — imagine a young man from Puducherry pitched in a battle of words with a student from Harvard or Nigeria.
We also had youth ambassadors supporting the event who presented their perspective on the environment through specially created two-minute video clips. I personally liked a film made by one of the youth ambassadors from Guatemala talking about how he and his two brothers had directly started a chocolate factory at the site where the cocoa beans grew to cut out the corrupt middlemen.
This year the Difficult Dialogues panel discussions were focused on sustainability themes that were in conjunction with the film award categories. The regional Daring Debates were all about sustainability and democracy, while the finale examined whether sustainability could be profitable for a business. The virtual five-day format allowed us the luxury of time to highlight a range of issues and spend more time to view the excellent films that were on view.
We will have to see what 2021 has in store for us. Apart from the next edition of the tve GSFA, we will also be busy with the 10th year of the DSC Prize for South Asian Literature. For these initiatives, we look forward to having physical on-ground events again, or we may have to continue with the newly experienced format of a virtual festival. Only time and the success of the vaccine will tell us which way we need to go!
Surina Narula is a philanthropist and the founder of the tve Global Sustainability Film Awards