Supreme Court backs UltraTech takeover of Binani Cement
Dalmia Bharat Group firm had challenged decision of NCLAT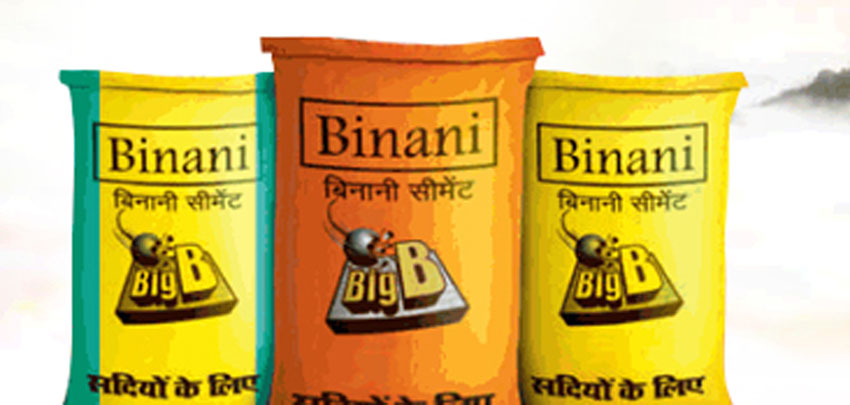 In the Binani case, the appellate tribunal had upheld a late revised bid by UltraTech which agreed to pay all operational creditors in full
Source: Binani cement site
---
New Delhi
|
Published 19.11.18, 08:07 PM
|
---
The Supreme Court on Monday dismissed the plea of a Dalmia Bharat Group firm challenging the National Company Law Appellate Tribunal (NCLAT) order allowing rival UltraTech Cement to acquire debt-ridden Binani Cement.
A bench of justices R.F. Nariman and Navin Sinha upheld NCLAT's last week's order — which will have a cascading impact on several insolvency cases — that had allowed the Aditya Birla group firm to acquire Binani Cement by approving its revised Rs 7,950.34-crore bid over an offer by Rajputana Properties.
The bench said there was no infirmity in the NCLAT's order. The NCLAT had approved UltraTech's resolution plan for Binani and rejected the plan submitted by Dalmia Bharat's Rajputana Properties by terming it "discriminatory" and "unbalanced".
The SC order is likely to have a direct bearing on at least two ongoing large insolvency matters such as Bhushan Power & Steel (BPSL) and Essar Steel.
In BPSL, the committee of creditors have approved a late and higher revised bid by JSW Steel, outmanoeuvring Tata Steel, which has challenged the decision in the NCLAT.
In Essar Steel, a large number of operational creditors are filing cases against the resolution plan submitted by ArcelorMittal India and approved by the CoC.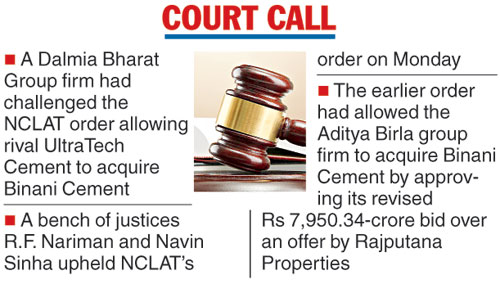 In the Binani case, the appellate tribunal had upheld a late revised bid by UltraTech which agreed to pay all operational creditors in full. In contrast, Dalmia was paying only a fraction to these creditors who are not part of the CoC voting clique.
The top court's order came on a plea by Rajputana Properties against the NCLAT order.
In its order, the NCLAT had observed that the plan submitted by Rajputana discriminated between "equally situated" financial creditors and did not balance other stakeholders such as the operational creditors of Binani Cement.
Rajputana Properties had moved the appellate tribunal against the May 2 order of the Calcutta bench of the National Company Law Tribunal (NCLT) that allowed the resolution professional and committee of creditors (CoC) of Binani to consider UltraTech's revised offer, while affording Rajputana an opportunity to revise its resolution plan.
The CoC had earlier approved Rajputana's Rs 6,932.4-crore bid, but the decision was changed once UltraTech revised its offer.
The NCLAT had observed that the amended offer of UltraTech Cement has got 100 per cent voting from the CoC and added that the intent of the Insolvency and Bankruptcy Code (IBC) was the maximisation of the value of assets.
"We approve the revised resolution plan submitted by UltraTech which shall be binding on Binani Cement and its employees, members, creditors, guarantors and other stakeholders involved in the resolution plan," the NCLAT order had said.
The operational creditors of Binani, represented by Dhaval Vussonji, hailed the SC order saying it upheld the NCLAT's order "which emphasises the corporate insolvency resolution process must maximise value for stakeholders and there should not be discrimination among creditors who are at least similarly placed".