Rupee crashes to all-time low against dollar as investors dump Indian assets
Further falls in rupee feared due to falling domestic equity markets, global economic backdrop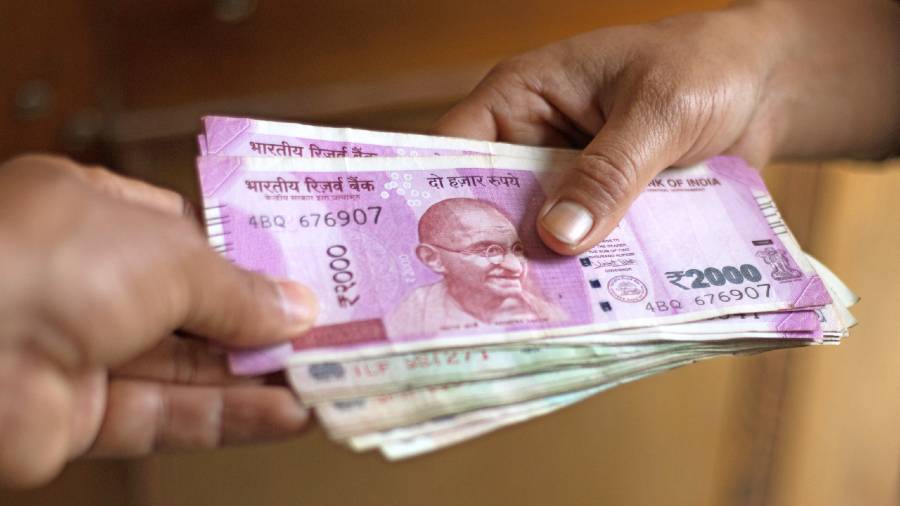 Indian currency firmed slightly to close at Rs 77.46 but the rupee was still below its Friday level of 76.92 to greenback
File picture
---
New Delhi
|
Published 09.05.22, 08:11 PM
|
---
The rupee slid to a fresh lifetime low against the US dollar on Monday as investors offloaded Indian stocks and other assets as part of a worldwide shift away from riskier emerging market holdings into the safe-haven US dollar. 
The Indian currency slid during the day to Rs 77.52 to the dollar. It firmed slightly to close at Rs 77.46 but the rupee was still below its Friday level of 76.92 to the greenback.
Analysts saw pressure continuing on the rupee, saying last week's surprise increase in the Indian central bank's leading interest rate appeared to have done little to stem the currency's fall. 
For consumers, a weaker rupee means higher costs of everything imported from food to fuel and more expensive foreign travel. For manufacturers, it means increased prices of component parts among other consequences. All these effects fuel inflation which is already surging in India. 
"There is a high downside risk to the INR from a deterioration in equity market sentiment as a result of a rapid tightening in domestic financial conditions," said BNP Bank Paribas. The Indian central bank was reported to be standing ready to intervene to check speculation in the currency and brake its fall.
The US dollar has been rising relentlessly across the board thanks to higher US interest rates and surging US Treasury yields.
Feeding the rupee's slide on Monday, the key 30-share Sensex also continued to slide downward amid a selloff in global markets. The Sensex fell 0.67 per cent or 364.91 points to close at 54,470.67 after tumbling in intraday trade by over 900 points. 
Reliance Industries pulled down the index when its shares dropped nearly 4 per cent on the back of a disappointing sequential earnings decline. Globally, share markets are reeling from growing concerns about interest rate rises to curtail surging inflation.
LIC: Foreign investors stay away
Indian currency risks, meanwhile, have prompted foreign investors to largely shun the $2.7-billion Initial public offering by state-run Life Insurance Corp of India that ends Monday. The IPO, India's biggest ever that was priced much lower than originally expected as the war in Ukraine unsettled global financial markets, has been bought up by domestic investors.
The rupee's latest bout of weakness was triggered by the US Federal Reserve's half-point interest rate hike last week that sent stocks lower. Foreign institutional investors have sold Rs 1.3 lakh crore worth of Indian shares since the start of the year.
Just hours before the Fed rate hike, the Indian central bank shocked financial markets with an unexpected 40-basis point hike in its leading policy interest rate, the repo, to curtail rising inflation and shore up the rupee. 
Higher oil prices 
The Indian currency has also been undermined by higher oil prices triggered by Russia's invasion of Ukraine and widening current account and trade deficits. India depends on imports to meet four-fifths of its oil requirements.  
US Federal Reserve policymakers have given hawkish signals that more monetary tightening is in the offing in an effort to subdue American inflation that is at four-decade highs. Other central global bankers are also holding out prospects of aggressive interest rises.
"Investors are concerned over surging inflation, monetary policy tightening across major countries in the globe, economic slowdown and escalating geopolitical tensions. Moreover, market participants fear that rising crude oil prices will hurt India's trade and current account," said brokerage ICICI Securities 
Asian currencies undermined
The rupee and other Asian currencies have also been undermined by worries that the ongoing stringent lockdown in China's main industrial city of Shanghai could hit economic growth worldwide.
Last week, the Reserve Bank of India shocked financial markets with an unexpected 40-basis point hike in its leading policy interest rate, the repo, to curtail rising inflation and shore up the rupee. The Indian Central bank  hiked its rates at an emergency meeting of the monetary policy committee just hours before the US Fed's rate rise announcement. 
The fall in the rupee comes after several years of relative stability for the currency.