Coronavirus eats into Apple growth
The viral outbreak that began in China has now infected more than 73,000 people and continues to hurt businesses worldwide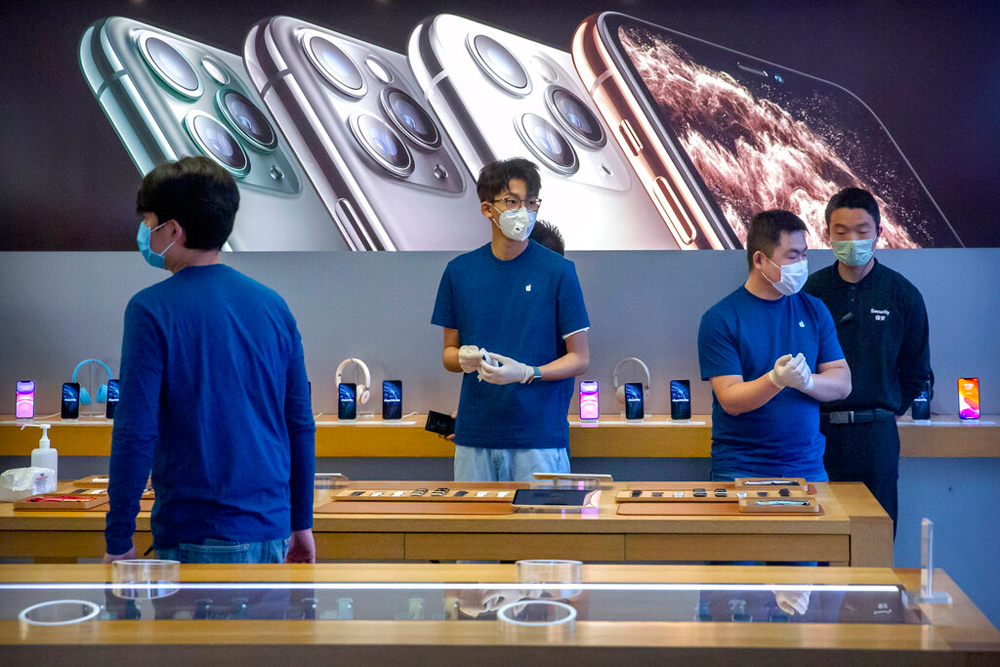 Employees wear face masks as they stand in a reopened Apple Store in Beijing on February 14, 2020.
(AP)
---
New York
|
Published 18.02.20, 07:13 PM
|
---
US stocks fell in midday trading on Tuesday after Apple became the most well-known company to warn of a financial hit from the virus outbreak in China.
The maker of iPhones said it will fall short of its revenue forecasts in the fiscal second quarter because production has been curtailed and consumer demand for iPhones has slowed in China. Apple's stores there are are either closed or operating on reduced hours.
Technology stocks led the selling. Apple shed 2.7 per cent. Chipmakers, which also rely heavily on China for sales and supplies, broadly slid. Intel shed 1.9 per cent.
The viral outbreak that began in China has now infected more than 73,000 people and continues to hurt businesses worldwide. The majority of the cases and deaths remain centered in China.

Businesses continue to feel the economic impact from the virus. The Beijing auto show, the industry's biggest global event of the year, is being postponed indefinitely from its April date. Apple is the latest company to warn investors that the virus will hurt their financial performance.
Technology and healthcare companies have been the most vocal about mentioning the new coronavirus in their earnings conference calls, according to FactSet.