Minister Irani has tips for textiles
Govt pushing for small firms to become mid-sized, she says and urges industry to innovate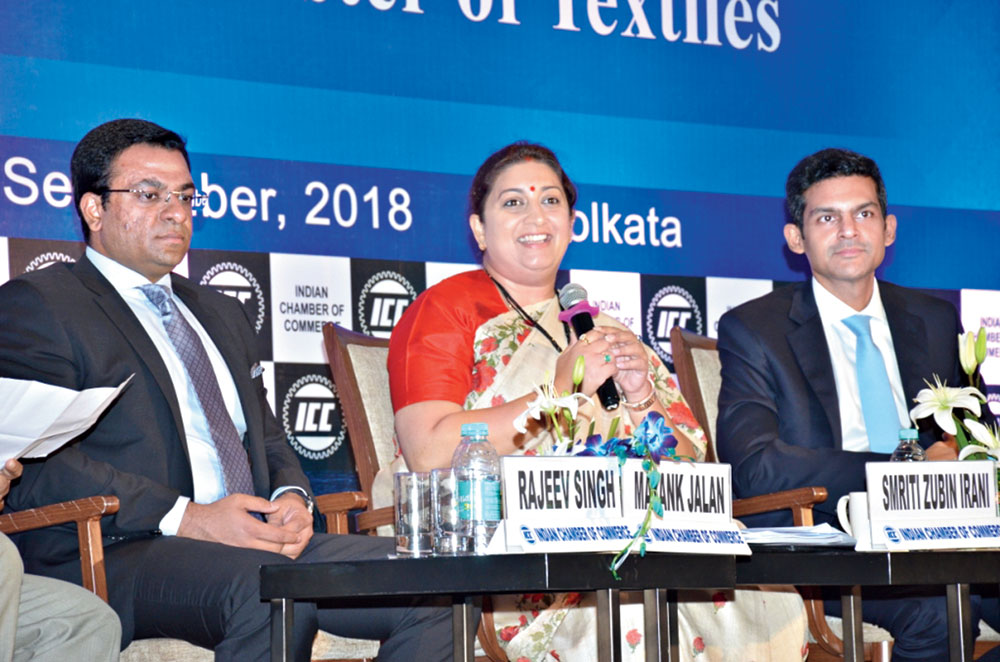 ---
|
Calcutta
|
Published 29.09.18, 08:16 PM
---
Textiles minister Smriti Irani on Saturday urged the industry to go for innovation and come forward in taking new initiatives.
She said the government was pushing for small firms to become mid-sized as 80 per cent of the companies in the textiles industry are in the MSME sector.
"Big players are many," she said.
Speaking at an interaction organised by the Indian Chamber of Commerce here, Irani said, "There is a need for innovation. The case of technical textiles is one such example."
Technical textiles finds its applications in automobiles, interior decoration, healthcare, and industrial safety.
Irani said the industry should work closely with the government so that the policies framed by the government could be implemented effectively.
Stating that the trade war between the US and China had opened up an opportunity for India, she said that there were dramatic challenges such as the development of infrastructure and making the workforce productive.
Regarding the jute sector, she said India should opt for more diversified products like Bangladesh. Irani warned the jute industry that if the workers and farmers did not get the money that the government disbursed to buy jute bags, then the company concerned would stop getting orders.
Rudra Chatterjee, president of the Indian Chamber of Commerce highlighted the important role of textiles in employment generation and exports. Touching upon the glorious history of Indian textiles, he argued that the industry should focus on its development and value addition for the society at large.
Mayank Jalan, senior vice-president of the Indian Chamber of Commerce, called for a concerted effort to preserve the heritage of the textiles industry. He pointed out that domestic hand-woven fabrics were losing out in international competition and needed a special impetus.
The Indian Chamber of Commerce has formed a national committee for capacity and holistic development of the textiles sector, Jalan added.