Future Retail Ltd pays off $14 million bond dues
The debt-ridden firm had missed the due date for its payment last month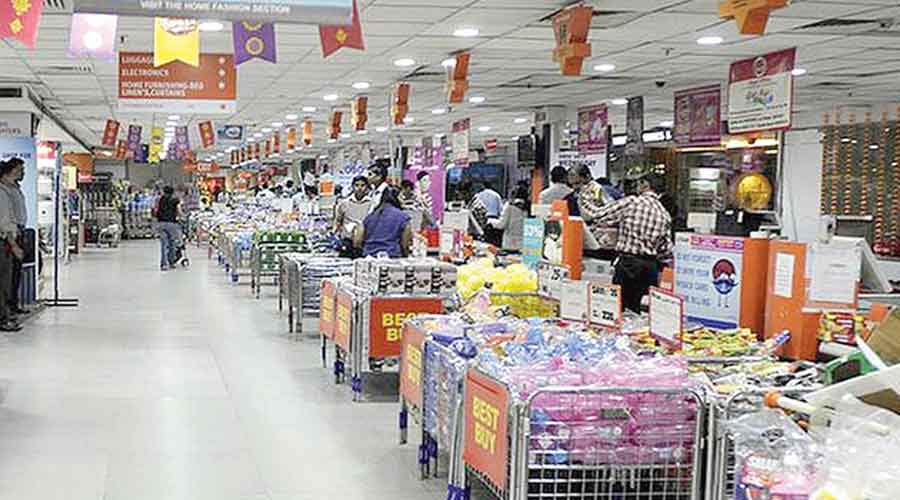 The Senior Secured Notes had an interest of 5.60 per cent and are due in 2025.
File photo
---
Published 20.02.22, 01:41 AM
|
---
Future Retail Ltd (FRL) has paid $14 million (around Rs 104.55 crore) as interest due on the dollar-denominated notes (USD Notes) listed on the Singapore Stock Exchange. The debt-ridden firm had missed the due date for its payment last month.
The USD notes had a grace period of 30 days to make the interest payment.
"We would like to inform that on February 18, 2022 the company has made the payment of interest for the half-year ended for an amount of $14 million on USD Notes," a regulatory filing from FRL said late on Friday.
The Senior Secured Notes had an interest of 5.60 per cent and are due in 2025.
On January 5, Future Retail said it had missed a payment of interest due on the USD notes as its liquidity position was affected by the Covid-19 pandemic.
"We missed the service of the payment of interest due on the USD Notes (listed on Singapore Stock Exchange) on January 24, 2022,'' Future Retail had said.
Though the interest payment should come as a relief for the company, a question mark still remains on the outcome of its default on the payment of Rs 3,494.56 crore to lenders in January.
Some of the banks had classified the account as non-performing. The lenders now have various options, including invoking the Insolvency and Bankruptcy Code (IBC) or the Reserve Bank of India's June 7, 2019 circular to find a resolution. While there are differences among banks on the resolution route, they have so far not finalised the path.
Some of the major lenders of FRL include Bank of India (BoI), State Bank of India (SBI) and Bank of Baroda among others.
FRL owes more than Rs 10,000 crore to banks, bond holders and other lenders. Earlier this month, the lenders had proposed to the Supreme Court that there be an open bidding for the assets of FRL between Amazon and Reliance.
The company has been unable to divest its assets as it is involved in a legal battle with Amazon over the Rs 24,173 crore transaction for the sale of its retail, wholesale, logistics and warehousing businesses to Reliance Retail for Rs 24,713 crore.
Amazon had contested this deal citing the clauses of a 2019 agreement where it had picked up a 49 per cent stake in Future Coupons, a promoter entity.
Reliance Retail Ventures has, for the second time, extended the timeline for completing its Rs 24,713-crore deal with the Future group to March 31, 2022.