Fixed maturity plans slide
Two major fund houses have announced they are rolling over some of their FMPs or will seek more to pay their investors in full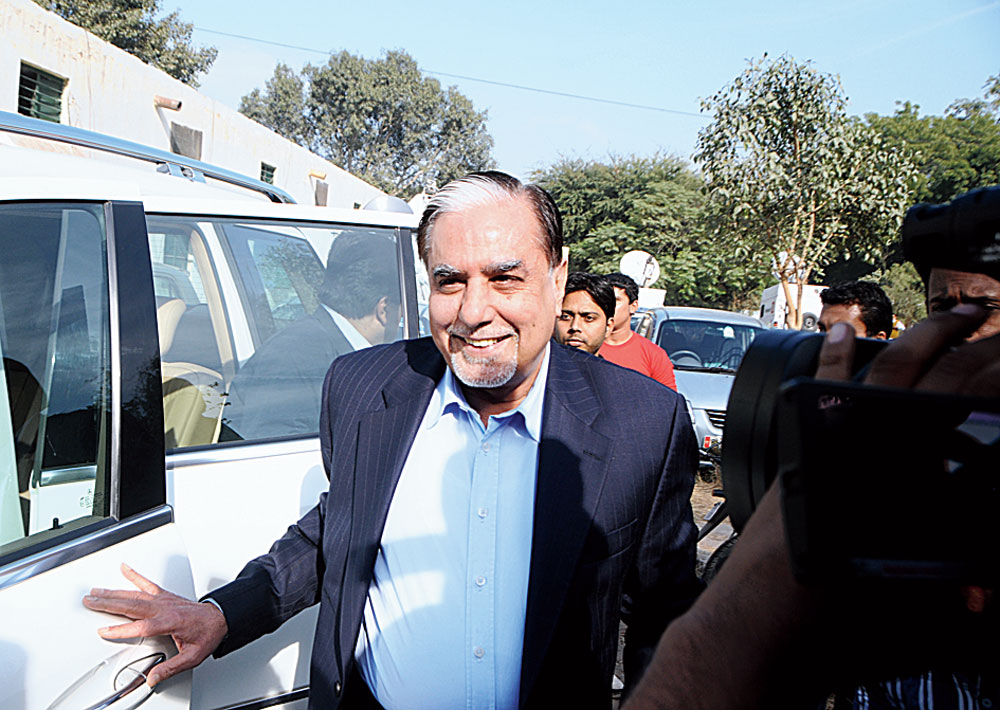 Essel Group Chairman Subhash Chandra
A Telegraph picture
---
Mumbai
|
Published 11.04.19, 08:18 PM
|
---
The failure of some mutual funds to redeem their fixed maturity plans (FMPs) has severely dented their status as alternatives to fixed deposits.
Two major fund houses — HDFC Asset Management and Kotak Mahindra — have announced they were rolling over some of their FMPs or will seek more time to pay their investors in full. On Wednesday, HDFC Asset Management Company had announced a rollover of/extension to its FMP scheme 1168D, due on April 15, by 380 days.
"The purpose of rollover/extension is due to the current interest rate scenario and portfolio positioning, the yields prevailing in the short maturity bucket present an option for investors to lock in their investments at the current prevailing yields," the fund said on Wednesday.
Kotak Mahindra Mutual Fund has also indicated it may not be able to redeem the entire amounts in six such schemes. The development was on account of their exposure to debt papers of the Essel group. There are fears that over the coming weeks more fund houses may announce similar steps.
According to Manoj Nagpal of Outlook Asia Capital, as many as 40 fixed plans having exposure to the Zee group will mature in three months.
The Essel group on Thursday reaffirmed its commitment to pay each debtor. "As per the arrangement with the lenders, a resolution for the repayment will be achieved by September 2019. The Essel group is confident to complete the repayment towards each and every lender," it said.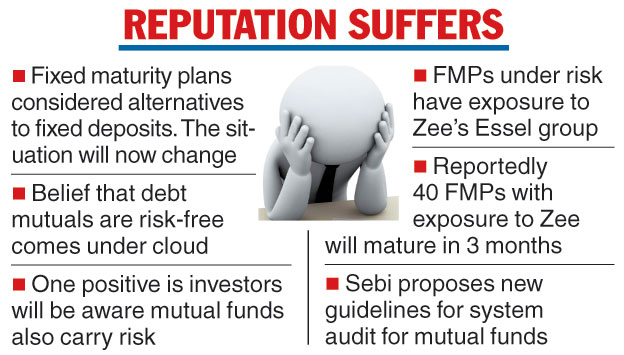 The popularity of mutual funds have grown manifold over the past few years, posing competition to alternate avenues such as bank deposits. But the image of debt schemes carrying low risk will take a hit because of the current development. Analysts say investors,henceforth, will be aware of the fact that mutual funds, too, carry risks.
"FMPs were very close to fixed deposits as far as the product construct goes. Now there is going to be question mark in the minds of investors and advisors on FMPs being a replacement to FDs.
"The development also raises question on the suitability of debt MFs being risk free. All this while, investors thought debt MFs were risk free… that notion will now be challenged,'' Amol Joshi, founder of PlanRupee Investment Services, told The Telegraph.
Harsh Roongta, a personal finance expert, feels there will be a positive fallout from the event. "Investors will become aware that when they invest money, there is a risk involved."
Sebi action
Capital market regulator Sebi has come out with revised guidelines for system audit to be conducted by mutual funds and asset management companies (AMCs).
The guidelines come after "considering the importance of system audit in technology driven asset management activity and to enhance and standardise the system audit".
Besides, mutual funds (MFs)/ AMCs have been directed to constitute a technology committee entrusted with the task of reviewing the cyber security and cyber resilience framework for MFs.