Birla creates USD 10 billion trove
Group says conglomerate plans to invest $7 billion in India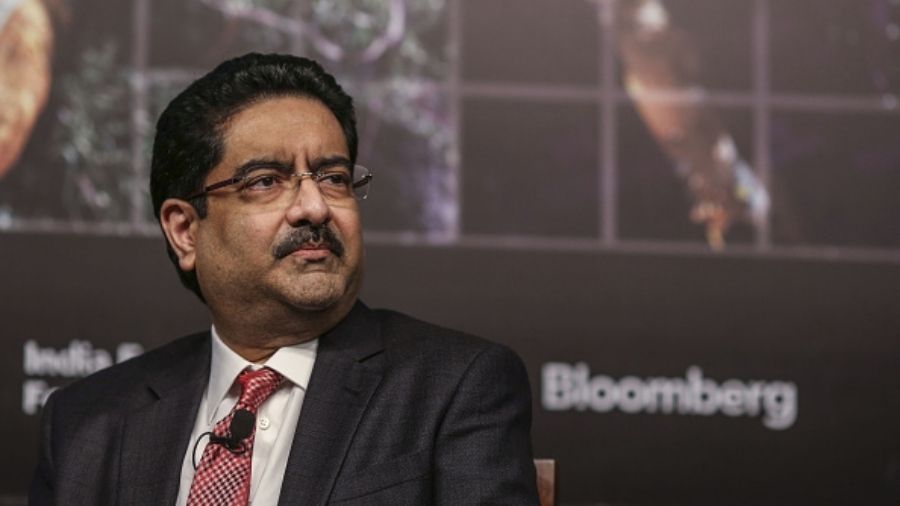 Kumar Mangalam Birla
File Photo
---
Mumbai
|
Published 27.05.22, 02:57 AM
|
---
Undeterred at losing the Holcim race to the Adanis, the Aditya Birla group will use the funds meant for the Indian assets of the Swiss giant to build a war chest to expand its businesses.
Group chairperson Kumar Mangalam Birla said the conglomerate was planning to invest $10 billion in its current businesses, of which $7 billion will be made in India and the rest overseas.
The foreign investment will mainly go into Hindalco arm, Novelis. The US company will invest $2.5 billion to build a recycling and rolling unit at Alabama, the largest global greenfield expansion by the Birla group.
Birla disclosed this in an interview with BQ Prime on the sidelines of the World Economic Forum.
When asked about the Holcim deal, he indicated that at that price, it did not make sense "financially'' for the group to undertake the transaction and it had better options for growth.
On Wednesday, Birla told CNBC TV18 that the $10.5 billion, which the Adanis will pay if their open offer is successful, was "too high a price for the deal''.
Birla said low debt levels will encourage the group to invest in expansion, particularly when various central banks are raising interest rates.
"The fact that we hardly have any debt in our businesses helps, it gives us that much more firepower and headroom to grow. We are really not impacted by interest rates going up because the debt that we carry on our books is manageable. As a group our debt to EBITDA (earnings before interest, taxes, depreciation & amortisation) is less than 1 which is very strong."
Birla said the $7 billion will be used to expand capacities in businesses such as aluminium, cement, speciality chemicals, paints and fashion retail.
"We're also looking at some new businesses, digital being an important one. We are still studying it, still trying to understand if we should go into it or not, if we will actually compete and win, what's the best form to get into it for us.''
Replying to a question on the cyclical nature of the commodity business, Birla said it was difficult to take a medium- or long-term call on the business. The group always looks at multi-decadal sectoral trends when it firms up an investment.
On the likelihood of greater competition in the cement sector following the entry of Adani, Birla said that "though it is always good to have competition'', the group is entrenched in the business and has strong growth plans as well.