No marriage reconciliation for Tej Pratap
Lalu Prasad Yadav's elder son has left his home and gone underground for 21 days since filing a divorce petition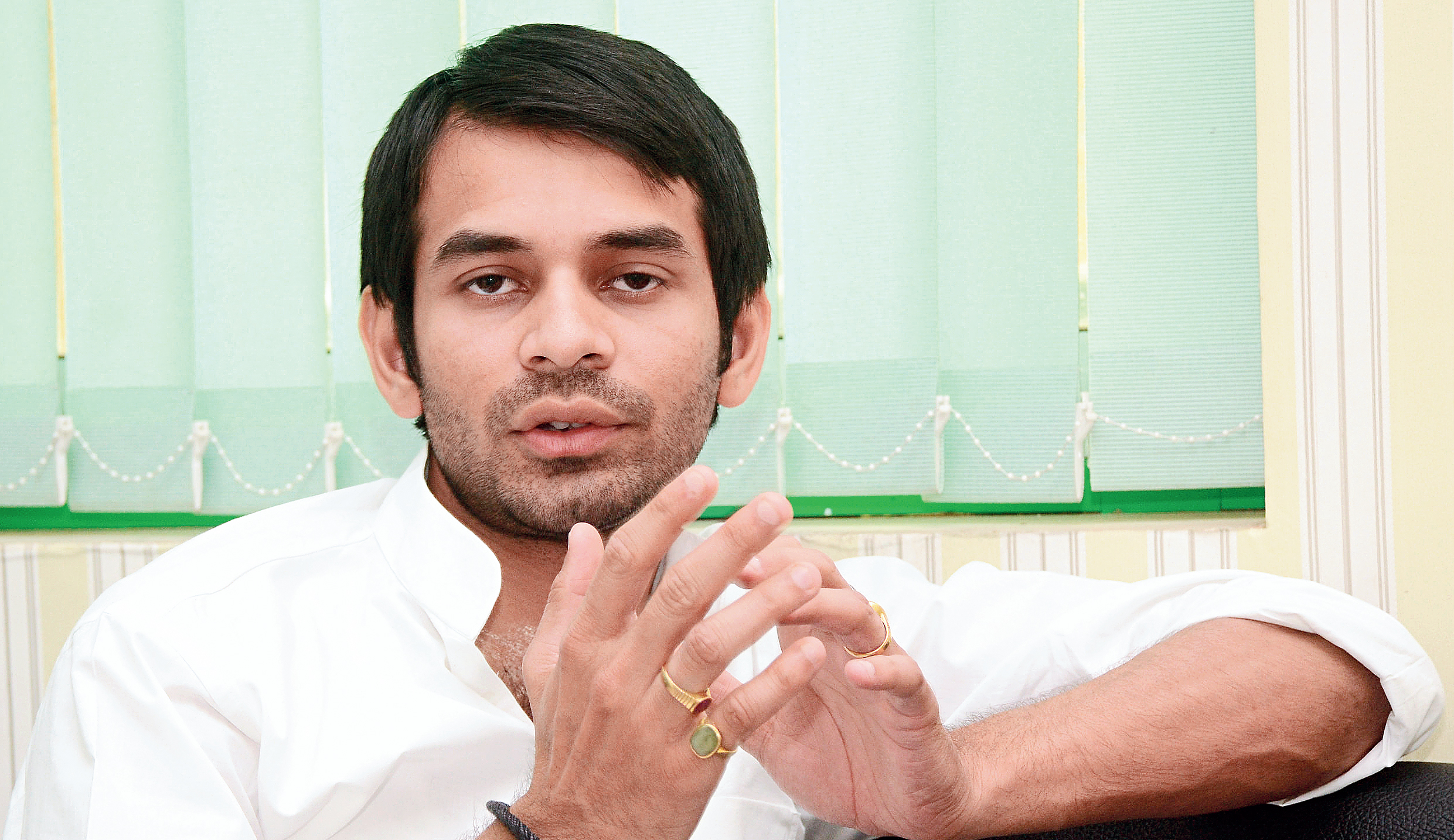 Tej Pratap Yadav
The Telegraph file picture
---
Patna
|
Published 23.11.18, 06:39 PM
|
---
Tej Pratap Yadav has fallen back on Rahim to give vent his pain over his soured marriage with Aishwarya Rai, whom he wed just about six months ago but over whom he has left home.
Away from his family for the past three weeks, Tej on Friday popped up on Twitter where he quoted the doha of Abdul Rahim Khan-e-Khana, one of Emperor Akbar's Navratnas to express his feelings. "Toote sir phir na jutey, jutey gaanth pari jaye," he tweeted, loosely translated as "once a thing gets broken or shattered, it cannot be fixed, and if we try and fix it, it leaves a knot and never gets smooth like before".
Tej Pratap posted the tweet at 12 midnight on Thursday from his official twitter handle @TejYadav14, giving out enough indications that there is no chance of a patch-up from his side.
His father, jailed RJD chief Lalu Prasad, and mother Rabri Devi tried their best to pacify their elder son and make him reconsider his decision, but Tej Pratap appears to have dug his heels in. He has even criticised his own family members for not supporting him and instead taking the side of his wife. Aishwarya is the daughter of former RJD minister Chandrika Rai and the granddaughter of former Bihar chief minister Daroga Prasad Rai.
Tej Pratap has been out of Patna for the last 21 days, ever since he went to Ranchi to meet his father after filing the divorce petition in the court. Since then he has gone underground, though four days ago, Rabri said Tej Pratap would return home as she has spoken to him over the phone.
But forget returning home, sources said Tej Pratap has also sent out a signal that he does not wish to stay with his family at 10 Circular Road. Tej has been living with his family at Rabri's official residence after he was forced to vacate his 3 Deshratna Marg bungalow once he was out of government.
But an aide of Tej Pratap called up building construction and housing minister Maheshwar Hazari on Wednesday to demand a separate bungalow for the Mahua MLA and former health minister. "I received the call from Tej Pratap's PA who said that the former health minister and MLA Tej Pratap wants a bungalow," Hazari said, adding that being a first-time MLA, Tej Pratap cannot get a ministerial bungalow and his demand was rejected then and there itself.