Parties in Bihar unite in special status plea to Finance Commission
Senior leaders also demanded a larger share in devolution of taxes by the central government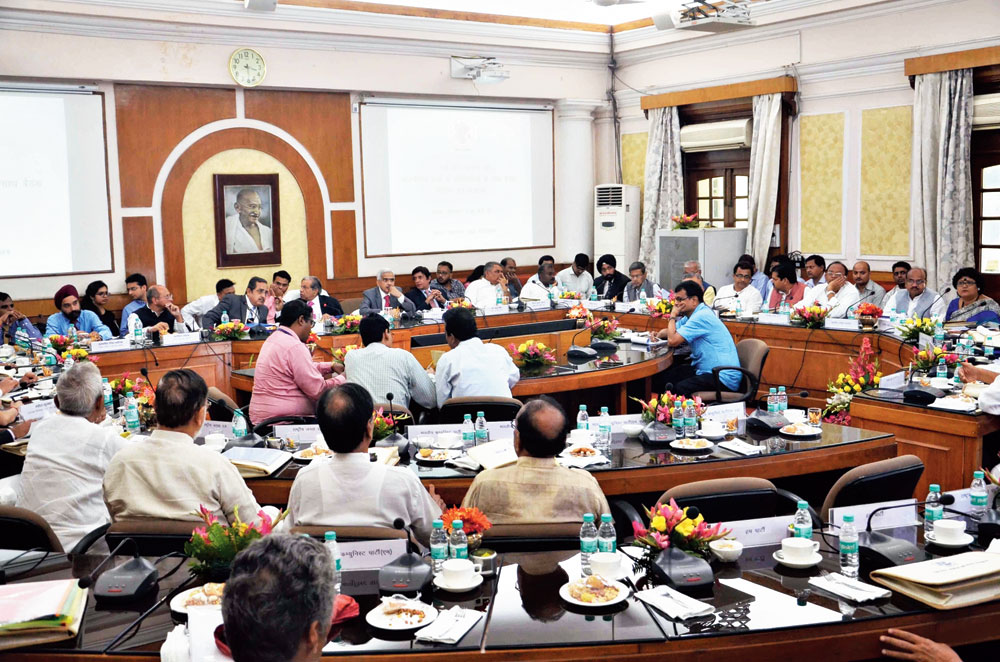 The all-party meeting underway in Patna on Wednesday
Picture by Nagendra Kumar Singh
---
Patna
|
Published 03.10.18, 08:01 PM
|
---
Political parties in Bihar forgot their differences on Wednesday before the visiting 15th Finance Commission chaired by N.K. Singh and unanimously demanded special category status and special assistance for the state.
They submitted a joint memorandum in this regard.
Though the finance commission has no say in granting special category status, and the decision is taken by the National Development Council (NDC), the senior leaders, cutting across party lines, presented a united front to demand it, as well as, a larger share in devolution of taxes by the central government.
MLC Neeraj Kumar of the JDU, Nitish Mishra and Mithilesh Tiwary of the BJP, Abdul Bari Siddiqui and Ram Chandra Purbey of the RJD, Danish Rizwan of the Hindustani Awam Morcha Secular (HAMS), Ram Babu Kumar from the CPI and Arun Mishra of the CPM were among the several leaders who met the finance panel. Legislative Assembly Speaker Vijay Kumar Choudhary was also present.
Representatives of various educational institutions, including Chanakya National Law University, Patna University, Asian Development Research Institute (ADRI) and trade bodies such as Bihar Chamber of Commerce and Industries (BCCI), Bihar Industries Association (BIA), Confederation of Indian Industries (CII) and PHD Chamber of Commerce and Industry were also present.
The joint memorandum points out that Bihar has been maintaining high economic growth over the past two decades despite suffering historically from low fiscal capacity vis-à-vis other states. For instance, in terms of per capita income Bihar lags far behind Haryana (the richest state in India). Bihar has not advanced at all in terms of equalisation during 2004-05 to 2016-17.
Pointing out that the share of Bihar in the Union taxes (excluding service tax) has been declining from 11.028 per cent in the 12th Finance Commission, to 9.665 per cent in 14th Finance Commission, the politicians, teachers and entrepreneurs asked the 15th Finance Commission to include cess and surcharge in the divisible pool of taxes. They also said the commission should make provision for Rs 1.54 lakh crore for agriculture roadmap–III, which is being implemented between 2017 and 2022.
The memorandum stated that Niti Aayog has identified 115 most backward districts out of 712 districts in
India. Out of the 115, 13 are in Bihar. Hence the 15th Finance Commission should provide special funds to reduce economic disparity.