In 'dry' Bihar, cops sell liquor in police station
Gopalganj SP catches men in uniform red-handed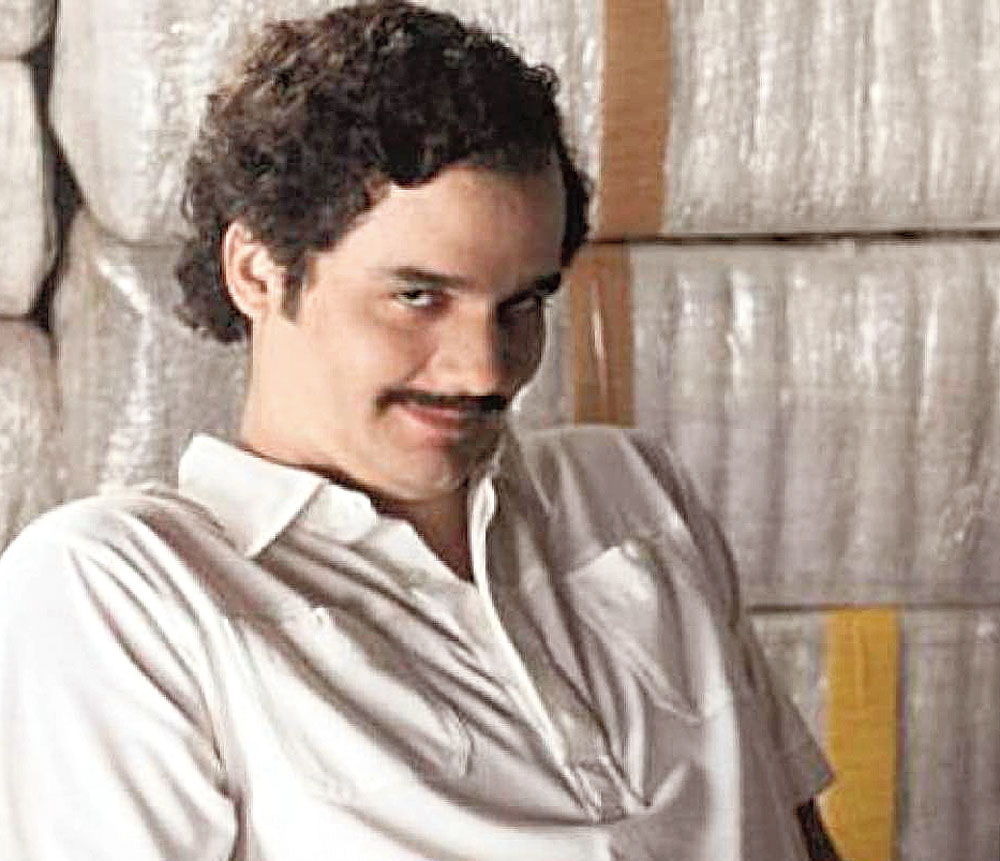 Waah Bihar waah: Wagner Moura as cocaine lord Pablo Escobar in Narcos
A still from the show
---
Patna
|
Published 03.10.18, 07:49 PM
|
---
The phrase "illegal alcohol mafia" conjures images of Narcos of Netflix-style clandestine contraband transport and deals but in Bihar the reality is much more banal — and shocking. Here, a police officer negotiates with a bootlegger on camera, and a liquor consignment goes out from the police station — as two arrests in Gopalganj district on Wednesday show.
Gopalganj superintendent of police (SP) Rasheed Zaman caught two cops, including a station house officer (SHO), red-handed selling seized liquor from a police station. The SP's action came after a video had gone viral showing one of the officers cutting a deal with a bootlegger.
The SP caught Baikunthpur police SHO Laxmi Narayan Mahto and assistant sub-inspector of police Sudhir Kumar while they were disposing at least 25 cartons of seized liquor worth Rs 40 lakh from the police station premises.
The SP immediately ordered the arrest of the two police officials on the charge of violating the provisions of the Bihar Prohibition and Excise Act 2016 and their involvement in illegal movement and transportation of liquor.
An FIR was lodged against four persons.
The driver of a pickup van, which was parked on the police station premises for loading the consignment, was also arrested from Masarakh in Saran district, and the vehicle was seized.
The driver, Kanhaiya Sharma, said he was called to transport the seized consignment from the police station to its destination.
Contacted, the SP said he was alerted by some local residents that seized liquor was being sold from the Baikunthpur police station.
"I immediately visited the police station only to find the allegations against the cops to be true," he said.
He promised stern action against the erring cops — departmental proceedings, and maybe even dismissal from service if they are pronounced guilty by a court of law or the allegations against them in the course of departmental proceedings.
A senior police officer said that there were complaints earlier about Indian made foreign liquor (IMFL) being smuggled into Gopalganj from Haryana, Punjab, Delhi and Uttar Pradesh in trucks and other vehicles.
The liquor sale from the police station came to light a day after chief minister Nitish Kumar appealed to the police at a function in Patna to make all-out efforts to enforce the dry law.
"Only a handful of people are opposing prohibition and they will never succeed," Nitish said. Around 1.33 lakh cases have been recorded in the state since prohibition came into force in April 2016, and 141 persons have been punished by courts.
Disciplinary action has been initiated against more than 20 police personnel.
Yet, rodents gulp over 11,000 litres of liquor kept in a malkhana (warehouse) as exhibit of the court. And police officers sell liquor from police stations.
Yes, Narcos can't hold a candle to Bihar.