Playing Gandhi for 28 years, head shaved 103 times
Suresh's wife, who shares her birthday with the Mahatma, is upset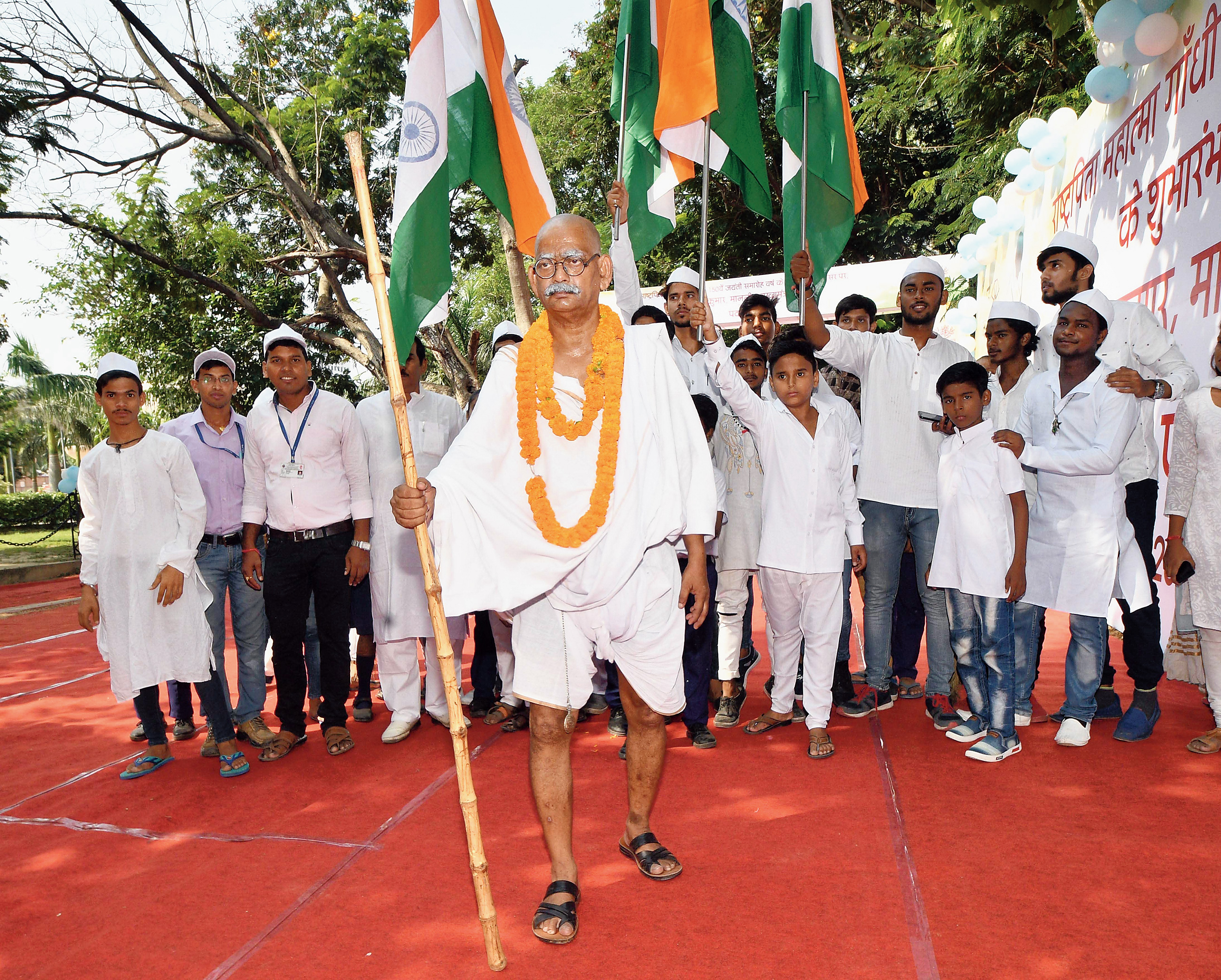 ---
Patna
|
Published 02.10.18, 06:33 PM
|
---
Being Mahatma Gandhi is a round-the-year job for Suresh Kumar Hajju, a grade-three employee in the state electricity board. On Tuesday as well, he featured in the state function to mark the birth anniversary of the Father of the Nation.
Chief minister Nitish Kumar was seen chatting with Hajju for a while before his play. Hajju, who is also a theatre artist, has been portraying the role of Mahatma Gandhi since 1990.
"The first time I played Gandhi was in 1990, when a school approached me to play the role of Bapu," said Hajju (58). "The role was offered to me because no one wanted to chop off their hair just for the sake of a play. I accepted the role happily. After all, playing the role of such a great person was nothing less than winning a jackpot for me."
He has never sported a bald cap for playing Gandhi.
"I shave my head on October 2 and January 30 as on these two dates I am supposed to stage a play in front of the Gandhi statue at Gandhi Maidan," he said. "For today's play, I have shaved my head for the 103rd time. I also play the role of Gandhi throughout the year in school and other institutions' programmes."
Hajju's wife shares her birthday with Gandhi and every time he shaves his head, she gets irritated.
"Like every time, today also she acted as If I had attended her funeral procession but I told her that I don't mind chopping off my hair for playing a great person," said Hajju.
He says the show staged in Gandhi Maidan in 1992 in front of political stalwarts will always be special for him.
"I played the role of Gandhi in front of Nitish Kumar, Lalu Prasad and others. The RJD chief was so impressed that he hugged me saying I made Gandhiji come alive. After the funeral procession scene, people were left teary eyed. After staging the act at Gandhi Maidan in 1992, I had declared that I would be playing the role every year on October 2 and January 30 and I have kept my promise," he said.