Bhagwat call for Ayodhya temple splits allies
BJP defends RSS chief, while JDU says best to wait for court verdict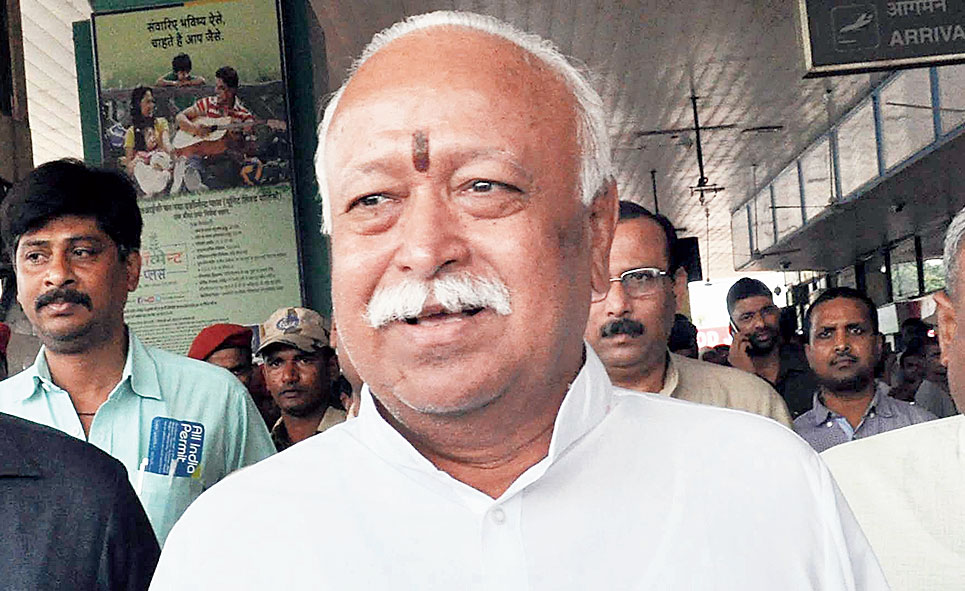 ---
|
Patna
|
Published 18.10.18, 06:38 PM
---
Ruling allies JDU and BJP reacted in contrasting ways to RSS chief Mohan Bhagwat's call for the Centre to make a law to facilitate the construction of a Ram Mandir in Ayodhya.
The RSS chief's comments have a curious relationship with Bihar politics. RJD chief Lalu Prasad highlighting Bhagwat's call for a "re-look" at reservation is believed to have been a match-winning move in the 2015 Bihar Assembly elections. And Bhagwat's latest salvo seemed to highlight a schism between the NDA allies.
JDU national spokesperson K.C. Tyagi said everybody should wait for the court's verdict. JDU state spokesperson Rajiv Ranjan was also quick to say: "We stand by our earlier position. Either the mandir is constructed with the consent of all parties or we wait for the verdict of the court."
The BJP was equally quick to defend the RSS chief.
"Bhagwatji has made the statement keeping in view the emotional feelings of crores of Hindus of the country. He
has also talked about keeping people of other faiths in good humour," said BJP MLA Nitin Navin.
In private, JDU leaders admitted to feeling frustrated over Bhagwat's statement. "It comes days after Nitishji tried to defuse the hostility of Muslims towards the NDA in general and the JDU in particular by announcing doles for Muslims and assuring them that he would not allow communal hatred to spread," said a JDU MLC, stressing that there was no illusion in the party about who the Muslims would vote for. "But even if the hostility is reduced it helps in elections," he remarked.
Nitish's options are limited, with RJD Tejashwi Yadav insistent that there should be no truck with the chief minister. "If the clamour for Ram Mandir grows louder he may have no other option but to remain silent," remarked a close confidant.
The RJD, meanwhile, echoed the JDU. "The issue of Ram Mandir was decided during the NDA regime led by Vajpayee. It was decided that either the mandir is going to be made by the consent of all concerned parties or every party will abide by the decision of the court," said senior RJD leader Shivanand Tiwari.
He alleged that the BJP and the RSS were trying to whip up communal passion.