Bahu FIR on Rabri
Aishwarya Rai accuses Rabri Devi of physically assaulting her and ordering the security guards to throw her out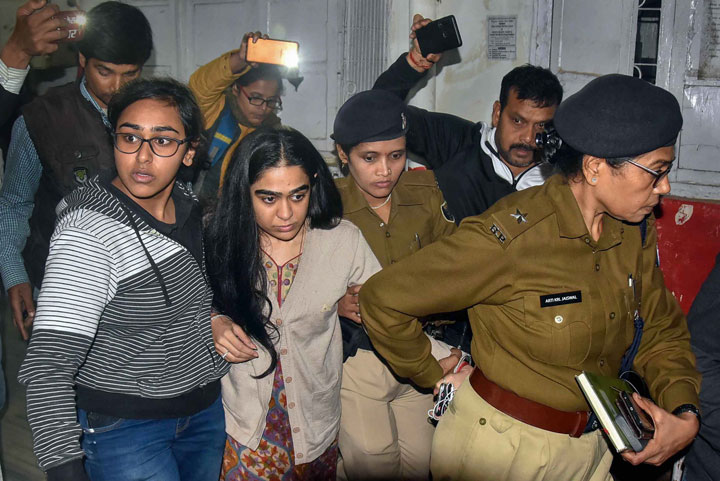 Security personnel escort Aishwarya Rai, the estranged daughter-in-law of RJD chief Lalu Prasad, as she leaves from a government after medical checkup following allegations of physical assault by her mother-in-law and former Bihar chief minister Rabri Devi, in Patna on December 15
PTI
---
Patna
|
Published 17.12.19, 03:37 PM
|
---
RJD chief Lalu Prasad's daughter-in-law Aishwarya Rai has lodged an FIR against her mother-in-law and former Bihar chief minister Rabri Devi, alleging physical assault.
Aishwarya also accused Rabri of ordering security guards to throw her out of the house.
The FIR includes the names of her estranged MLA husband Tej Pratap Yadav and sister-in-law and Rajya Sabha member Misa Bharti.
The case was registered at 11.30pm on Sunday after a high-voltage drama that started from Rabri's 10 Circular Road residence late in the evening and went on to the Sachivalaya police station, which directed the matter to the mahila police station.
An inconsolably weeping Aishwarya said: "Rabri Devi has beaten me up herself. She also grabbed me by my hair, pulled me and thrashed me. She then asked her security guards to throw me out of the house. They dragged me out. Nobody helped me."
"She (Rabri) keeps asking me to bring money from my father and (says) only then will I be served food. She keeps talking about women's rights, but has kept torturing me continuously for the last many months," Aishwarya added. Mahila police station house officer Aarti Jaiswal took her to a government hospital for medical examination, where evidence of physical assault in the form of injuries on her hand and hair being pulled were found. The police also went to Rabri's residence to probe the matter.
"The FIR against Rabri, Tej Pratap and Misa has been filed under IPC sections 498A (husband or relative of a husband subjecting a woman to cruelty), 323 (voluntarily causing hurt), 341 (wrongful restraint) and the Dowry Prohibition Act," Jaiswal said on Monday.
Rabri gave an application against Aishwarya at the woman's police station in Patna on Monday to register a counter FIR, though the case is yet to be registered.
At the root of the entire development were posters that surfaced in Patna University on Sunday and included derogatory comments against Aishwarya's father and former minister Chandrika Rai. They alleged he was greedy for power and used his daughter for it.
Aishwarya thought the posters were a handiwork of Lalu-Rabri supporters and raised the issue with Rabri, pleading to keep her father out of the ongoing divorce. "She attacked me and started beating me after I raised the matter with her. The security guards also snatched my phone in which there were several evidences related to atrocities on me. I was completely shocked," Aishwarya said.
Chandrika and his wife Poornima Rai rushed to Rabri's residence after getting information and brought Aishwarya, waiting outside, to the police station. "As a father I want to do something, but we are law abiding citizens and have faith in the judiciary. This kind of woman (read Rabri) should go to jail. A warrant should be issued against her," an agitated Chandrika told reporters.
Poornima said they always wanted to sit with Rabri and her family to sort the matter out.
"But look at my daughter and her agony. She has been assaulted and is here barefoot. She was not even allowed to wear slippers," she said.
Rabri has kept all the jewellery and other valuables that we had given in the marriage. She talks about saving daughters, but tortures her own daughter-in-law."
Aishwarya's father said atrocities on his daughter started after the Lok Sabha election results came in May this year in which RJD scored a naught — its worst-ever performance since inception.